Nederlands Dans Theater (NDT1), Sadler's Wells review - an extinction rebellion in dance |

reviews, news & interviews
Nederlands Dans Theater (NDT1), Sadler's Wells review - an extinction rebellion in dance
Nederlands Dans Theater (NDT1), Sadler's Wells review - an extinction rebellion in dance
A rare visit from Europe's No.1 contemporary troupe makes a powerful eco-protest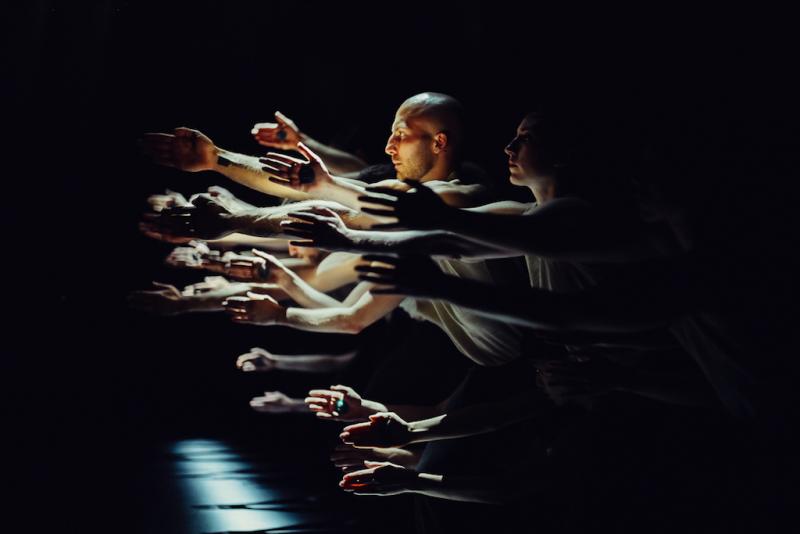 Giving nature a hand: members of Nederlands Dans Theater in Crystal Pite and Simon McBurney's 'Figures in Extinction [1.0]'
The timing was impeccable, though almost certainly accidental. As protesters lay prostrate in The Mall in a mass "die-in" on the day designated as Earth Day, and as many thousands more urged action against climate change outside the Houses of Parliament, Nederlands Dans Theater was giving its final London performance of a powerful new ballet called Figures in Extinction [1.0].
A first-time collaboration between the globally hot choreographer Crystal Pite and Complicité's Simon McBurney, it presented a chilling catalogue of some of the plant and animal species, glaciers and rivers that are being driven to oblivion by human negligence and greed.
More than a million are currently at risk of being wiped out forever, according to a recent estimate by the UN. Pite and McBurney single out just 12, name-checking and numbering what is at stake with increasing urgency and dramatic momentum. The variousness of the species is reflected in the various ways they are presented. The single standard element is a male voiceover (actor Max Casella)) announcing each name in turn. "Number One: Pyrenean Ibex" brings the sight of a crouching male dancer (pictured below) weighed down by enormous knobbly horns attached to his arms, unwieldily magnificent. "Number Four: Bachman's Warbler" (in a deft stroke, we feel the loss of Numbers Two and Three simply by not knowing about them) is both a woman looking for a bird and the bird itself – its flutterings and small inquisitive movements indicated by her head and hands.
Next up, a migrating herd of caribou – a mass of dancers lumbering on hands and knees, the soundtrack supplying the rumble of hooves and stertorous breathing. What we know about animals, the commentary notes, quoting John Berger, is "an index of our power. The more we know, the further away they are …" That's almost certainly what David Attenborough has longed to point out in every episode he's ever filmed but isn't allowed to.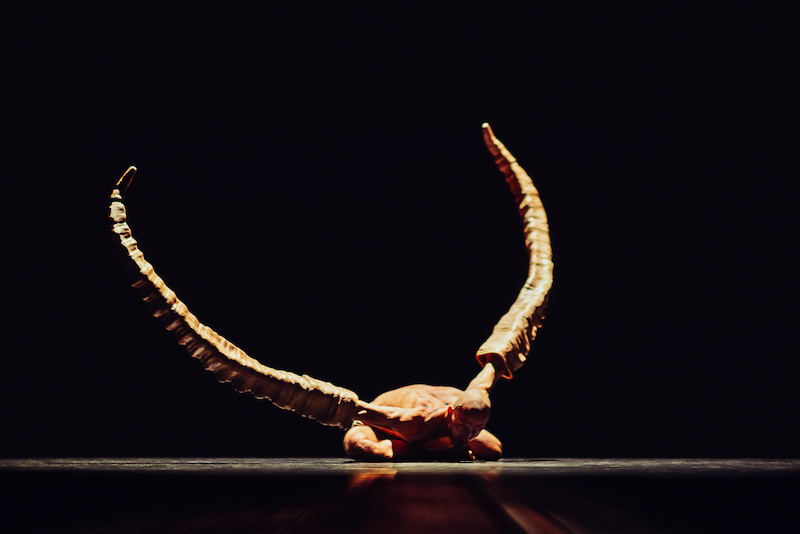 A melting glacier, a school of fish, Pite and McBurney relish the challenge of staging the impossible, helped by some truly awesome scenic design by Pite's long-time collaborator and life-partner Jay Gower Taylor. But just before the show slips into National Geographic territory, it flips into savage satirical gear. A climate-change denier in suit and tie, all Republican righteousness and spitting rage, leaps into a finger-jabbing rant. Drawing on the cartoonish style Pite developed in her most celebrated pieces (Revisor, Betroffenheit) the dancer mimes in exaggerated fashion to a recorded monologue. The comedy pulls the sting, and of course this is preaching to the choir, but it's an ugly spectacle nonetheless, and the character's reappearance at critical points throughout the piece brings with it the hopeful suggestion that he, too, might be an endangered species in due course.
The most trenchant images in Figures in Extinction [1.0] are not the gorgeous ones. The agonised death throes of the Splendid Poison Frog, frying under a tanning lamp, will haunt my dreams for a long while. Along with the casualness with which the Northern White Rhino is despatched from his long reign on planet Earth by a mere downpage mention on radio news. Ultimately, it's the creative command of sound as well as image that gives this piece its power. The finale delivers a terrifying noise allied to a great physical churning of synchronised movement – neither of bird, nor fish, nor mammal, nor glacier but somehow all of them at once.
This is a truly extraordinary use of theatrical dance. Yet the chances of seeing this again in London are on a par with sighting an Asiatic cheetah. This is NDT's first, all-too-short visit since Brexit, and who can blame the company for preferring to tour its shows within Europe given the visa complications of bringing 26 international performers over here? Your best chance is to catch them at their base in The Hague. There you might also mug up on the remarkable body of work of choreographer Jiri Kylian, whose sleek, elastic, ballet-based contemporary style has become the company's go-to. Gods and Dogs, his piece on this programme, was his 100th made for NDT, and is typical of the existential focus he brings to dance. Meanwhile La Ruta, the opener of the triple bill, by Gabriela Carrizo in collaboration with the dancers, filled the experimental slot. Set at night in fog beside a busy A-road, a series of disparate characters act out a nightmare scenario involving a fatal accident, a roadside heart transplant and a flapping goose. You know that moment when a friend offers to tell you about the dream they had last night and you're tempted to say "Please don't!" Ditto this, sorry.
The chances of seeing this again in London are on a par with sighting an Asiatic cheetah
rating
Explore topics
Share this article