The Nutcracker: an end-of-year obituary |

reviews, news & interviews
The Nutcracker: an end-of-year obituary
The Nutcracker: an end-of-year obituary
It's been a rough ride for the seasonal cash cow. Here's how ballet companies coped
Tuesday, 29 December 2020
Happier times: artists of The Royal Ballet in 'The Nutcracker' of 2016 vintage, with an amply populated battle scene
If dance lovers have learnt anything in recent months it's to take nothing for granted. How could we ever have been so blasé about The Nutcracker, whose annual reappearance in multiple productions was as inevitable as crowds on Oxford Street?
As a long-departed dance critic once Eeyorishly observed, each year "brings us one
Nutcracker
closer to death", a quip that now has a bleaker resonance than even he can have intended.
In 2020, productions of Tchaikovsky's evergreen two-act ballet were planned by almost all the UK's ballet companies, but only a smattering of performances took place before the portcullis of Tier 4 came clanging down. If this was dismaying for ticket holders it was a body blow to dancers' morale and a catastrophe for companies' finances.
Yet each found a way to salvage something from the wreckage, if only goodwill.Invidious as it might seem to pick the most woeful from a catalogue of woes, Birmingham Royal Ballet's case is striking. Buoyed by the arrival of Carlos Acosta as its Artistic Director early this year, BRB had gone for broke and booked runs at both the Hippodrome in Brum and the Royal Albert Hall, revamping its Nutcracker to fill it. When new restrictions on large crowds forced cancellation, the show was shrunk to fit the much smaller stage of the Birmingham Rep in the hope of being allowed to play live to a home audience. The eventual offer was reduced to a streaming without an audience: the worst of all worlds. BRB's production once had the loveliest snowflakes sequence of any, as well as the most spectacular growing tree, but with all the up- and-downscaling and hurried filming, the tree barely registered and the narrative heart of the piece exited stage left.
Oddly, harsher restrictions north of the border gave Scottish Ballet the advantage of time to rethink. It took the decision early to pull the plug on its six-city Nutcracker tour, conceiving instead a full-length feature film (pictured above), drawing on existing choreography in its rep. The Secret Theatre, is ingenious – loosely Nutcracker-ish in embracing key elements of Peter Darrell's production of the same, but incorporating bits of The Snow Queen by Christopher Hampson, who co-directed the film with designer Lez Brotherston.
It was directed for the camera by dancer-turned-filmmaker duo Jess & Morgs using a fish-eye lens, which gives the action not only a dreamlike feel but also a waist-height dynamism. Its most memorable feature, in a stroke of marketing inspiration, is not a dancer but a soccer-mad small boy (Leo Tetteh). Tiring of ball practice on the street, Tetteh wanders into an empty theatre whose shadowy backstage spaces – dense with abandoned costumes and props – mysteriously tremble into life. Circus performers, gypsies, wolves and dancing icicles are just some of the wonders he encounters, not to mention a Billy Eliot moment when he morphs into the adult Nutcracker Prince. As a first-time project, it's beautifully achieved. And I loved the fact that the boy never lets go of his precious football, which glows like an overgrown Christmas orange in almost every shot.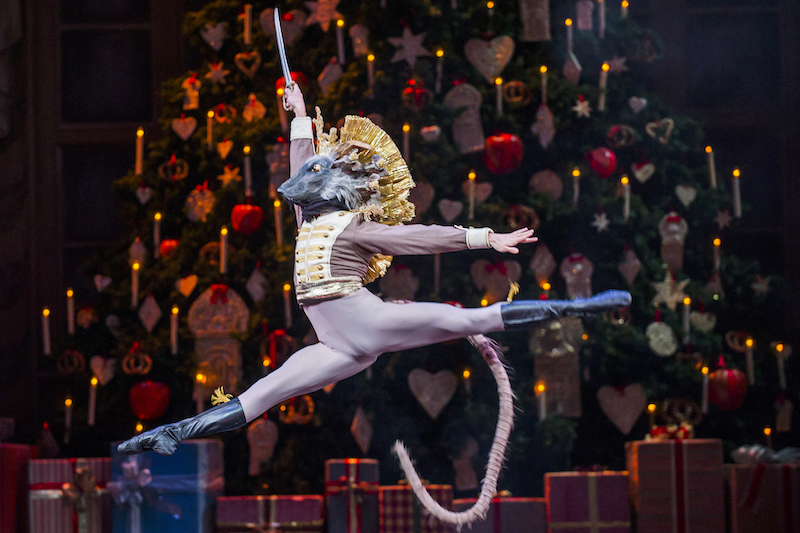 Meanwhile, at Covent Garden, the Royal Ballet's Nutcracker managed a scant handful of performances. The evolution of this grand staging by Sir Peter Wright (now 94, still overseeing changes, viz the archive interview by Ismene Brown) has been a barometer of the Royal Ballet's health for 36 years. Around the millennium it went through a distinctly ropey patch, but on recent revisits has crystallised and refined. That process hit its peak in the Covid-safe version which played briefly earlier this month. Strictures meant a drastic reduction on the number of bodies on stage – half the usual number of angels and snowflakes – yet the impact was undiminished, the edit seeming only to sharpen the dramatic focus. Every element of the narrative connected and made sense – crucial given this production's unusual reliance on the original Hoffmann backstory. And even on the most basic level, with fewer guests at the Stahlbaum's party, you were less likely to be looking in the wrong place when Gary Avis's Dr Drosselmeyer threw off one of his excellent magic tricks.
The whole experience was ripe with symbolism, the transformation scenes imbued with the intensity of dreams, the narrative – too often played as a 19th century precursor to Toy Story – deepened into a meditation on innocence and maturity. I felt lucky to be catching the first performance in a distanced, third-full house. Watching Act I with damp cheeks, and hearing the ROH Orchestra at its most alive and alert under the dancing baton of Koen Kessels (how fresh he makes Tchaikovsky sound!), little did I know just how rare that experience would turn out to be.
The run closed a week before the planned livestream, denying a wider audience the chance of seeing it. Why didn't the Royal simply issue a Nutcracker they'd filmed earlier (Alice was sent on as substitute)? Perhaps, in the light of its evolution, it seemed a retrograde step. Or perhaps, after all that disappointment, someone said: enough! There is a strong case for giving overworked artworks a rest now and again, as happened with surprising success in the early 1990s, with a worldwide moratorium on the performing of Mozart in the year following the 200th anniversary of his death. Absence sharpens the appetite. And ballet companies will be in no hurry to relive the Nutcracker season of 2020.
Each company found a way to salvage something from the wreckage, if only goodwill
Explore topics
Share this article