The Red Shoes, Sadler's Wells |

reviews, news & interviews
The Red Shoes, Sadler's Wells
The Red Shoes, Sadler's Wells
Matthew Bourne's latest adaptation of a classic is a cineaste's dream
Bourne to dance: Dominic North as Julian Craster and Ashley Shaw as Vicky Page
Anyone expecting a knockout punch from Matthew Bourne's latest creation is in for a let-down. His hotly anticipated take on Powell and Pressburger's 1948 film, unlike his Swan Lake, is not going to send anyone out into the night weeping into their hankie. Nor is it likely to turn unbelievers into ballet fans, and yet it is probably his best piece of work to date.
The culmination of a long-held ambition, it truly is, in the luvvie phrase, a love letter to a life in the theatre, to dance in particular, and obliquely, to cinema too. A story about devotion to an artform, The Red Shoes feels like a personal statement from a knight of the realm preparing to mark 30 years of dance-making.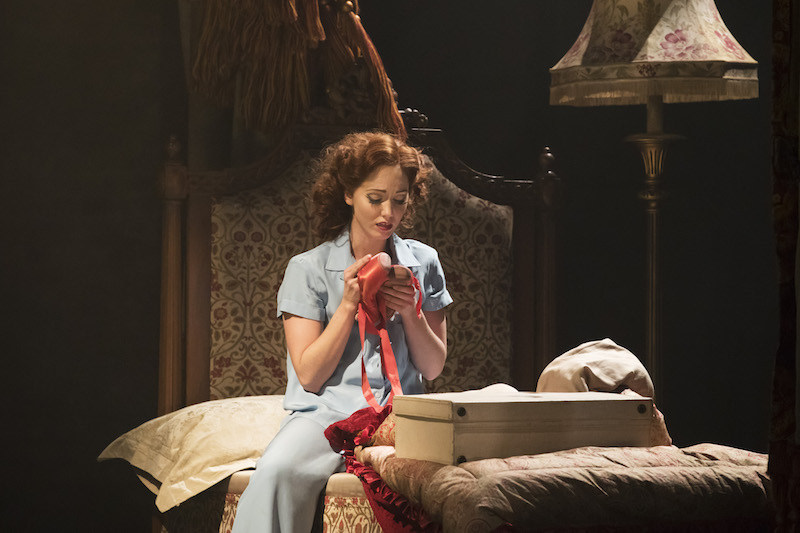 It also manages the very difficult task of translating one idiosyncratic medium into another. The film's genius, famously, was to take a highly theatrical world and make it cinematic. Bourne's genius isn't to reverse that process but to recreate the look, the feel, almost the aroma of that cinematic experience live on a stage.
What's more, it achieves the feat of making a wordless narrative out of a very talky screenplay. Watching the classic film today, its opening scenes seem laboured, devoting acres of exposition to the character of wannabe ballerina Vicky Page, young composer Julian Craster, and their difficult and demanding employer Boris Lermontov. With typical deftness, Bourne encodes all that information within two short, wordless scenes. So confident is he that we'll pick up the necessary that he does without a synopsis in the programme. I'm not sure this confidence is entirely justified: those unfamiliar with the film will still require some hand-holding.
The designer has fun with a proscenium arch, so mobile that it almost demands a dance credit
Location is key to the Red Shoes plot, the action flitting back and forth between Covent Garden, Paris and the French Riviera. Designer Lez Brotherston is an expert tour guide, finding ever more ingenious ways to flag up each stop: fun and games on the beach culminate in a postcard view over-printed with "Monte Carlo"; other towns are identified by a scrawl on the lining of a stage curtain, a label on a packing case. The ease and ecomony with which Bourne transports cast and audience between far-flung places, by steam train naturally, delivers a masterclass in stagecraft. Brotherston also has fun with a proscenium arch, so mobile that it almost demands a dance credit.
As always in a Matthew Bourne creation, the level of collaboration is sky-high. Paule Constable's lighting has never been more potent, whether suggesting the glint of sunlight on the Med or the grainy fug of an East End music hall. In an early scene her skill does the work of a dozen pages of screenplay as it shows us the luminous moment, not just narrative but mutual, when Lermontov notices Vicky's star potential for the first time. It's the moment we notice it, too.
Ashley Shaw (pictured above) – a strong Aurora in The Sleeping Beauty, Bourne's previous hit – was born to play Vicky Page, and by implication, Vicky's on-screen creator Moira Shearer. Compact where Shearer was rangy, Shaw's pliancy and energy are delightful to watch in what turns out, over two acts, to be something of a marathon en pointe. She also shares with Shearer a quality of complex innocence. Her realisation that loving Julian and wanting to dance isn't going to be easy is subtly calibrated. Bourne's way around the film's central anachronism (that ballerinas give up work on marriage) is to suggest that Vicky has resigned in protest over her husband's sacking. And it works.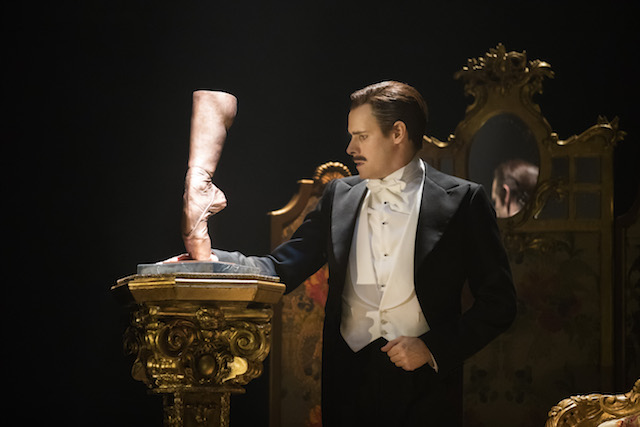 A problem that remains to be addressed is that of identifying the male protagonists in a story that deliberately blurs the edges of fantasy and reality. While it may be sartorially right for Dominic North (as Julian) to wear a brown suit while composing and tails for conducting at the Opera House, owlish specs while sightreading at the piano and no specs when out on a date with Vicky, it makes tracking him from one scene to another very tricky. Crucially, there is potential confusion with his nemesis, Sam Archer's saturnine Lermontov (pictured above). There is no problem in a film that can show a face in close-up: in a theatre the size of Sadler's Wells, there is.
Bourne's decision to assemble a score from assorted film music by Bernard Herrmann, but not to include familiar bits (no Psycho, no Vertigo), pays off handomely. Who knew that there were danceable sections in Citizen Kane? We are wowed by the composer's vigour and range. From the pit, Brett Morris conducts a small orchestra (big on percussion and harp) with customary verve, heavily amplified.
What impresses most in this production is the maturity of Bourne's dance-making. "Clever" is no longer the word to reach for. Its quality is even, no gimmicks, and he can manoevre an ensemble on and off the stage as naturally as the wind will blow a pile of leaves. Just as masterly is at the way he wrangles key plot points into big ensemble dances. There's never a moment of stage time that could be described as padding.
Out of respect to his theme, Bourne even reigns in his taste for satire, resisting the easy laughs to be had from the over-egged performance style of the 1940s, while still sneaking the odd wink at the self-regarding worlds of Martha Graham and Jean Cocteau. All in all, The Red Shoes sees Bourne at his most reverential and most inspired. In the trailing ribbons of those blood-red shoes he even finds symbolism that Powell and Pressburger missed.
A story about devotion to an artform, this has the feel of a personal statement
rating
Explore topics
Share this article