Robbins/MacMillan Triple Bill, Royal Ballet |

reviews, news & interviews
Robbins/MacMillan Triple Bill, Royal Ballet
Robbins/MacMillan Triple Bill, Royal Ballet
Company strong, principals less so in tame season finale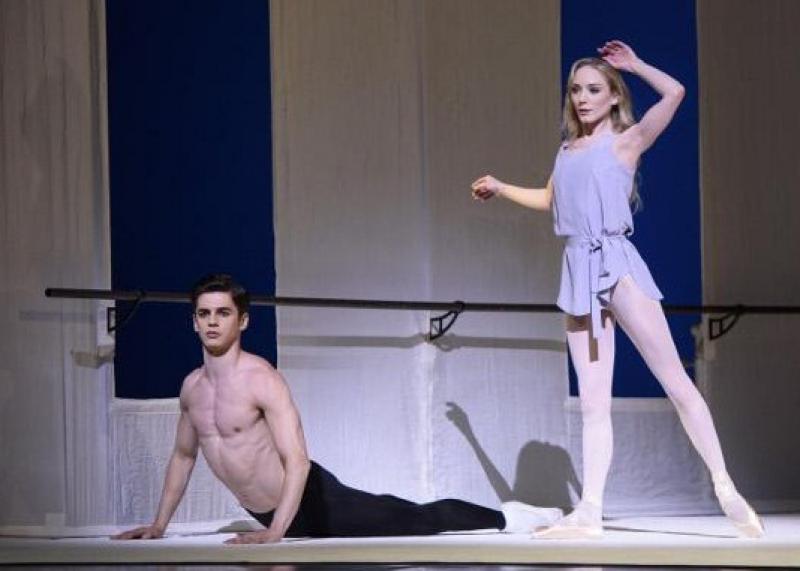 Who are you looking at? In Jerome Robbins's 'Afternoon of a Faun' the dancers (Federico Bonelli and Sarah Lamb) treat the fourth wall as a mirror
Last night at the Royal Ballet was, emphatically, laser-free. The combination of Afternoon of a Faun (1953) and In the Night (1970) by the great American choreographer Jerome Robbins, with a repeat of Kenneth MacMillan's 1965 Song of the Earth, performed earlier this season in a different triple bill, is your archetypical safe bet, presumably calculated to soothe any ruffles that might have been caused by Wayne McGregor's ambitious Virginia Woolf opus.
The Royal Ballet ought to have been able to do these mid-century classics standing on its collective head.
They did start off well. Afternoon of a Faun is a perfect miniature that – at just ten minutes long – can be swallowed like an oyster in one cool, delicious gulp. Federico Bonelli's dark good looks are ideal for the woodland demi-god transferred to a ballet studio, and he was broadcasting a sultry Italian intensity we don't see too often from this most chivalrous and considerate of principals. Sarah Lamb as his nymph/dance partner was a little on the cool side for me, but both of them brilliantly conveyed the dancers' wide-eyed fascination with their own images in the fourth-wall-as-mirror – or perhaps, since the mirror isn't actually there, it's the idea of each other that they're drawn to. Robbins eerily captures the charged but ambivalent dynamic not just of rehearsal room intimacy, but of any relationship that relies on carefully ignoring the elephant of mutual attraction in the room. Of course, when the faun crosses the line by planting a hot kiss on her cheek, the spell is broken and the ballerina departs with alacrity – leaving Bonelli to a last few sexy, langourous stretches on the floor.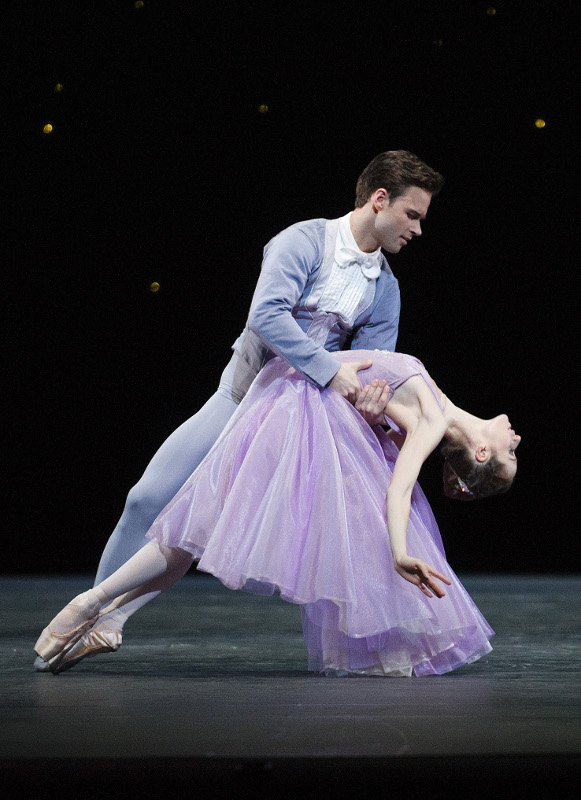 Apparently, Jerome Robbins liked Anthony Dowell's costumes for In the Night so much that he made them the piece's official "look'". In my opinion, that's one of the curious choices, alongside the extremely low lighting, that make this piece a little difficult to love wholeheartedly. The evening dresses of the third couple – Marianela Nuñez and Thiago Soares – are gorgeous, the red chiffon underskirts of Nuñez's dress billowing up in an unmistakeable sign of her passion, but in baby blue and lilac the first couple (Emma Maguire and Alexander Campbell, pictured right) look as insipid as Rolf and Liesl in that ghastly gazebo scene in The Sound of Music. Maguire is a neat, correct, elegant dancer, and Campbell too is a strong technician, who can certainly do character when required. But in their pastels and hidden in semi-gloom, these two just can't get across the delights of young love they're supposed to convey – nor are they helped much by Robert Clark's rather rough and clattering handling of the Chopin nocturnes that accompany In the Night (in this case, Op. 27 No.1).
Wonderful Zenaida Yanowsky does her best in the next nocturne (Op. 55 No. 2), as stately and proud as a wife in a 19th-century novel burdened with a rather colourless husband – Nehemiah Kish, who does not suit his orange costume, poor man. After Kish turns her upside down, legs quivering, Yanowsky launches into an exultant series of posé turns, convincing us that he really has turned her on. But it's left to Nuñez and Soares to show us what real passion, and real star quality, look like. Not for the first time, it's a different evening once they appear, eyes flashing, having a colossal – and colossally sexy – lovers' tiff. It's a bit histrionic, yes, and Robert Clark's playing of Op. 55 No.2 is far too growly and wild, but one can't help being deeply grateful to Nuñez and Soares for injecting some life into what has been, up to that point, a rather muted performance of this deceptively simple-seeming piece.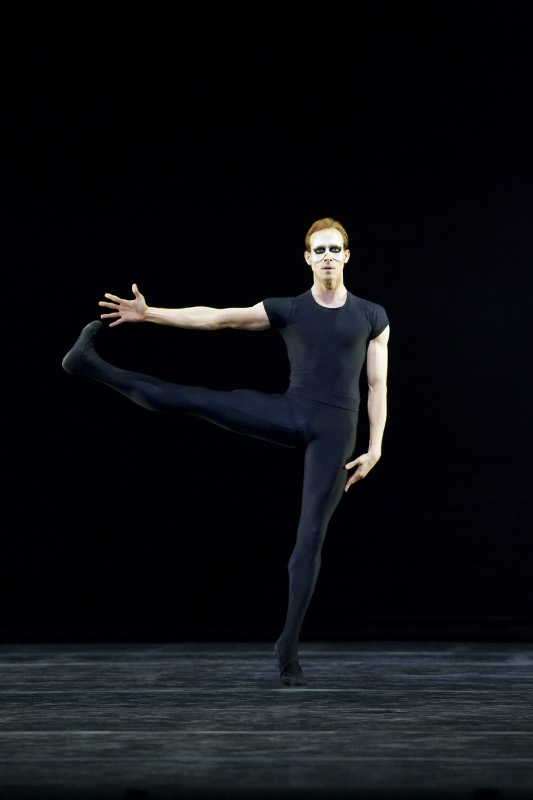 It's good to see Song of the Earth twice in one season; this 65-minute, deeply serious work repays closer attention. This second outing offered the chance to hear different, but equally good singers (Katharine Goeldner and Thomas Randle) doing Mahler's Das Lied von der Erde, and a different, but rather more mixed, set of principals. Edward Watson (pictured left) imbues the Messenger of Death with the uncanny magnetism he brings to many of his roles, all disconcertingly mobile shoulders and hunted, staring eyes. It's a charismatic interpretation for sure – but is it a little too Jack the Ripper? Still, charisma is useful, and something Ryoichi Hirano as the Man was struggling to summon; having been called in to replace Rupert Pennefather in the role, he looked under-rehearsed and deeply uncomfortable. Lauren Cuthbertson, meanwhile, was returning to the stage after a serious injury in September that cut her out of the rest of the 2014-15 season. It's great to see the likeable Cuthbertson back on stage, but I found her rendition of the Woman a little too skittish for this portentous, dramatic part.
It was left to the supporting cast to save the day – Yuhui Choe sparkling gaily in the Third Song, Ricardo Cervera purveying solid class at the head of the male corps and ably backed up by Sander Blommaert, Alexander Campbell and Tristan Dyer. Having had a run already to settle into this piece, the company looked splendid in it – but that's not enough to carry a piece of this length, especially for that eternal sixth song; it has to be animated by the principals who, last night, just couldn't keep me from wishing the end would hurry on up.

I felt a bit like that about this season as a whole, which was a predictable mixture of story ballets, Ashton/MacMillan classics (with a bit of their transatlantic counterparts, Robbins and Balanchine, for variety) and new stuff from approved in-house providers like Wheeldon, Scarlett and McGregor. Take a look at next season's programme and it's exactly the same. It wouldn't necessarily matter, but after a show like last night's, when even the principals, who ought to breathe life into even the dullest repertoire, were struggling to get my heart racing, another season of the same menu doesn't exactly look like a thrilling prospect.
Afternoon of a Faun/In the Night/Song of the Earth are performed together at the Royal Opera House until 4 June. Song of the Earth will be performed in New York in late June, as part of the company's American tour.
Nuñez and Soares show us what real passion, and real star quality, look like
rating
Share this article