Sacre, Sasha Waltz and Guests, Sadler's Wells |

reviews, news & interviews
Sacre, Sasha Waltz and Guests, Sadler's Wells
Sacre, Sasha Waltz and Guests, Sadler's Wells
German choreographer delivers a Rite of Spring to remember
Immersive and unsettling: Sasha Waltz's brilliant 'Sacre' received its UK premiere at Sadler's Wells last night.
What dancemaker wouldn't want to tackle Le Sacre du Printemps (The Rite of Spring) at some point? Just as the Stravinsky score changed music, the original Ballets Russes production changed dance - and was then, conveniently, so completely forgotten that no master-text exists. Everyone is free to take the Stravinsky and run.
Or rather, dance: as Michael Clark has observed, one of
Sacre
's gifts to a choreographer is the in-built necessity of dance to the scenario, in which a victim is chosen by a crowd and forced to dance to his or her death.
Yet Sasha Waltz, one of Germany's foremost contemporary dancemakers, was at first reluctant to create her own Sacre, though she eventually did it – and for no less illustrious an ensemble and occasion than a Mariinsky Ballet performance in Paris 100 years to the day after the original's legendarily shocking première in May 1913. In Paris, Waltz's creation was shown – at her own request – alongside a 1987 reconstruction of the original, which is generally agreed to be an arid museum piece, but which Waltz says is what inspired her to take the commission. For last night's UK première at Sadler's Wells we had only her own version, preceded by two little morsels from the Waltz back catalogue, L'après-midi d'un faune (2013) and a 'Scène d'Amour' from her Berlioz-scored Romeo and Juliet (2007)

Fortunately, where Waltz's Sacre is being performed, there is absolutely no need to see any speculative, academic reconstruction: her piece is a magisterial response to the music (here, sadly, only a recording) and the evergreen, unsettling power of the scenario, and it is in its own way extremely faithful to the spirit of the Ballets Russes production. That famously engendered conflict between the choreographer Nijinsky and his classically-trained dancers over movement style, with Nijinsky spending hours refining a certain kind of walk, or shuffle, that for him was how an imagined primitive community would move, but that for ballet dancers felt like a vicious inversion of the disicpline's endless striving after refinement and elevation.
As a German choreographer of contemporary dance, Waltz is the inheritor of that campaign for naturalness and against refinement in whose annals Nijinsky's Sacre makes a distinguished appearance alongside modern dance pioneers Rudolf von Laban and Isadora Duncan, and often the choreography in her Sacre follows closely the descriptions we have of the original. Romola Nijinsky's words, "the dancers shiver, tremble and vibrate" and "shifting masses...are ceaselessly splitting up into tiny groups revolving on eccentric axles", precisely describe segments of Waltz's Sacre.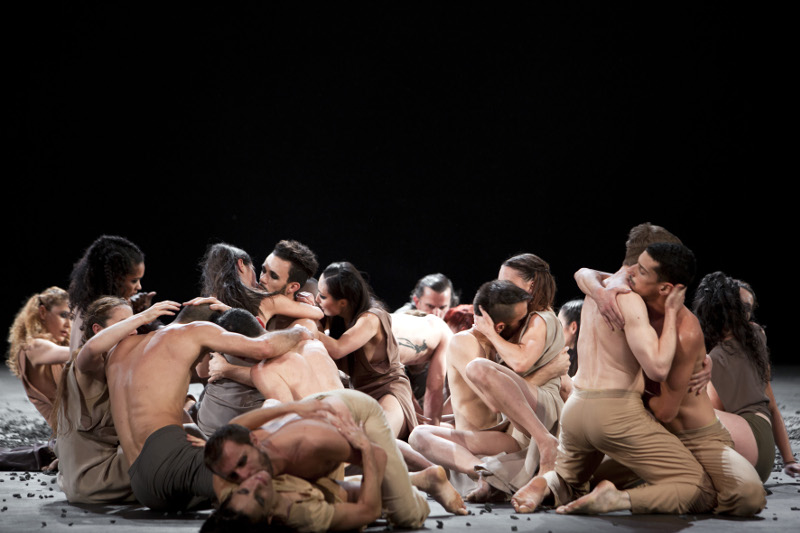 Waltz's movement language is firmly based on the naturalistic flat foot, which is made a feature in Sacre through stamping, running and walking. More generally she aims for the kind of naturalism that almost masks its origins in an organising mind: formations are loose and constantly shifting, interactions physical but far from merely danced (there is biting, kissing, wrestling, simulated sex - pictured above), and nobody seems to be dancing to a script - though of course they are, and the artistry required to look so effortless is revealed when a couple of children appear on stage later, their artlessness a noticeable contrast to the studied ease of the adult dancers. The rite itself unfolds with seeming spontaneity: it's not clear for a long time if it is driving towards the traditional sacrifice, or if so, who the victim will be. This uncertainty generates a brilliantly pervasive apprehension, so that with each flare-up of conflict, each act of division or violence, we ask ourselves, "is it coming now? Is this it?"

It is in keeping with this powerful, palpable atmosphere that Waltz expands the stage to its fullest possible extent: with wings and back curtains removed, the performance space goes beyond what the proscenium allows us to see, and its boundaries are literally blurred by the pale floating dust that hangs over everything. Also hanging over everything - though this only gradually becomes apparent - is a huge metal spike, a needle-shaped Damoclean sword which descends in infinitesimal increments, reaching the floor with brilliant finality precisely at the moment of the Chosen One's final collapse.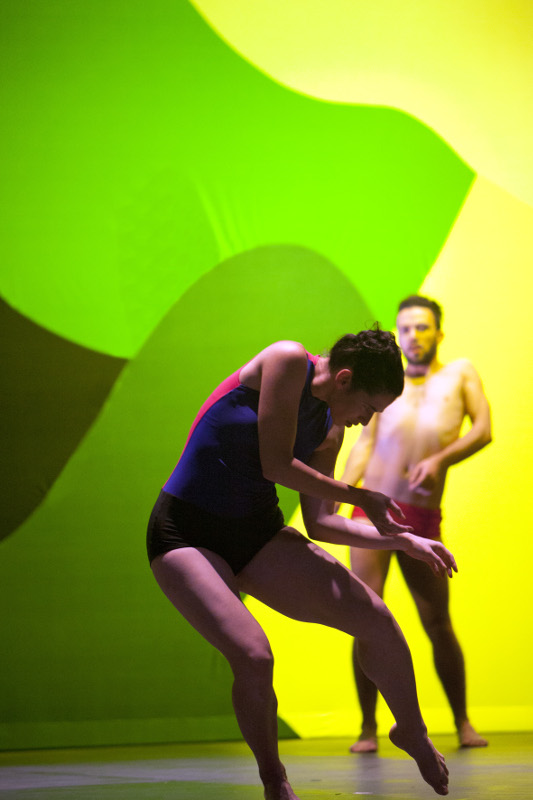 Waltz's Faune showcases the same naturalism, the same unsettling unpredictability as Sacre, and also shares the latter's historical sympathies, using a Matisse-like painted backcloth (pictured left) and and overtly sexual moves that both recall in atmosphere, if not in specifics, the Bakst designs and onanistic ending of the original 1912 Ballets Russes Faune. The 'Scene d'Amour' is the more likeable of the two, an easy flow of exploratory and tender interactions which resembles a balletic pas de deux in structure but again uses a more modern movement language, and seems to involve a delightfully grown-up and confident Romeo and Juliet.
To be honest, the other two pieces are rather left in the dust by Sacre's epic scale and immersive atmosphere, but they are good companion pieces for it, and a bonus given that Sacre on its own is eminently worth seeing. It's a Rite of Spring to rank along with the best, and packs more power in its 40 minutes than many an evening I've seen at three times the length.
Sasha Waltz and Guests perform this programme at Sadler's Wells tonight and tomorrow (12-13 November).
A magisterial response to the music and the evergreen, unsettling power of the scenario
rating
Share this article