Solstice, English National Ballet, RFH review - a midsummer treat |

reviews, news & interviews
Solstice, English National Ballet, RFH review - a midsummer treat
Solstice, English National Ballet, RFH review - a midsummer treat
A grand summer picnic at the Southbank Centre
Alpha male: English National Ballet dancer Erik Woolhouse in William Forsythe's 'Playlist'
"A tonic to the nation". That was the hoped-for effect of the Festival of Britain in 1951, and its concrete legacy was the Royal Festival Hall.
Seventy years on, it's fitting that
English National Ballet
should be the first through its doors, post Covid closure, with the offer of another kind of pick-me-up – a summery, free-spirited, generous ballet gala which has something for everyone. Its umbrella title,
Solstice
, doesn't just describe the timing of the 10-night run. It also reflects the warmth and bright positivity of this show.
Today, ENB is a very different beast from its first, 1950s incarnation in one very striking respect: it's no longer predominantly white. Although classical dance has a better record on racial diversity than some other performance disciplines, over the nine years of Tamara Rojo's reign at ENB, it has made enormous strides. No company, with the exception of Ballet Black, has done more to change the look of ballet in Britain, alongside a noticeable raising of technical standards among the men. Whether or not one has led directly to the other (and it's distinctly possible), it's all to the good. The result is a more exciting presentation all round.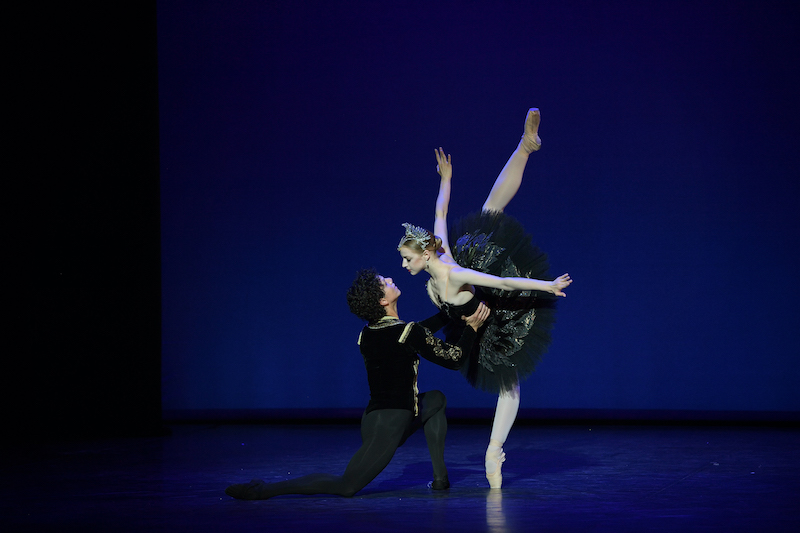 One thing that hasn't changed about ENB is its populism. It may no longer tour arenas, but it consciously positions itself as the people's ballet, never too posh to pull out old favourites such the Act III medley from Coppélia that opens this programme. Village maidens in frothy frocks, cocky lads with pitchforks, bandstand-style oompah from the orchestra, alternating with big swoony tunes and a loved-up central couple keen to impress us and each other with show-off steps. Jeffrey Cirio may have all the big jumps but it takes ankles of steel (which Fernanda Oliveira clearly has) to pull off those dainty little hops on pointe.
Traditionalists are well catered for in the substantial Jewels segment from The Sleeping Beauty and the Black Swan pas de deux from Swan Lake (pictured above) – both given added gloss by committed playing from the ENB Orchestra under Gavin Sutherland. How refreshing it is to hear a ballet orchestra at its natural volume, not muted by being under the lip of the stage. It's also good to be able to appreciate for the first time – a first for me, at least – the special attributes of ENB's latest star acquisition, 26-year-old Austrian Natascha Mair, whose lightning speed in piqué turns defies her lavish length of leg. The real humdinger, though, is the pas de trois from Le Corsaire. This unusual dance-off between two male characters enamoured of the same woman not only features some of the most challenging costumes it was ever a leading dancer's misfortune to wear (viz. harem pants and a priapic feathered turban), but also the most explosive aerial pyrotechnics. Happily, Francesco Gabriele Frola as the manservant Ali makes light work of both, turning the heat up for the rest of the evening.
Too often in this kind of gala feast there's a sense that contemporary works are included, like a side-dish of broccoli, because they're good for us. On this occasion the recent material holds its own, to the extent that my ballet-loving plus-one whispered in my ear: "I never thought I'd say this, but I think I'm going off the classics. This new stuff is great". Two of the newer pieces bucked the upbeat trend with a vengeance. A segment for two dancers from Akram Khan's Dust recalls the trauma of a young soldier in the First World War while Stina Quagebeur's duet Hollow risks being even more of a downer in exploring the struggles of a couple to survive in the face of her long-term depression. But it works, in this context, because it's a thing well made and complete.
The inclusion of the duet from Broken Wings (pictured above), Annabelle Lopez Ochoa's ballet about the artist Frieda Kahlo, was riskier. Without the benefit of programme notes (a curious Covid precaution), many spectators will have spent their mental energy wondering what was the deal with the paunchy guy in the turnups and braces. Answer: it's Kahlo's husband, Diego Rivera, fellow artist and famously self-destructive sybarite. Of course it's possible to enjoy colourful movement for its own sake, but with characters as specific as these, a few pointers help.
The most memorable items turn out to be the most self-sufficient. A duet by Ben Stevenson set to a piano prelude by Rachmaninov wrings surprising emotion from the interaction of two bodies and a metal barre. And the fabulous all-men finale, William Forsythe's Playlist (Track 1,2) (pictured top) injects a street vibe into standard ballet steps to electric effect. Never has a bunch of 12 guys in T-shirts been made to look more fit – in both senses of the word – nor ballet ever looked more of the moment, picking up beats from Philadelphia rap. No wonder ENB is attracting some of the best male talent around.