Swan Lake, Royal Ballet review - a magnificent revival |

reviews, news & interviews
Swan Lake, Royal Ballet review - a magnificent revival
Swan Lake, Royal Ballet review - a magnificent revival
Liam Scarlett's production strikes a suitably mournful note on its second time out
A force to be reckoned with: the corps de ballet in the Royal Ballet's latest production of 'Swan Lake'
In a week that saw the Royal Opera House lit up in the colours of the Ukrainian flag and its orchestra playing the Ukrainian national anthem, many theatres and concert halls found ways to express their sympathy for that country's desperate plight.
On Thursday
the Barbican
, celebrating its 40th anniversary with a performance of Haydn's
Creation
by the LSO and LSO Chorus, held a two-minute silence before the start but forgot to tell the audience, who sat there wondering if the soloists were stuck in the tube-strike traffic. At both venues, management spoke of "the humanitarian crisis", a neutral term more applicable to an earthquake or tsunami, where no one is to blame. Whether or not the choice of words was a sop to the sensibilities of Russian donors, it's clear that theatre and concert managements need to think this through. Euphemisms will not wash. Either tell it like it is, or say nothing.
I had even wondered over the rightness of attending the Royal Ballet's Swan Lake, given the work's Russian origins. But I reasoned that Swan Lake has long been a global cultural icon, one with which the ballet company of Kyiv feels as great a spiritual connection as any company in Moscow or St Petersburg. What's more, in remaking this largely traditional production in 2018, Liam Scarlett drew as much on the work's British production history as on Russian. The result, combined with grandly moody designs by the painter John Macfarlane, is freshly magnificent. You feel Pyotr Il'yich Tchaikovsky, a gentle soul whose music is still the main reason for the ballet's longevity, and who died before he saw it fully realised, would have approved.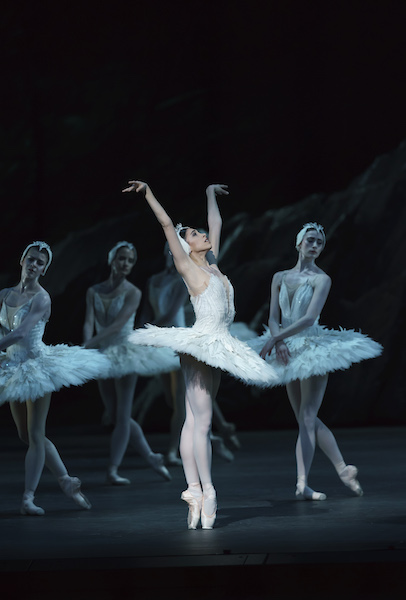 The quality of music making under the baton of Koen Kessels is a striking element of this revival. Over the course of dozens of Swan Lakes, I don't recall ever hearing the opening strings of the overture so limpidly phrased or the fiddle solo in the Act II pas de deux made so magical or mysterious. Mood is everything in this work, and Kessels and his players nail it with every scene change. When the corps of swans makes its belated entrance in the middle of Act II, you not only see but hear the birds' featheriness in the most delicate of tremolandos from the violins.
Macfarlane's outdoor setting for Act I, a drinks party for Prince Siegfried and his future palace staff, is dominated by vast gilded gates set aslant the stage so that all the dances are angled too. When this production first aired four years ago, the big Act I ensembles – the waltz, the polonaise – looked difficult and over-complicated. Now, with the steps properly bedded in, the dancers make the patterns look easy. What's impressive is not only the clarity of the fast footwork, or the finesse of all those lines and circles and figures of eight, but the quietness of the dancers' landings from those synchronised jumps. Choreography for three characters new to this production – Siegfried's two younger sisters and his friend Benno – are so crisply done that one's impatience to get on with the story is forgotten. On opening night James Hay's Benno threw off one of the most immaculate double tours en l'air seen on this stage, to whooping applause.
Scarlett's other tweak of the familiar scenario is to have the villain Von Rothbart drive the story. In a brief prologue, we see him turn a kidnapped princess into a swan and later, disguised as court adviser, plot to take over Prince Siegfried's kingdom. Russia's hostile occupation of Crimea was still in the news during the planning of this production, but the choreographer can have had no idea of how the Putin-reference would play out years later.
Every new production of this ballet has to make a decision as to whether to play the story for real, or as pure myth and magical illusion. This one seems to waver between the two. Yasmine Naghdi (pictured above), a short-notice substitute for Marianela Nuñez who has Covid, plays Odette as a flesh-and-blood woman who longs to trust Siegfried as her potential saviour. Despite her exceptionally long, slender and pliable limbs, she is never completely swan-like. Vadim Muntagirov's Siegfried (pictured left) watches her adoringly, supporting her balances entranced, in love for the first time. However, the pair are not regular partners and there is no palpable chemistry between them until the fireworks of Act III. Top-notch technique carries them through till then.
The female corps de ballet, as Odette's entourage of swans, just gets better, framing their queen in perfect alignments of white tutus and angled pointes that glow under David Finn's dangerously dark lakeside lighting. When, in gaps between musical sections, they change position on a silent cue, the cloned synchronicity is spooky. That avian intent even invades the quartet of cygnets, so often played for comedy, and the mood darkens further after the catastrophe at the palace. Act IV, under a moonless sky, doesn't let up in mournfulness as Odette informs her followers that all is lost. Even when Siegfried rushes in, to Tchaikovsky's exultant music, there is no hope that he can atone for his mistake. The final pas de deux is one of reproach and regret and there is no reconciliation in death.