Swan Lake, Royal Ballet review - beautiful, heartfelt |

reviews, news & interviews
Swan Lake, Royal Ballet review - beautiful, heartfelt
Swan Lake, Royal Ballet review - beautiful, heartfelt
Liam Scarlett and John Macfarlane's new version of the classic takes wings
A dark and stormy night: John Macfarlane's lakeside is a spooky setting for swans in the Royal Ballet's new 'Swan Lake'
Liam Scarlett, choreographer of the production that opened this week, was a babe in arms when its predecessor was created by Anthony Dowell and Yolanda Sonnabend in 1987, and – given the evidently lavish investment in the new show – the Royal Opera House accountants at least will be hoping Scarlett is a pensioner before his interpretation is retired.
No small pressure, then, on Scarlett and perhaps even more on designer John Macfarlane. Swan Lake is, famously, a malleable classic, whose main ingredients of lakeside, swans, Petipa/Ivanov and Tchaikovsky are both iconic and unstable – a choreographer and a music director can massage most things to their liking and only the bunheads and the Tchaikovsky geeks in the audience will notice. For the average spectator, it's setting that marks out one production from another. So, with the synopsis on the cast sheet reassuring us that Scarlett had taken a traditionalist approach to the basic story (no male swans à la Matthew Bourne, nor any psychological reading à la the Bolshoi), the question in everybody's heads as the curtain rose was: will it look good?
By Act III, the verdict was a resounding yes. The ball unleashed ells of velvet, lamé and silk, layered up in dazzling, lavish combinations of texture and colour – diamanté-encrusted boleros in the Spanish dance, enormous mink oversleeves in the mazurka, and more black taffeta than Queen Victoria's closet for Elizabeth McGorian as the icily mourning monarch. Acts II and IV – the lake ones – were more sparingly realised, with Macfarlane's trademark spookiness at points becoming straight-up shadow: the lake is a mere hint of pewter on a dark backdrop, cast into the shade by jagged black rocks and an ominous full moon. The swans, haters of the previous production's long skirts will be pleased to know, are back in white tutus, though the deliberaturely textural feathers do recall Sonnabend's ragged birds. (Pictured above right: Marianela Nuñez as Odette)
Act I's designs are lush in their way: dove-grey bustles for the ladies, smart cavalry uniforms for the men, a massive threatening pine tree and a backdrop – apparently painted by a love-child of JMW Turner and Caspar David Friedrich – that perfectly evokes the stifling nearness of the forest. But it's in this act that Scarlett and Macfarlane's choice of place and period – Germany in the 1870s or 1880s – is most obvious, and for me that throws up some of the issues also raised by Dowell and Sonnabend's Imperial Russian setting: it is too recognisable, too close to being modern. However unlikely, one feels obliged briefly to review potential political meanings – is this about Prussian imperialism? Is Von Rothbart Bismarck?!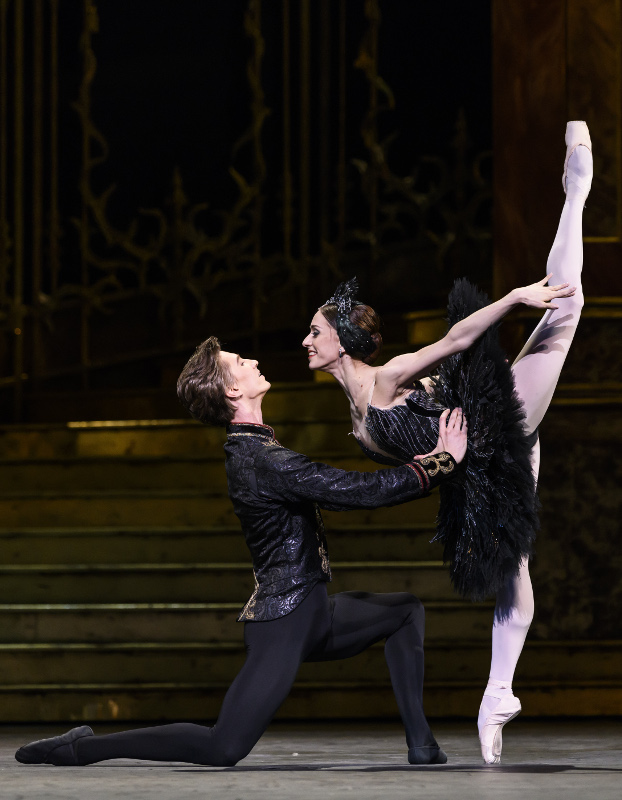 Of course not: this production is just inflected with Scarlett's tastes, and Scarlett, as a pure Royal Ballet product, has been extensively exposed not just to Dowell's production but also to Kenneth MacMillan's Mayerling, with its depiction of a dysfunctional late 19th century Germanic royal family. Scarlett also has a thing for unhappy, isolated characters, and so where Dowell made Prince Siegfried a jolly Prince Hal, Scarlett makes him more of a Hamlet, stiffly miserable in the face of his imperious mother and her omnipresent, black-clad advisor, Von Rothbart.
This translation of the sorcerer into real court figure (played, with excellent make-up, by Bennet Gartside) works well by providing a clear reason for the prince's discontent at home. But, like the obviously historical setting, it enhances a sense of disconnect between a realistic world of politics and families and the magical realm of the lake. An evil vizier should be scheming to control or disinherit the young heir, not messing with his supernatural romance. And a politician who abducts a young girl (which we see in the prologue) looks like rather too contemporary a villain. More practically, Rothbart's presence in court makes his dynamic with Odile in Act III awkward – where has he suddenly produced her from and why is nobody suspicious?!
Scarlett's choreographic choices are mostly sound, with plenty of opportunity for Royal Ballet principals to show their chops in the pas de trois (Alexander Campbell, Francesca Hayward and Akane Takada, all neat and cheerful) and the character dances. I find his corps de ballet work a little hyperactive, with lots of difficult changes of direction, and an avoidance of traditional straight lines in the white acts, but that's the sort of thing one hopes can be gradually refined as a production settles down.
Vadim Muntagirov and Marianela Nuñez (pictured above left) are the company's dream pairing at the moment, providing the gravity the new production needed on its first night. Their dynamic took a while to get going – the white swan pas de deux wasn't quite the soaring romance one wants, nor that Peter Manning's superb violin playing deserved. But the black swan pas de deux shimmered with sex appeal, and their Act IV parting was heartbreaking, with them looking at every moment the thoroughbred principals that they are. Though give Muntagirov more dancing, dammit; he's worth it! Koen Kessels in the pit was another world-class asset, working his magic on the score to bring it completely, lyrically alive.
The issues with plot and setting, minor though they may seem, mean I can't pronounce this a perfect Swan Lake. But it's a beautiful one, and a heartfelt one, and – given some time to bed in and evolve – will be worthy of its role in furnishing the imaginations of young dancers and dance fans for decades to come.
The Royal Ballet perform Swan Lake at the Royal Opera House until June 21. It will be screened live in cinemas around the world on June 12

A choreographer and a music director can massage most things to their liking and only the bunheads and the Tchaikovsky geeks in the audience will notice
rating
Share this article