10 Questions for JC Chandor |

reviews, news & interviews
10 Questions for JC Chandor
10 Questions for JC Chandor
The Margin Call director's next project is a dialogue-free action film with Robert Redford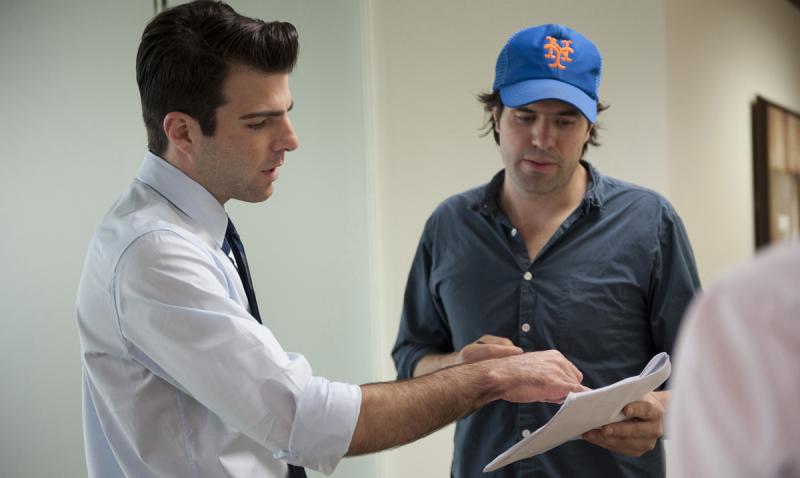 JC Chandor (right) and Zachary Quinto at work on 'Margin Call'
It's rare to get excited about a DVD release. It is even rarer to get excited about a director. Margin Call and its director JC Chandor are rare exceptions. Devised in 2005, the idea for the film came about when the director and his chums, testing the waters of the volatile yet lucrative New York property market, were offered $10m by a bank - few questions asked.
By 2006, their plan of buying a building, renovating and flipping it became an undone deal as one of Chandor's group pushed them to sell up - an act thatproved to be prudent in hindsight.
Built upon those real-life tensions, Margin Call is one of those films you tell people to see. The film cost $3.4m, even with a stellar cast of Kevin Spacey, Paul Bettany, Jeremy Irons, Zachary Quinto (who also produced), Penn Badgley, Simon Baker, Mary McDonnell, Demi Moore and Stanley Tucci. It went on to make $12.8m at the box office.

At the time of this interview Chandor was finishing up his Robert Redford-starrer All Is Lost. He continues the tale, straight from the edit room of All Is Lost, to promote the gem-like Margin Call on DVD.


KAREN KRIZANOVICH: Margin Call probably seems like a long time ago now. What do you think about it in retrospect? (Jeremy Irons in Margin Call, pictured right)

JC CHANDOR: It was… a victory. Bizarrely that is what is sticking with me because it affects me every day. That film will always be my first film that I almost didn't get the opportunity to make. I'm a young guy in the scheme of things, I had young kids and financial responsibilities that were starting to back up on each other and that film was sort of my last ditch effort, not to be melodramatic about it. I am living every day with the really amazing positive by-products after trying to do this for 15 years. That is a neat turn of events. But the film is also looking back. I was so lucky that it came along when people were willing to be open to talk about it [financial meltdown], to be part of a cultural conversation. It was very lucky and really nice for me to make a good little movie to come across that timing. There was never going to be a huge marketing budget behind Margin Call so the cultural significance gave content writers something to write about. The point is that you could have made a really good little movie at some other time and it could not have worked out the way it did. But I am more thankful that I made a half-decent movie because maybe I could do it again. It's neat. I'm teaming up with the same company here and with Universal Pictures International with the next one. It is a dream come true.
What are your thoughts about films on a small screen?

This film plays well on the small screen. It was shot with a lot of close-ups. In a medium or a wide [shot], what's between the camera and the performer becomes part of what you're trying to tell. What I was trying to use in Margin Call was the landscape over their shoulders. The backgrounds become what foregrounds do in a medium or wide shot. It is the rest of the world they refuse to talk about - the rest of the world over their shoulders and the computer monitors which rule these people's lives (Kevin Spacey in Margin Call, below).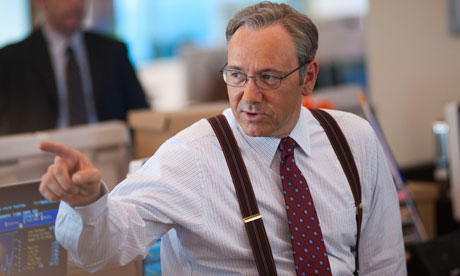 Do you direct for the small screen?

I'm making a movie right now that I'm flat-out realising should not - not "should not", that's a little bit strong - but it needs a big screen in a way to make it lifelike.

Did you plan on making Margin Call more like a play then?

It has been compared to a play, but a lot of that came from budgetary restrictions. Rather than running away from them, I ran towards them. It is a fun thing because in other ways I couldn't have done those things. But it is a neat mashup. The film plays on a small screen because there were a lot of close-ups that were chosen. The benefit of that is that especially in a wide shot what's between the camera and the performer becomes part of what you're trying to tell.
Did you have a logic behind the style of filming of Margin Call?

I used the close-ups to accentuate the performances but what's over [the actors'] shoulders becomes part of the landscape. The city, in my mind, was the rest of the world, although the characters refuse to talk about it. What they were going to do was going to reverberate out. The dialogue certainly took some of the best, performance-wise, from what an actor could do in a play.

Have you watched it on a small screen?
Many times. Embarrassingly, I've watched it and edited it on a small screen. We had to do a fairly significant re-edit... That's an exaggeration - we had to take three minutes out of the movie and some things - the size of things - had to be changed for the big screen. We were kind of under the gun to get to Sundance, to get the edit finished and everything. The first time we saw the film on a very large screen, it was at that high school they show the movies at - in that 2222 person theatre. That was sort of a miserable experience. I was under duress emotionally. But it was very exciting and fun. All the actors came, all eight named performances came to Sundance. I got to ski with Jeremy Irons. It was like a dream come true (Chandor and Margin Call cast at the Sundance Festival, pictured below).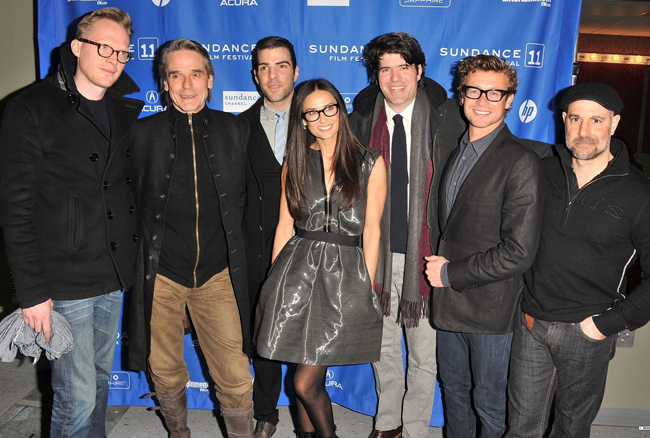 Your style is fresh, exciting, spare, yet easy to follow. What are your thoughts on directing?

It is pretty simple. I am following my gut. When it comes to creative things, answers come quickly and they are quite apparent. I follow that throughout the whole process. You hope that the greater majority of your decisions are improving the film and you are not going backwards, from the script phase. I am always thinking of the end movie, not writing a script that is meant to be read. Most of my scripts read like the movie I want to make. Through the casting and all the other decisions you make, you're trying to improve it. It really is just thinking about a movie that I'd like to see, from the minute I sit down to write something. I just follow that. I am trying to challenge myself, also, to tell stories in different ways - which goes back to that fresh or original idea. Audiences are continually becoming more evolved and advanced. In a weird way. Visually they are becoming more adept.
Robert Redford turned himself over to me completely, which was a little bit dauntingDo audiences understand film language more?
I'd like to think so. Unless we are talking about £200m movies which are under terrible pressure [to gain an audience], when you're talking about your average consumer of one-hour TV shows, people have more choices and more ways to see things. We like to think it was better back in the day but once the financial questions of delivery technique are worked out, it should be viewed as nothing but a way to reach a broader audience. With an independent film, I can now reach the entire United States in one day. Well, not entire but I can reach a pretty huge percentage. I'd like to think that my child can take in information in a way that I, staring at a little 15 inch TV, was just not able to. I am not going to judge but I am making a film right now with no dialogue and I think audiences are alert enough to want something new.

Margin Call was a coup of casting. How do you get so many excellent actors to work with you? What's your secret?

Mine was knowing it was such an opportunity to work with so many great actors. The least experienced actor was a 14-year veteran. I was the least experienced [person] by a long shot. If you go from him on up, it gets more and more and more experienced right up to Kevin Spacey, Jeremy Irons and Demi Moore - an amazing long history. Who the hell was I? The neat thing was - and I think actors do pick up on this - they'll do a lot of things with you, but the one thing that I think they won't go along with is if you don't know what you want...if you are trying to figure it out as you go along. After a long history together, maybe that would work. But I had waited long enough for this opportunity with Margin Call that I was not going to chance it. I knew that if I got the movie that I had written in my mind, with those actors and the kind of calibre performances they can give, I was going to be in pretty good shape.
All Is Lost is in post production, the film you designed with Robert Redford in mind. How did you come up with a story for someone like Redford?

I am a child of Eighties action movies. All Is Lost is structured as a thriller - you want to know how it turns out. Let's say it is an experimental action film for a broad audience. It has to have an older actor, because it is a meditation on mortality. It is a survival film. The integral piece of the film is that it centres on a person in the latter half of his life. That is important for me. This film is a ridiculous challenge as the character never speaks. There are some basic plot-driven things - things happen, shit that hurts - but it is not dialogue. This puts a heavy burden on the performance. Amazingly, Robert Redford was in an interesting time in his career. He'd been directing himself and that's all he had done for the last 10 years. He was at an open place as an actor so he turned himself over to me literally completely, which was a little bit daunting.


Margin Call is released on DVD on 12 November by Paramount Pictures UK
All Is Lost is due for release in 2013.
Actors will do a lot of things with you, but the one thing that they won't go along with is if you don't know what you want
Explore topics
Share this article