Margin Call |

reviews, news & interviews
Margin Call
Margin Call
JC Chandor's debut feature is a chilling portrait of the financial food chain at work
Wednesday, 11 January 2012
Woman at the top: Demi Moore in 'Margin Call'
Margin Call, a smart, taut and brutally frank portrait of the money game, asks a lot of its audience. A movie about traders as, if not quite good guys, then at least rounded guys? It's not a trick Oliver Stone ever managed to pull off, and he tried twice. Refusing to deal in the Hollywood placebos of idealism and redemption, this is not a product that the big studios would have gone anywhere near.
Scripted and shot by first-time writer-director JC Chandor, it was made on the very stringiest shoestring – a snappy little irony given the numbers its characters bandy around in the course of its one night and two days in the offices of a high-end Wall Street operation facing financial Armageddon.
And yet Chandor's pugnacious script has managed to attract a cast of gilt-edged heavyweights presumably working for peanuts. Among them is Stanley Tucci as a risk management expert who is marched out of the building at the start of a day of bloodletting, but not before he's handed over the details of some numbers he's been running through the system in which it's suggested that the bank has been "pushing the risk profile without raising any red flags". He suspects Demi Moore's senior shark of having a hand in his demise, a hunch more or less confirmed by his louche, lanky colleague played by Paul Bettany. As night lengthens the news starts to travel northwards up the food chain, past Kevin Spacey's floor boss (pictured below) all the way to Jeremy Irons's head honcho, who choppers in to lead the following day's earth-scorching fire sale.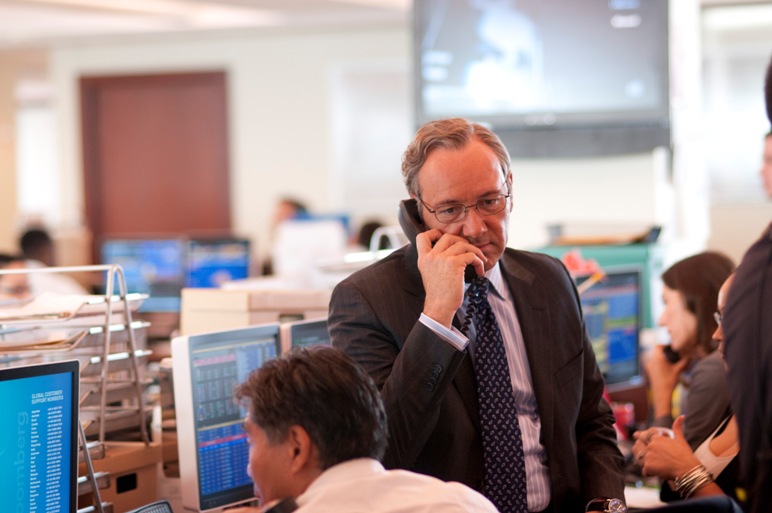 What one might term his budgetary shortfall has given Chandor the freedom to make the right kind of film about the corrosive power of money. Give or take the odd exchange in cars or strip joints and one lovely early-morning scene between Tucci and Bettany on a Brooklyn doorstep, almost everything is set in lonely rooms at night, usually with two characters telling each other stuff as they contemplate the bleakness of tomorrow. Simplicity extends to those parts of the script which might otherwise confound. An ancillary running joke, there entirely to help the audience, is that the higher-ups don't understand financial gobbledygook. "Speak as you might to a young child or a golden retriever," Irons says to the young messenger bringing bad news.
The film has the grammar of a money thriller – there is a lot of talk about numbers doing scary things on monitor screens – but this is not about outcomes or denouements. We know that "the biggest bag of odorous excrement ever in the history of capitalism", as Irons calls it, is about to make contact with the fan and impact on the lives of many millions. Margin Call is about how the figures trapped with this terrible foreknowledge manoeuvre themselves into position. Of the underlings, Zachary Quinto's peppy number-cruncher is set to rise, while Penn Badgley's weepy pretty-boy trader frets increasingly about the chop.
Among the piercingly honest facets of Chandor's tale about the ethics of selling is the almost total absence of sex - or its more lasting consequence, family. Moore impressively plays the only female character with any stature. In one scene, she and Simon Baker's boardroom ballbreaker talk as if the female cleaner between them in the elevator simply doesn't exist. The cost of her rise is silently totted up when, thrown into proximity with Tucci, she asks him if he has any children. Three, he replies, and knows from the hurt look of her hatchet face not to ask back.
The biggest beast in this concrete jungle that never sleeps, captured in spooky night-flight shots, is Irons's mid-Atlantic raptor (pictured left), hair styled in a greasy throwback to Gordon Gekko and prowling the corridors like a Renaissance assassin. It's a ridiculous performance in almost all ways, but maybe this is one figure Chandor is unable or unwilling to humanise. Bettany's swaggering Englishman knows the rules of the game. Tucci has a lovely speech littered with numbers about the bridge he once built as a socially useful engineer. We know we're meant to root for Spacey because he loves his dying pooch. Indeed, he invests his long-serving trading boss with a decency which seems a little too much until, against his will, he must put that decency at the service of his employers.
In other hands, Margin Call could easily have been 100 minutes of unsightly cock-waving. Instead, it is subtle and hefty and just downright sorrowful. Probably Chandor's characters tell one another too much stuff, as if they're refugees from a play. This is a film where the pictures don't by any means do most of the talking. But then the words are very good. Take Irons's definition of money: "pieces of paper with pictures on it so we don't have to kill each other to get something to eat".
Watch the trailer to Margin Call
What one might term his budgetary shortfall has given Chandor the freedom to make the right kind of film about the corrosive power of money
rating
Explore topics
Share this article