13 Minutes |

reviews, news & interviews
13 Minutes
13 Minutes
From the director of 'Downfall', the little-known story of an attempt on Hitler's life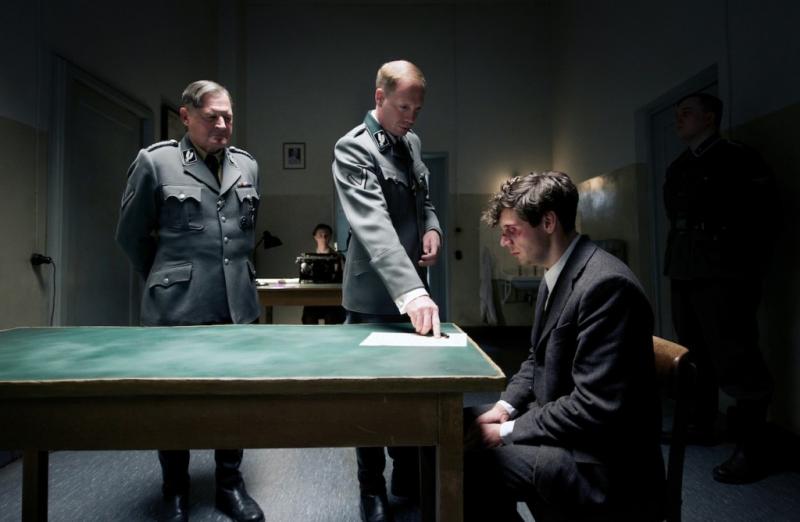 Burghart Klaussner, Johann von Bülow and Christian Friedel in '13 Minutes'
The plot to assassinate Hitler that everyone knows about was on 20 July 1944. It had its Hollywood moment in 2008 with Bryan Singer's Valkyrie, starring Tom Cruise as Colonel Von Stauffenberg. That film unfortunately arrived on the coattails of Downfall, which has since made all Anglophone portrayals of the Third Reich look dismally bogus.
So it's of note that
Downfall
's director Oliver Hirschbiegel, having taken leave of his senses to make
Diana
, has turned his attention to the lesser-known attempt on the Führer's life.
Georg Elser's attempt to kill Hitler took place on 8 November 1939 in Munich's Bürgerbräukeller where the Führer each year addressed Nazi top brass. A vast stash of dynamite secreted in a column behind the lectern brought down the roof of the building and killed eight bystanders. Hitler had left the building 13 minutes earlier. Elser was arrested on the Swiss border and taken into custody in Berlin, where the heads of the criminal police and the Gestapo were charged with extracting information about a wider conspiracy ring.
The bottom line about Elser's story is that it petered out
Only there wasn't one. Elser acted entirely alone. He wasn't even a member of the communist party. For all the Nazis' dumb incredulity that a lone German could wish to assassinate Hitler, let alone nearly succeed, no amount of torture could get him to admit otherwise. It was only the threat of violence to his beloved Elsa that prompted him to explain in detail how he'd come within a whisker of decaptitating the Reich.
Hirschbiegel and scriptwriters Fred and Léonie-Claire Breinersdorfer intercut Elser's imprisonment and torture with flashbacks which portray the insidious rise of Nazism in Alpine Germany. The sudden dominance of these beasts in brown shirts motivates a feckless lady's man, good with his hands and able to hold a tune, to shed his political apathy and Protestant pacifism.
As Elser, Christian Friedel's rubbery features and thick curls give him a distracting resemblance to Dylan Thomas. He exudes a boyish, cocksure petulance that solidifies into defiance, not only towards the Reich but also of the brutal husband of Elsa (Katharina Schüttler, pictured right). Although the torture scenes are horrific, there is a discreet element of comedy in the interrogators' failure to prove a negative. "You can't get any more out of him than the truth," says top cop Arthur Nebe (Burghart Klaussner). "We make the truth!" replies Gestapo head Heinrich Müller (Johann von Bülow).
There are pleasing flourishes. An overhead image of fanatics round Hitler's lectern suggests a hive of devoted ants. An underwater shot of Elser floating free in a lake establishes his individualism. His enlightened state of mind is semaphored by the torch clenched between his teeth as he installs his bomb, and the fires of the blast furnace reflected in his goggles at a steel foundry. A tracking shot along a corridor zeroes in on an impassive secretary waiting outside his torture cell until a howl of pain eventually causes her to flinch.
And yet 13 Minutes lacks the near-psychotic narrative compulsion of Downfall. For all the explanations supplied by Elser, questions go unanswered about quite how he very nearly pulled off his coup. The bottom line about Elser's story – and this perhaps explains why he remains an obscurity – is that it petered out. After starting with a bang, so does 13 Minutes.
Overleaf: watch the trailer to 13 Minutes