Anaïs in Love review - she wants what she wants |

reviews, news & interviews
Anaïs in Love review - she wants what she wants
Anaïs in Love review - she wants what she wants
Anaïs Denoustier sparkles as a messy millennial who bulldozes lovers with her charm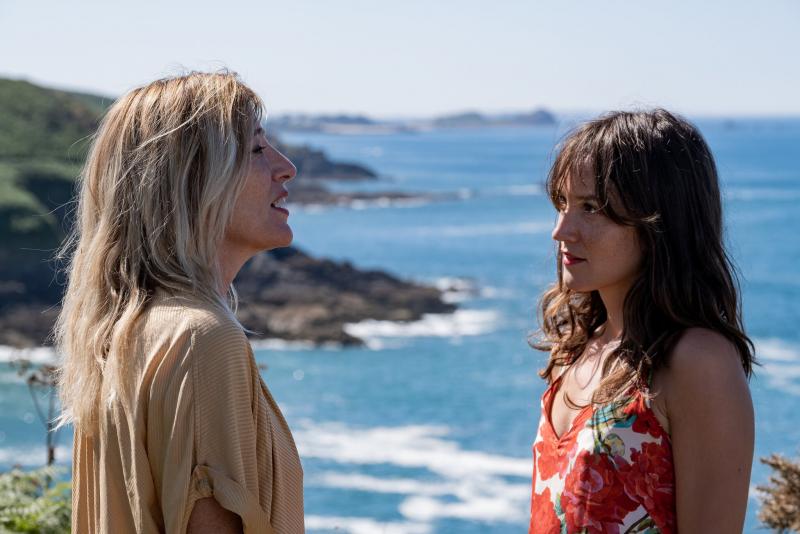 Summer sun, something's begun: Anaïs Demoustier (right) with Valeria Bruni Tedeschi in 'Anaïs in Love'
It's 2022's art-house image du jour – a self-absorbed 30-year-old running to get what she wants, irrespective of the long-term consequences to herself or anyone else.
Watching the pell-mell scurry of Anaïs Demoustier's title character in Anaïs in Love, it's impossible not to compare it with the elegant canter with which Renate Reinsve's Julie freezes time in The Worst Person in the World. If they were running toward the same admirer or career opportunity, you'd back Anaïs to leave Julie in the dust because, as her ex-boyfriend complains, she's a bulldozer.
The knowing first feature written and directed by Charline Bourgeois-Tacquet, Anaïs in Love is an exemplary character study in that Anaïs propels the action – haphazardly, but with a never-say-never conviction when love is at stake – from beginning to end. Demoustier is sensational, her performance the diametric opposite of the initially submissive woman she played in François Ozon's The New Girlfriend (2014).
Not without neuroses, Anaïs has recently broken up with her husband Raoul (Christophe Montenez) because sleeping with someone (as opposed to having sex with them) makes her anxious. When they meet to consider getting back together, she casually informs him she's having an abortion the following week; she's then seen chatting with a woman doctor friend before the procedure. In a year in which the US Supreme Court has denied women the constitutional right to abortions by overturning the 1973 Roe vs. Wade ruling, Anaïs's matter-of-fact exercising of her reproductive rights makes a timely point about female self-determination.
Lugging her bicycle into an elevator on her way to a party, Anaïs promptly smites 60-ish publisher Daniel (Denis Podalydés, with Demoustier, below) – a scruffy grump from the Woody Allen school of midlife-crises indulgers – with her desirability, and they become a couple. Their unsexy affair, which parodies French cinema's de trop older man-younger woman obsession, lasts as long as it takes Anaïs to set her cap at Daniel's wife, the successful author Emilie (Valeria Bruni Tedeschi), having fallen in love with her face in a photo.
The writers' conference to which Anaïs pursues serene Emilie briefly becomes the stage for a farce that Bourgeois-Tacquet immediately supplants with a summery erotic idyll rich in visual clichés. It's effect on Anaïs is to slow her down – like Julie, she is beginning to grow up. Subsequent events reveal that if Anaïs is a flibbertigibbet, she's one with true grit.
That the needs and drives of millennial women inspire vital European films more than do those of their male peers is a sign of the times, and a welcome one. But it's also a double-edged sword, because whether it's a female or male director whose camera is doing the gazing, it frequently privileges beauty and charisma over character. It's as if the sagacious behavioural observations made by Éric Rohmer in his Comedies and Proverbs (1980-87) and Tales of the Four Seasons (1990-98) series fell on deaf ears.

It scarcely matters that Anaïs is a flaky, lying, scatterbrained, calculating, verbally incontinent mess who cannot finish her post-graduate thesis ("passion in 17th century literature") or pay her rent. Whose self-entitlement is off the charts. Whose prime concern about the ominous new cancer diagnosis stoically divulged by her mother (Anna Canova) is how bereavement would impact her.
But the film asks us to suspend judgment and yield, as everyone does, to the sight of Anaïs hurtling hither and thither in a ratty, flippy little floral dress (which her mother pointedly denounces) and the impression made by her torrential strawberry-brown hair, dewy skin – lit to glow by cinematographer Noé Bach – and mischief-making eyes. If I'm breaking one of the current rules for male film critics – thou may not comment on a female character's looks – well, mea culpa. And just watch what happens when Emilie cooly rationalizes why she cannot fit Anaïs into her life after their summer "fling" – and doubt not for a second that Bourgeois-Tacquet is also in thrall to her film's exasperating but magnetic protagonist.
In parsing the mutability of desire, the filmmaker's apparent template is Marguerite Duras's 1964 novel The Ravishing of Lol Stein, mentions of which endow it with talismanic significance in Anaïs in Love. Shots of Gene Rowlands in John Cassavetes's Opening Night (1977), which Anaïs, Daniel, and Emilie see in a repertory theatre, seem less on message.
More than anything, it's Anaîs's vitality that makes her irresistible (in the true sense of that word) and because she adheres to what passes in her world for a code of moral integrity: duty to oneself. Acceptably, it turns out that Anaïs does care for her mother. Whether Bourgeois-Tacquet is targeting specifically the perceived arrogance and narcissism of millennials is moot. Every age has its female and male Anaïses – Beatrice and Benedick, Becky Sharp, Scarlett O'Hara, Dorian Gray, Linda in The Pursuit of Love. Such people are impossible, and who has not been bowled over by one of them?
It scarcely matters that Anaïs is a flaky, lying, scatterbrained, calculating mess
rating
Explore topics
Share this article