Animals review - who decides when the party's over? |

reviews, news & interviews
Animals review - who decides when the party's over?
Animals review - who decides when the party's over?
Emma Jane Unsworth's novel becomes a riotous and unruly film
Thirty-something: Holliday Grainger and Alia Shawkat
This is a scathing and heartfelt coming of age drama, though not of the adolescent kind. Tyler and Laura are soulmates and flatmates, two single women blazing a riotous trail of booze, sex and drugs through the bars and basements of Dublin. But with Tyler turning 30 and with Laura two years ahead of her, the spectre of delayed-action adulthood is looming.
"Sooner or later the party has to end," warns Laura's sister Jean. We know she used to be a wild one herself, from an incandescent scene of her carousing naked and vajazzled in a crowded bar, but now she's a wife and new mother facing grown-up responsibilities. Laura responds scornfully, but the big clock is ticking.
Australian director Sophie Hyde, working with Emma Jane Unsworth's screenplay from her own novel, has conjured an intense, bittersweet relationship from her two leads. It appears not to be sexual, though you sense Tyler at least would like it to be, though in any event they're probably closer than most married couples. Alia Shawkat (State of Grace, Arrested Development), playing American expat Tyler who's evidently on the run from a painful family past, is a powerhouse of sardonic one-liners and worldly wisdom, like a camped-up Dorothy Parker. She keeps railing against the tyrannies of male oppression and the social expectations that hold women back, assuming that Laura is in full agreement. Thus when Laura starts an affair with classical pianist Jim (Fra Fee), Tyler is less than supportive. "He has the shoes of an undertaker and the smile of a despot," she declares theatrically. When the pair become engaged, Tyler takes it as an unforgivable betrayal.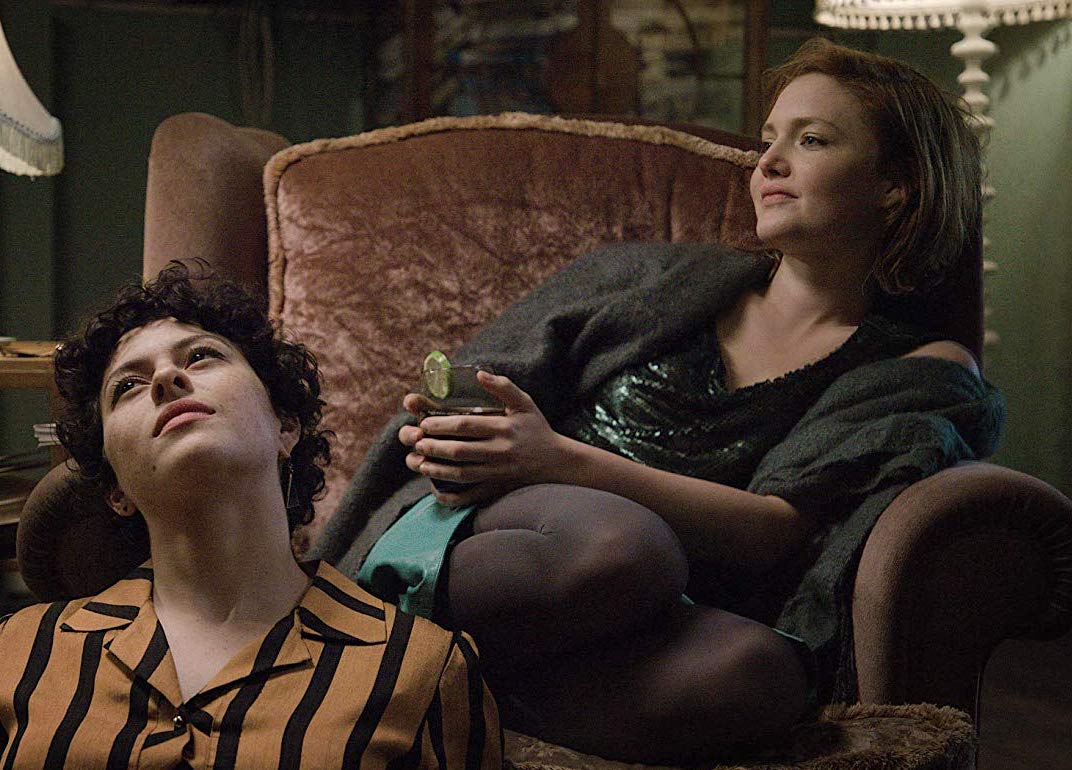 As Laura, Holliday Grainger delivers a mercurial portrait of a woman floundering her way to some sort of self-knowledge, but not before taking every possible wrong turn. She has an ambition to become a writer, though after 10 years of trying to write a novel she only has 10 pages to show for it. She can't find the self-belief and self-denial writing would require, and her party-going rollercoaster is an easy alternative. Even after she's found Jim she can't resist a sleazy sexual encounter with Marty (Dermot Murphy), who poses as an "enabler" for pretentious artists to perform for a roomful of what Tyler would call "art douches".
Grainger, familiar from Strike and Mike Newell's Great Expectations, brings a restless inner fire to her role, as if her life could fork without warning into either oblivion or a quiet life in the countryside. She seems to sniff the air like the foxes and cats she watches in the street through her window, as if in the end it's raw instinct that will decide.