Bank Job review - an inspirational look at finance |

reviews, news & interviews
Bank Job review - an inspirational look at finance
Bank Job review - an inspirational look at finance
How to beat the system and laugh all the way to the bank
A debt explosion. Still from 'Bank Job'
A fun film about finance – really? From the very first frame I was hooked on this can-do documentary; it's that good. A young family – parents, Dan Edelstyn and Hilary Powell, two kids and two dogs – gather at the front door of their Victorian terraced house in Walthamstow and grin sheepishly to camera.
"This is what acting is", Dan tells his daughter Esme, "it's cold, it's embarrassing… Hello, we're the Edelstyn family."
Esme might not get the hang of it, but her parents are naturals. Wearing a cricket jumper and deerstalker hat, Dan looks like an ad for the local charity shop. He's a filmmaker, proud of his first film; but it made a loss and the bank manager sourly suggests that debt might be an appropriate subject for his next endeavour. Bingo!
That was in 2014 and debt was a big issue. Following the 2008 banking crisis Walthamstow, like many boroughs, was badly hit by austerity. People who needed cash were charged an obscene 676.6 % apr by a payday loan shark ! Time to take action; but, asks an onscreen caption, "How does a small family in a far flung suburb of London with no experience whatsoever in activism kickstart a project to write off millions of pounds worth of debt?"
Answer: with imagination, energy and plenty of chutzpah. Within five years the couple had opened a bank, begun printing money, distributed £20,000 between a local youth centre, a soup kitchen, food bank and primary school and written off over £1m of household debt.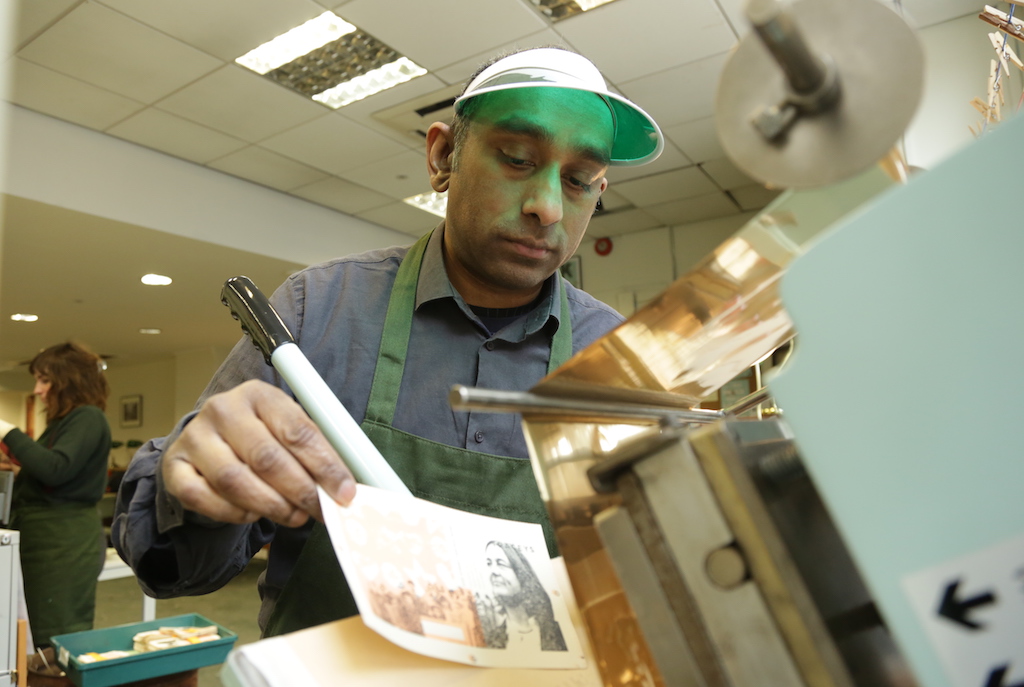 How did they pull off this amazing feat without ending up in jail? Bank Job uses a clever narrative device to tell this inspiring story. While being held in police custody, Dan and Hilary are required to give an account of their actions and motives to a sceptical detective. Will their evidence be compelling enough to get the charges dropped? There was an explosion, after all. Question: "What was your role?" Dan: "Head of explosives". Hilary: "Guv'nor".
Dan goes to New York to meet Professor Andrew Ross of New York University. He's a founder member of Strike Debt, which bought $3.8 million worth of student loans and wrote them off. Ross explains that the financial system is geared to make us all into "revolvers", people who can't pay off their debts. "The goal is to wrap debt around every single possible asset, social good and income stream – to generate revenue from almost every corner of society," he says. "The creditor class wants us to be in a lifetime of debt service."
Back in Walthamstow the plan is to print bank notes featuring local heroes such as Tracey, Head of a cash-strapped primary school, and the two Steves who set up Soul Space for young people to come and make music, films, drama and art. The Edelstyns take over an empty Co-op bank in Hoe Street and call it the Hoe Street Central Bank – HSCB ! Hilary is an artist and she turns HSCB into a workshop where the notes are designed and printed, with the help of local people (pictured above), and sold as artworks. Incidentally, the notes are so good they've won numerous awards and are in the collections of the V&A, Museum of London, the Fitzwilliam and, ironically, the Bank of England.
Enthusiastic press coverage attracts enough buyers for them to reach the £40,000 target, of which they give away £20,000. There's a secondary market in debt; and the more often debts are sold on, the cheaper they become. So with the help of Roland Roberts, a former debt buyer, they manage to purchase 1.2 million pounds worth of debt with the other £20,000, and write it off. Then comes the climax to this wonderful project; filled with dockets for cancelled debt, a gold transit van labelled "Debt in Transit" is blown sky high in full view of Canary Wharf (main picture).
Bank Job is not only a hugely entertaining film, it's also an education. Once people understand how the financial system works, says Ann Pettifer, whose book The Production of Money explains just that, they get very angry. "it's mass personal indebtedness for many and huge riches for the minority."
The story doesn't end here, of course. Hilary bounces down the garden path to the studio. "Dan, I've got a great idea", she announces … The Edelstyns are still in action. They are now minting coins from the wreckage of the van and selling limited edition bank notes and Bank Job bonds. Join the organisation, set up your own bank or simply sit back and enjoy the film.
Bank Job is in cinemas and at Curzon online