Benjamin review - awkward romcom meets cultural analysis |

reviews, news & interviews
Benjamin review - awkward romcom meets cultural analysis
Benjamin review - awkward romcom meets cultural analysis
Simon Amstell explores the social dilemmas of yearning creatives
Addicted to crippling self-doubt: Colin Morgan as Benjamin
Benjamin is the debut feature of Simon Amstell, a young director who has thought cleverly about the torments (and hilarities) of artistic creation in an information-soaked world.
The protagonist Benjamin (Colin Morgan) lives in a contemporary London swimming with creative abundance and social disconnection, in which everyone suffers their own brand of affliction. Benjamin broods with a unique kind of vim, as though self-doubt were an addictive substance, crippling him in fitful questioning and social mishaps. Amstell brings enough ingenuity and bawdy whimsy to his story to keep it feeling fresh. But only just.
The film begins as Benjamin – no doubt a part-fictionalisation of Amstell – prepares for the premiere of his own feature film, "No Self". Inspired in equal measure by online meditation gurus and millennial dating habits, Benjamin's film delivers on its claims by causing him a gradual mental breakdown. The film's lukewarm reception is the decisive factor. In a wonderful scene, Benjamin hunches over an online video of Mark Kermode and Simon Mayo panning "No Self" on their BBC Radio 5 Live broadcast. In agreeing with Kermode and Mayo's verdict, as it seems Amstell wants us to, we are brought strangely closer to Benjamin.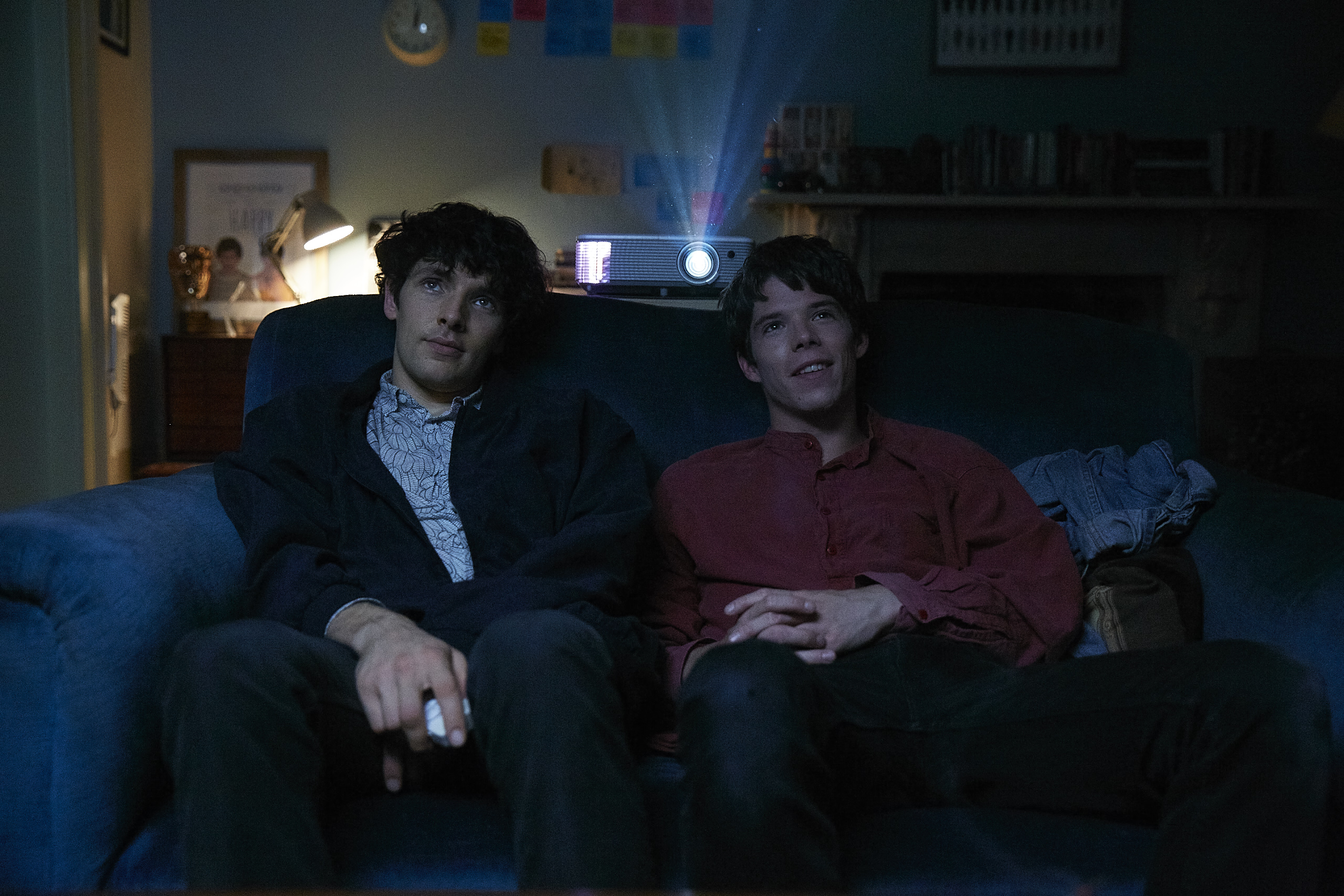 In the midst of emotional crisis, Benjamin attends a music venue with a publicist friend (Jessica Raine) and meets Noah (Phénix Brossard, pictured above with Morgan), a cute French music student. The two quickly begin a relationship that lifts Benjamin out of despair. Noah struggles for success like everyone else, but possesses an aura that suggests he might be the one who can make it. Unfortunately, Noah is turned off by Benjamin's erratic friends, who lack Benjamin's candour and self-reflection. We meet Stephen (Joel Fry), whom Benjamin is closest to, an unsuccessful comedian who silences a comedy club after a string of bad jokes about orphans and abusive parents. There is also Harry (Jack Rowan), a suave but pretentious actor ("I just don't want to be too literal" goes his haughty mantra) who uses creative collaboration to make sexual advances on others. If a "normal" person exists in Amstell's world, they are kept off screen. Noah has a tinge of normality, and it is refreshing, but quickly he is gone too.
If we are all cursed, then at least this provides some ground on which we can connect. This might be Amstell's message but most of the felt profundity of such a theme is lost in the cringe scenes and goofy hubbub. In this way, Benjamin sits a little too uneasily between social critique and the zany romcom, without succeeding in either. Crucial scenes have too much of one or other mode and rarely are the two well combined. Is Amstell trying to do too much? That is not necessarily the flaw, because Benjamin is a fantastically sculpted character: real, enigmatic, as well as darkly comic. He is almost original. As a portrait, then, the film works. It may be that there is just too much of the artist – and not enough of the normal – to go around.
If a 'normal' person exists in Amstell's world, they are kept off screen
rating
Explore topics
Share this article