Black Panther: Wakanda Forever review - expanded Afro-dreams survive a star's death |

reviews, news & interviews
Black Panther: Wakanda Forever review - expanded Afro-dreams survive a star's death
Black Panther: Wakanda Forever review - expanded Afro-dreams survive a star's death
Ryan Coogler honours Chadwick Boseman with a new Black Panther and renewed, radical brief
Tuesday, 15 November 2022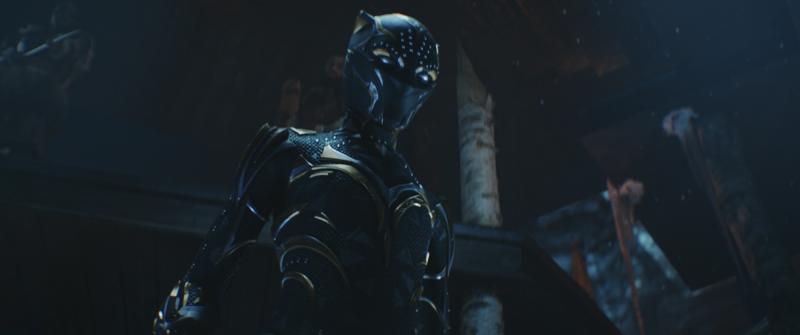 The return of the Black Panther: Shuri (Letitia Wright) takes up the mantle
Chadwick Boseman's T'Challa dies off-screen of an undisclosed disease, suffering "in silence" notes sister Shuri (Letitia Wright), actor and role as one at the end. Lost after one, uniquely iconic full-length film, recasting and digital resurrection was rejected by shocked writer-director Ryan Coogler, even as he ripped his sequel script up.
Mourning is intermittent in Black Panther: Wakanda Forever, with a ghost-wind whistling over a Marvel Studios emblem given over to Boseman. The strength of Coogler's initial Afrofuturist vision is shown by T'Challa's funeral, led by white-robed women dancing to Ludwig Göransson's exhilarating polyrhythmic score, in a procession encompassing a jungle hut and ascent to a science-fiction ship, rooted tradition and technological potency.
Wakanda's golden mist-shrouded hills' force-field protection is similarly parted by water-drum signals, while Hannah Beachler's production design offers wooden-strutted, gleaming tower blocks spanning centuries and civilisations. In short order, Okoye (Danai Gurira) and her elite female squad dispatch French soldiers trying to steal the kingdom's Vibranium power source, and grieving Queen Mother Ramona (Angela Bassett) has torn a strip off Western UN leaders from a position of invincible power. At which point you may catch your breath at Coogler's ongoing upending of Africa and blackness's whole Hollywood existence. Wakanda and T'Challa's creation by two middle-aged Jewish-American geniuses, Stan Lee and Jack Kirby, shows his consistency with Marvel's founding Sixties philosophy.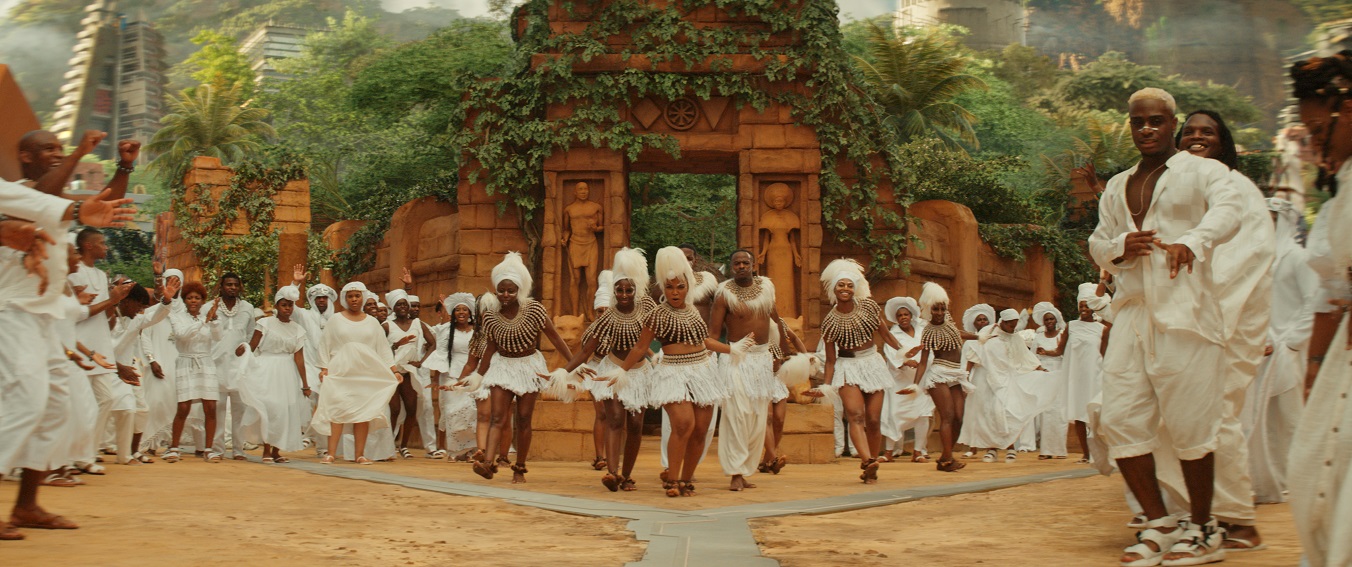 Coogler weaves an expanded, anti-colonial philosophy into Wakanda Forever's fabric by recasting his anti-hero antagonist Namor, the Sub-Mariner (Tenoch Huerta, pictured below), from undersea Atlantean king to ruler of a submerged Mayan civilisation, Talokan, forced into the water by conquistador genocide, where they survive thanks to their own Vibranium stash. They later re-emerge from the ocean to raze a Spanish slave plantation – a shared, atrocious African and Indigenous history in the Americas – suggesting Toussaint's bloody Haiti revolution. This confirms Talokan and Wakanda as a combined, fantasised rising of a repressed, colonised global subconscious, coherently underpinning a blockbuster which retains its quota of (unusually emotional) superhero punch-ups.
Tenoch Huerta's star-making, soulful performance recalls Boseman's charisma, making Namor sensitive and headstrong, intimately soft-spoken and a fearsome warrior; his faithfully retained ankle-wings (and green trunks) seem daft then pretty in their soft flutter. He begins his defence of Talokan's Vibranium with an assault by hypnotic siren-song suicide and super-strong slaughter on a US undersea mining rig. Namor wants a Wakanda alliance against the "developed" world and its inevitable tendency to despoil their previously protected kingdoms.
This leads both parties to Massachusetts' Ivy League MIT ("The equivalent of one of our village schools," Okoye sniffs), where teenage super-student Riri Williams (Dominique Thorne) has cooked up both Vibranium-detecting gear and an Iron Man-style suit, using barely explained dosh (Riri's own Ironheart TV series is forthcoming). In the ensuing mayhem, Shuri is kidnapped by Namor, who charmingly pursues his diplomatic offensive in Talokan, till fatalities cause him to wreak watery havoc on Wakanda.
Shuri's evolution from grief-stricken scientist to avenging inheritor of her brother's Black Panther mantle is Coogler's last, convincing strand, leading to a final, desperate struggle with Namor which seems tragically misplaced. Wakanda's nearly all-female warrior front-line feels incidental amidst a rush of progressive choices, but continues a significant, inspirational pop-culture shift.
Black Panther: Wakanda Forever stands alone as much as any Marvel movie can from the underwhelming aftermath of Avengers: Endgame, whose byzantine, exponentially expanding dimensions mirror Marvel Comics' decadent decline. It feels authored by Coogler, combining a popular, approachably light touch with a radical and emotional heart. It's also a very long, forced reset needed to introduce another Black Panther, deteriorating in retrospect, despite its convincing, feminist Afro-dreaming. The latter remains the true marvel.
You may catch your breath at Coogler's ongoing upending of Africa and blackness's whole Hollywood existence
rating
Explore topics
Share this article