Blu-ray: Charade |

reviews, news & interviews
Blu-ray: Charade
Blu-ray: Charade
Cary Grant and Audrey Hepburn breeze through a Hitchcockian confection
Sphinx-like insouciance: Peter Joshua (Cary Grant) and Reggie Lampert (Audrey Hepburn)
Audrey Hepburn and Cary Grant in Paris in the summer: Charade was the last word in old Hollywood's glamorous cool. It was almost the last word for Grant, feeling if not looking his age.
Its tricksy, trapdoor plot, with a baffled Hepburn hunted for a MacGuffin of $250,000 in wartime bullion she doesn't know she owns, was also a 1963 encore for Grant's Fifties Hitchcock
thrillers
(sans Hitchcock), combining
To Catch a Thief
's breezy French locations with
North by Northwest
's innocent on the run. Released just after JFK's assassination (requiring the word's overdubbing with "elimination", since restored) and just prior to Beatlemania, its comforting pedigree surely helped its huge success.
Debutant screenwriter Peter Stone subsequently enjoyed a long career playing with vintage Hollywood properties and Hitchcockian puzzle plots (his last film, the Sean Connery legal thriller Just Cause [1996], still relied on vertiginous revelations). Novelising his own rejected screenplay, more suggestively titled The Unsuspecting Wife, he attracted director Stanley Donen to this "action-adventure comedy with a female lead".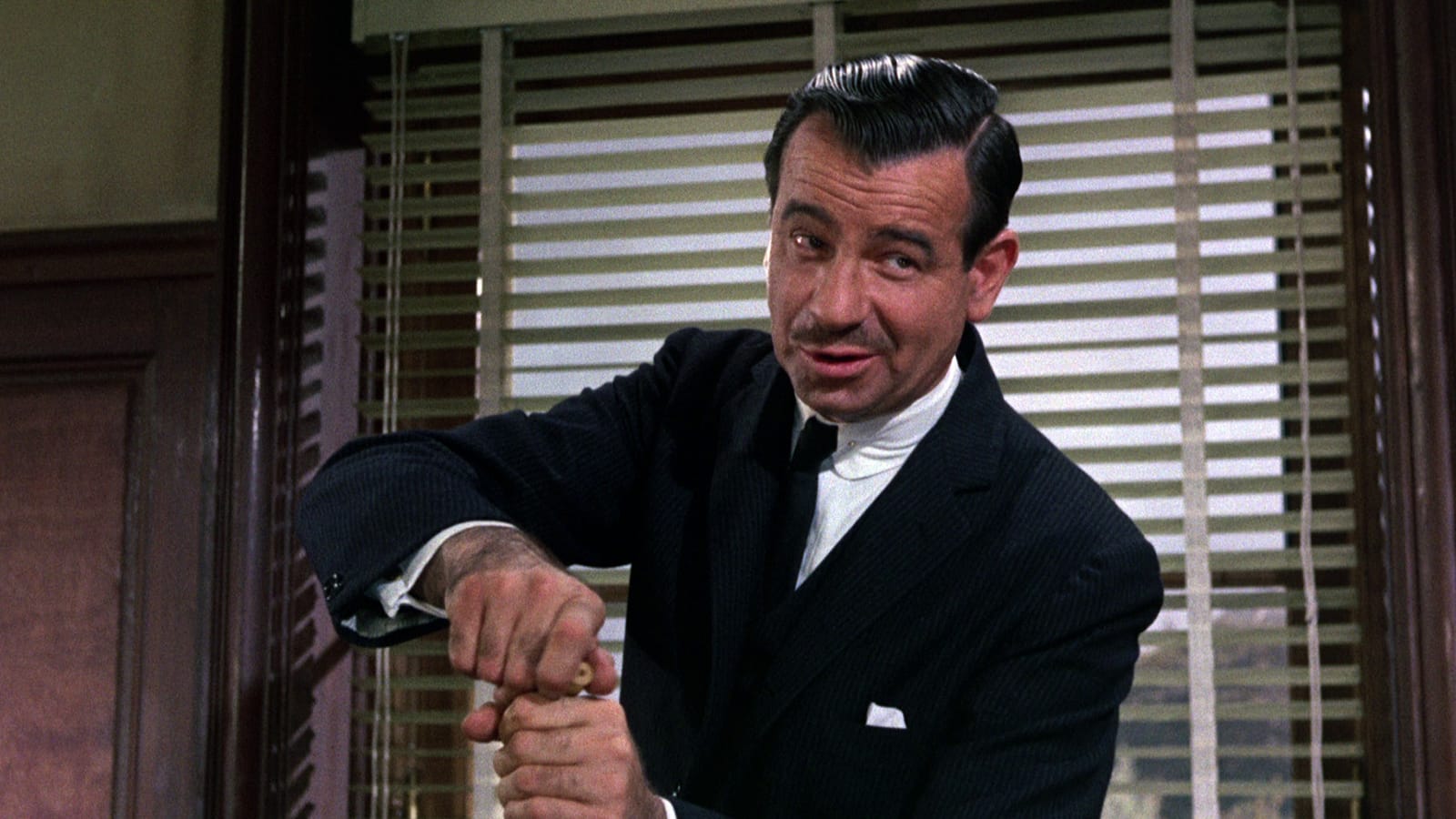 Indeed, Hepburn is the lead from the first framing of that lovely face in an Alpine ski resort. As Reggie Lampert, she's the bored wife of a rich, enigmatic, unpleasant husband, pondering divorce and flirting with a passing Peter Joshua (Grant). Enviably dressed by Hepburn's friend Givenchy, she is sphinx-like and brittlely funny, baffling men such as Jacques Marin's hangdog policeman and CIA agent Bartholomew (Walter Matthau), who watches mournfully as she snaps his expensive cigarettes during a restaurant tête-à-tête. Matthau (pictured above) is also marvellous, arranging that crumpled face into debonair charm, with his then reputation as a heavy in reserve, and his future stardom's comic timing.
Donen, who had directed both stars before and was best-known for musicals such as Singin' in the Rain, marshals impish set-pieces. The unmourned Lampert's blackly comic funeral sees stormy interruptions by his wartime comrades, snaky cowboy Tex (James Coburn), metal-handed heavy Scobie (George Kennedy) and weaselly Gideon (ex-blacklistee Ned Glass), who check he's dead with mirrors and pins. Joshua and Scobie's sweaty rooftop duel recalls North By Northwest's Mount Rushmore fight, and Reggie's chase by Joshua atmospherically exploits its Metro location. Violence ups a notch from the Fifties, with Joshua's shirt bloodily torn from his back, and asphyxiation by plastic bag.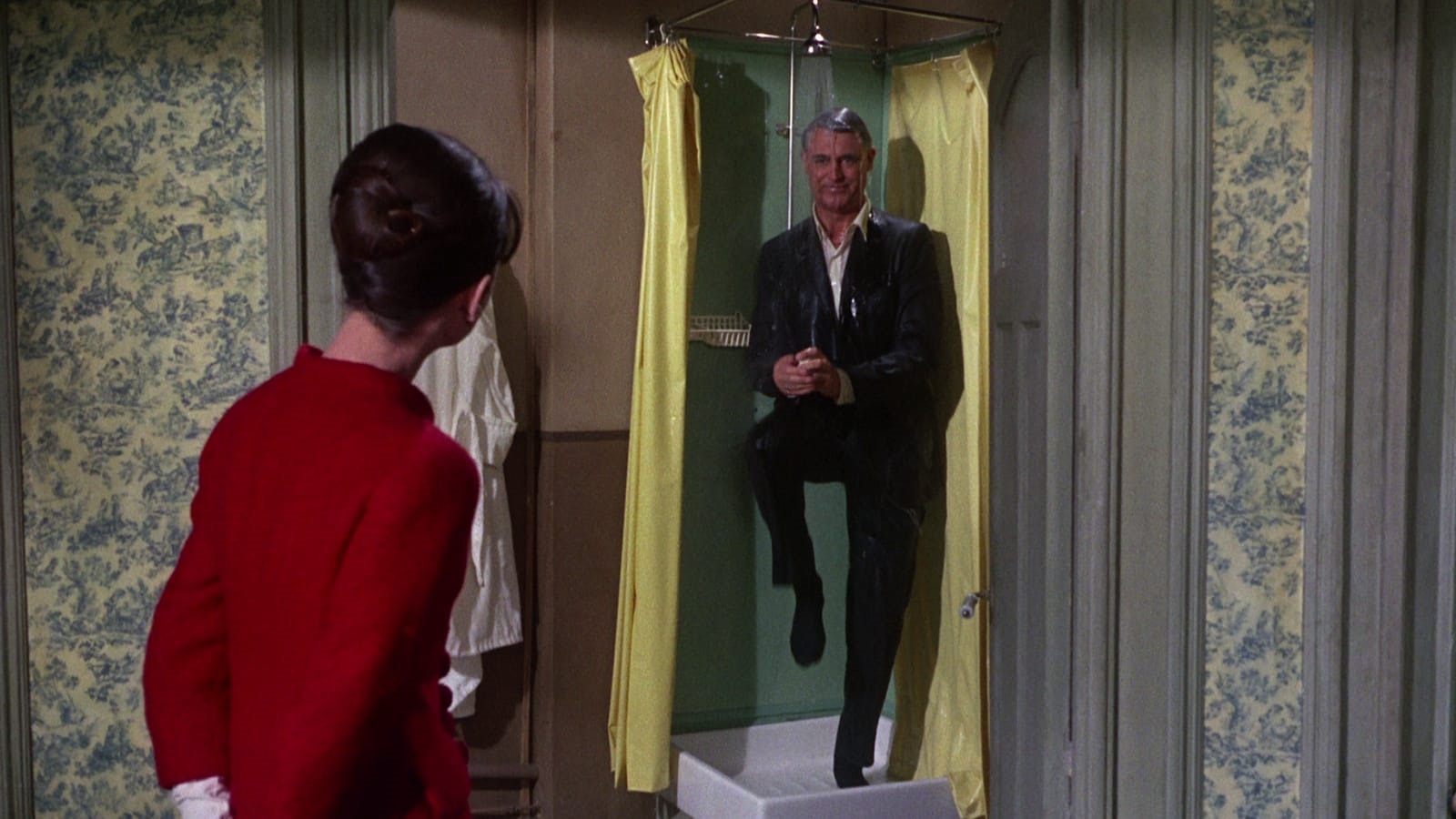 Charade mimics Hitchcock's clockwork, but can't fake the personal paranoia he gave his wronged men and suspicious women. Donen is a lighter director (who recalls Jimmy Stewart's hayseed drawl in his bantering Blu-ray commentary with Stone). Still, Grant's mask slips three times, revealing four identities, and after we see him in cahoots with the gang, he lets a lazy, predatory smile spread before embracing Hepburn. Shot over her shoulder, he has hooded eyes. Hitchcock recognised this quality of deception in cinema's most natural leading man, tapping it in Suspicion (1941) as Joan Fontaine's possibly murderous new husband, and Notorious (1946), where he exploits Ingrid Bergman to catch a Nazi. Fake charm from Cary is a queasy sight.
Similarly, Hepburn's insouciant veneer cracks when she's cornered by Tex in a phone-booth, her eyes suddenly naked with fear for the first time on-screen. The former starving wartime Dutch waif, like poor, miserable Archie Leach, knew how to do that.
There is meanwhile plenty of screwball banter between the stars (Him: "You should see your face." Her: "What's the matter with it?" Him: "Nothing."). Grant's oddly grumpy dodging of Hepburn's advances was due to his unusual self-consciousness for a male star at their age-gap (he was 59, she 34). They're both so eternally beautiful, he needn't have worried. Two films later, though, in Walk, Don't Run (1966), Grant was relegated to matchmaker to dull young leads, and this insecure embodiment of male grace retired.
Stone's plot keeps Charade moving, but the stars, their wardrobe and the Paris streets keep you looking, perfect in a manner about to vanish.