Blu-ray: Coach to Vienna |

reviews, news & interviews
Blu-ray: Coach to Vienna
Blu-ray: Coach to Vienna
A peasant woman widowed by Wehrmacht soldiers seeks bloody revenge
Hansel and Gretel: Iva Janžurová and Jaromír Hanzlík in 'Coach to Vienna'
As a title, Coach to Vienna suggests an opulent Boule de Suif-like drama directed by Max Ophüls and starring the likes of Danielle Darrieux and Michel Simon. But Karel Kachyňa's film is no Viennese waltz. It's a bleak end-of-World War II drama in which a semi-conscious German soldier, Günther (Luděk Munzar), mutters about a woman, or women, he slept with – abused – in the "hellhole" of Ukraine.
This long-buried 1966 Czechoslovakian New Wave gem is horribly relevant to 2022.
Günther has been shot and is lying in the back of a two-horse hay wagon driven by its owner, a Czechoslovakian peasant (Iva Janžurová), who is named Krista in screenwriter Jan Procházka's novella. According to a scrolling title (or "crawl") at the beginning, Günther and his fellow deserter, Hans (Jaromír Hanzlík), have ordered Krista to transport them across the border to Austria.
Abandoning his regular collaborator Procházka's expository first act, Kachyňa begins the film in medias res as the wagon enters a protected deer forest. Pristinely photographed in black and white by Josef Illik, it's an eerie Gothic domain shrouded in mist – both a psychological and metaphorical space – and a realistic war zone where a group of enraged partisans prays on enemy occupants. Her husband having been hanged for a petty offence by some of the Germans, Krista believes divine providence has handed Hans and Günther to her so she can exact revenge.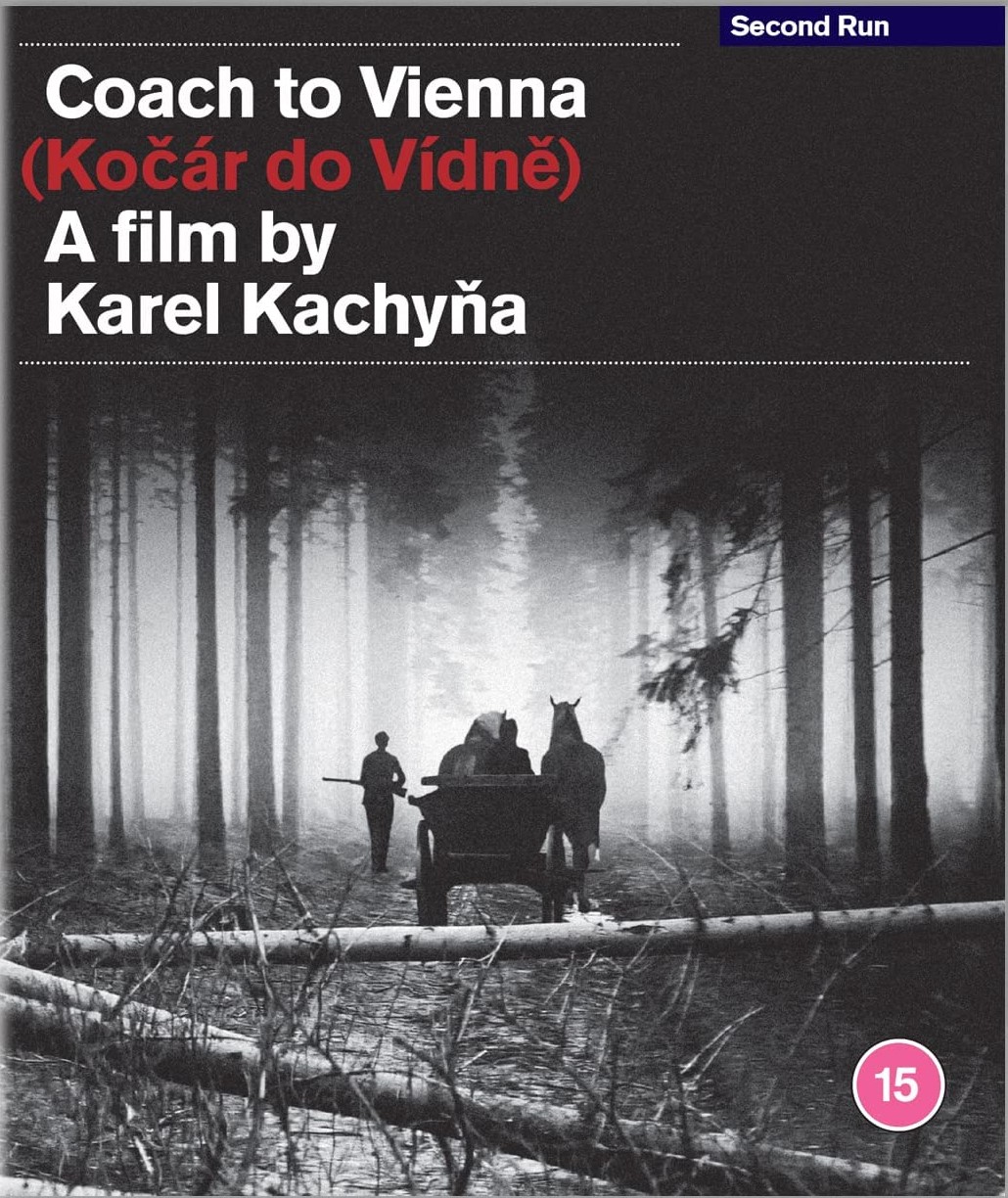 In one of his waking moments, Günther, a true Nazi, sneers at the younger Hans, who's trying to keep him alive, for resembling a Jew. In contrast, Hans, quick to tell Krista he's an Austrian, wishes Hitler dead. An apparently decent boy, he tells Krista about his wife and family, shows her their photos, and spews historic dates, his chatter attributable to his jumpiness. Biding her time, Krista unnerves him with her silence, occasionally issuing a loud purr to control the horses.
Though the ailing Günther is briefly granted subjectivity, Krista – or her God – effectively controls the camera's movements, as when it pans away from the wagon to show where she has discarded her captors' weapons and compass. Jan Novák's Olympian organ score ratchets up the religiosity, but as a Brechtian distancing device it depletes, more so than does the fairytale setting, the sense that the story is a lived experience.
Nonetheless, Janžurová's sympathetic performance as the sullen, watchful widow maintains the tension, at least until when Hans's head falls on her lap during a scuffle. Told to shoot her by Günther, he tells her to disrobe and gazes at the outline of her breasts, which she is slow to cover. This signals the story will involve a rapprochement. Moments later, Hans cuts Krista loose in the forest and a transformation takes place as her witchy cowl releases her heavy flaxen hair. She adds huntress to her identity, in Hans's eyes, as friend, mother, and whore.
Watching the film, I thought "Hansel and Gretel", a reference anticipated in the analysis written by Czechoslovakian New Wave film scholar Jonathan Owen for Second Run's Blu-ray. On the audio commentary by Mike White, Kat Ellinger and Samm Deighan, the latter author notes Coach to Vienna's probable influence on Peter Strickland's Katalin Varga.
Owen's indispensable essay explains how Coach of Vienna's refusal to condemn Hans, depicted as "a good German", or celebrate the partisans as national heroes led to the film's banning "in the dark normalised days of 1973", following the Warsaw Pact invasion of Czechoslovakia in 1968. As a reminder of how war dehumanises everyone, its release is timely. The Blu-ray includes It's Not Always Cloudy (1949), Kachyňa's graduation project from the Prague film school FAMU; he was partnered on it by future fellow New Wave director Vojtěch Jasný.