Blu-ray: Hiroshima mon amour |

reviews, news & interviews
Blu-ray: Hiroshima mon amour
Blu-ray: Hiroshima mon amour
Alain Resnais' masterpiece about unspeakable memories of World War II
Tuesday, 08 February 2022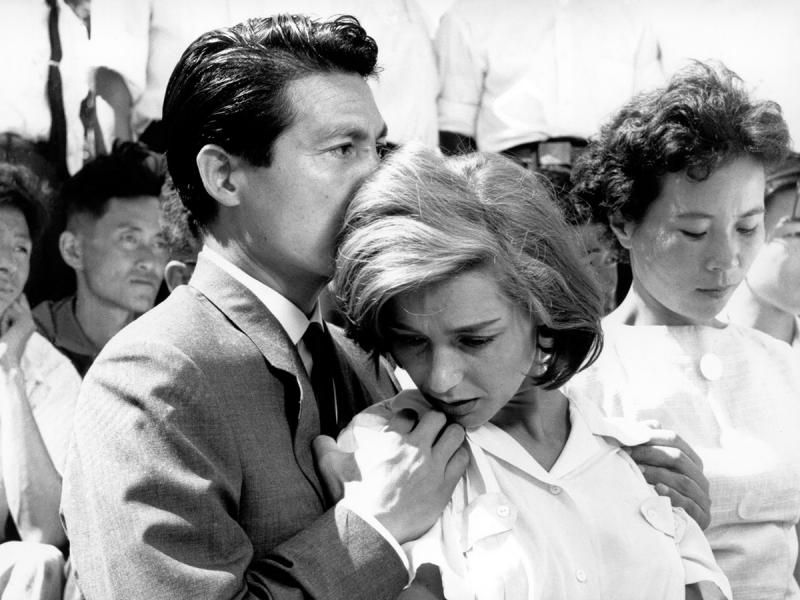 Eiji Okada and Emmanuelle Riva
Hiroshima mon amour (1959), Alain Resnais's first feature-length film, followed a number of remarkable short documentaries, the most famous of which was Nuit et brouillard (Night and Fog, 1956), a haunting evocation of Nazi terror, and still a reference for the way in which the unspeakable can be powerfully expressed.
Another was Toute la mémoire du monde (1956), a beautiful work about the Bibliothèque Nationale, France's national library – a film about memory, compressed into thousands of book stacks through which Resnais' camera tracked relentlessly. The same tracking shots re-appear in Hiroshima mon amour, another film in which memory plays an important part. The film juxtaposes the Japanese city's traumatic recollection of death and destruction with a French woman's recollection of a tragic love affair with an enemy soldier in WW2 provincial France – and her subsequent humiliation after the liberation.
Resnais was originally commissioned to make a film about the atomic bomb, but he felt (as he explains in an interview included as an extra here) unable to do this in a way that spoke truth to the catastrophic inhumanity of the Hiroshima and Nagasaki bombings. He ended up collaborating with the writer Marguerite Duras, who produced a non-linear script with very poetic dialogues and voice-overs that make for a film that is both experimental and accessible.
This lyrical work swings, at times gently and at others more violently, between Hiroshima and Nevers, the place names spoken repeatedly by the lovers as if they were mantras or invocations. The French woman, played by the young Emmanuelle Riva with an exquisitely emotional touch, meets a young Japanese man (Eiji Okada) who falls desperately in love with her.
The film takes place over two nights in Hiroshima – one in which, beautifully lit and shot in close-up, they make passionate love. On the other night, as they wander around an oneiric city that has only just risen from the ashes, the woman recounts the fated story of her first love during the Nazi occupation. This is a film about impossible loves and about the possibility of love in a time of war. It reflects the claustrophobia of the nuclear age and the Cold War.
The film was beautifully restored in 2013, and the black-and-white aesthetic works wonderfully: the sleepy provincial French town of Nevers a picture of urban decay contrasted with the neon-lit cityscape of post-war Japan. As can be expected from a Criterion release, the bonuses are a treat: two good interviews each with Resnais and Riva. There is also a good account of the film's genesis and making by François Thomas.
Although Resnais is often thought of as part of the French New Wave, he is only so in terms of constant experiment. Otherwise he is very much himself, difficult to link with Godard, Truffaut, Chabrol, Jean Eustache, or Louis Malle. His oeuvre has yet to be fully appreciated
This is a film about impossible loves and about the possibility of love in a time of war
rating
Explore topics
Share this article