Blu-ray: Mystery Train |

reviews, news & interviews
Blu-ray: Mystery Train
Blu-ray: Mystery Train
Jim Jarmusch's bluesy 1989 homage to Memphis, city of music-made myths
The bright lights of Memphis: Youki Kudoh and Masatoshi Nagase in 'Mystery Train'
Wandering the wrecked streets of Memphis in search of blues and rock history, two teenage Japanese tourists debate who and what's better: Elvis Presley vs. Carl Perkins, the sleek ultramodernity of their hometown Yokohoma vs. the "vintage" charms of a nearly deserted Tennessee train station.
He's cool and poker-faced, she's sweetly extroverted, but they're young and in love, and no matter how much they argue, the road-tripping couple (Masatoshi Nagase and Youki Kudoh) discover America in a way that natives rarely do. And check out an exchange between her and a downtown denizen who asks for a match: when the apparently homeless Black man thanks her in fluent Japanese, she lights up. The whole world speaks the same language, if only we paused to listen.
"Far from Yokohoma" is the first of three overlapping stories in Jim Jarmusch's third feature Mystery Train, which has been released on Blu-ray by Criterion. Like a modern-day Canterbury Tales, all roads lead to Memphis, where travellers end up spending the night in a seedy hotel. The night manager (Screamin' Jay Hawkins, resplendent) and bellhop (Cinque Lee, best known as a photographer and Spike's brother) banter and bat not an eye at an early morning gunshot upstairs. "Room 22. Gotta be."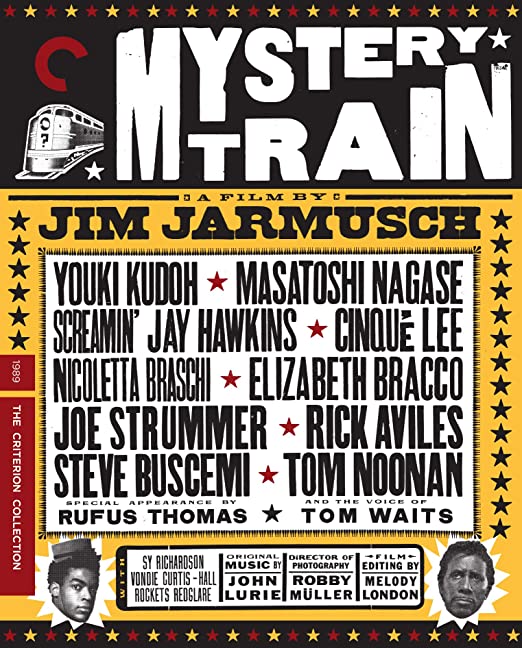 Hawkins's cherry-red suit provides one of the few splashes of colour in this mostly nocturnal film. Jarmusch's cinematographer Robby Müller found visual poetry in empty city streets and long, slow takes.
What seems to be the slightest of the three segments, "A Ghost," becomes unexpectedly moving as new widow Luisa (Nicoletta Braschi) accepts the companionship of a chatterbox New Yorker (Elizabeth Bracco).
Only Luisa, lying awake after midnight, sees the shade of the young Elvis Presley in her hotel room. Is this spectral encounter something conjured from her grief, or a dream? More than once, the mournful whistle of a midnight train makes you wonder.
In "Lost In Space", the final story in the triptych, there's a Jarmusch-style heist starring Joe Strummer, Steve Buscemi, and Rick Aviles that ends in bloodshed. (Poor Buscemi, always getting maimed.)
The disc's only letdown is that the extras aren't new: all date to 2010. Jarmusch confesses that he cringes at the idea of re-watching his work, so there's no filmmaker commentary. If only Muller were alive to shed light on his work. (Sadly, he died in 2018.) The director does open up in a genial audio-only Q&A, with questiions sent in by fans of his work.
Better is an original documentary featuring the film's Memphis talent, from a production assistant and musicians to a music producer-turned-casting director, which focuses on the city's civil rights and musical history. Memphis's famed Beale Street has undergone a wholesale renewal in recent years. What would Jarmusch and his team make of it?
If Mystery Train does nothing for its audience but send them on a pilgrimage to the city that is the crossroads of Black American music, that would be enough. But in its still-of-the-night blues rhythyms, it invites you into the dream state of a filmmaker who never ceases to intrigue. Like his Japanese tourist couple, Jarmusch turns his artist's gaze away from the obvious toward the things we might forget: the pale light cast by a hotel lamp, overgrown train tracks, the loneliness of standing alone under a blue moon.