Blu-ray: One, Two, Three |

reviews, news & interviews
Blu-ray: One, Two, Three
Blu-ray: One, Two, Three
Zany Cold War comedy plays at vertiginous speed
James Cagney as Mac, Lilo Pulver as Fraülein Ingeborg
Billy Wilder's co-writing collaboration with IAL Diamond encompassed comedy masterpieces such as Some Like it Hot, The Apartment, Irma La Douce, The Private Life of Sherlock Holmes and several others, and One, Two, Three (1961) is just as polished a quick-fire performance of story-telling and dialogue.
A
Cold War
satire
, the film pokes fun at the Soviets and the Americans, the extremes of capitalist opportunism and the idiocy of communist dogma, ridiculing both with zest and Olympian detachment.
James Cagney, in one of his last roles, plays the boss of the West German division of Coca-Cola enterprise to perfection. His career advancement depends on looking after Scarlett, the cute and crazy daughter of his boss in Atlanta (Pamela Tiffin) when she comes to town. She falls passionately in love with Otto, a young communist from East Berlin, whose red-tinted fanaticism is brought to vibrant life by Horst Buchholz. The ensuing mayhem, which Wilder manages to whip into exponentially accelerating excitement, fuelled by slapstick as well as quickfire repartie, is perfectly timed without a moment to pause, and yet almost too relentless in pace. The characters mostly shout at one another, there are mad car chases and crashes, and avalanches of hilarious cliff-hangers, each more ridiculous than the last, as well as cross-dressing and comedic stereotyping. The speed of dialogue and action is reminiscent of classic screwball, breathless, intense and almost too hard to follow.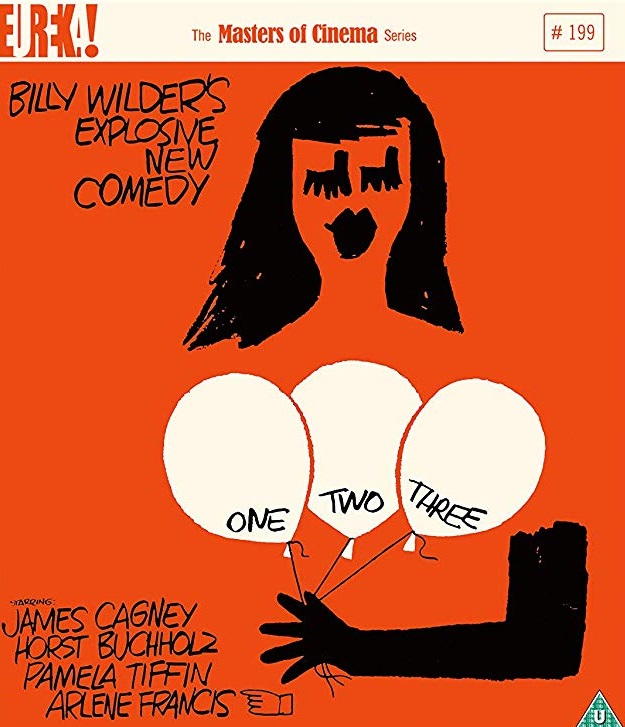 The supporting cast are all excellent – notably Lilo (more often known as Liselotte) Pulver, as the tight-skirted, hip-rolling secretary, who drives the trio of communist soft drinks executives crazy. The leader of this gang of cartoon-commies, is played by the great and larger-than-life Leon Askin. Like Wilder, Askin was an Austrian Jewish refugee and the perfect actor for this kind of absurdist roller-coaster of a comedy. It is not surprising either that the film should poke fun – with a subtext of total seriousness – at the remnants of Nazi body language and verbal style, visible on both sides of the Iron Curtain.
The detached view of a world in which everyone is both deeply human and vulnerable as well as a potential villain, and in which national identity or ideological certainties destroy any sense of ambiguity, is fundamental to Jewish humour. It is not surprising that Billy Wilder – and so many other Hollywood satirists and comic talents of European Jewish origin – should have had a go at both side of the Cold War: artists who knew from the history they had witnessed under Stalin and Hitler that only a kind of celebratory anarchy could speak the wisdom necessary for survival.
This Eureka! Blu-ray release is short on bonuses, but there is an interesting, informative but not always inspiring interview with film historian and WIlder specialist Neil Sinyard. The film is contextualised in relationship to other Wilder films of the period, compared to Lubitsch's Ninotchka, which Wiler co-wrote and which explores, in a very different context, the tug between the puritanical rigours of communism and the pleasure-seeking attractions of the capitalist West.