Blu-ray: Pearls of the Deep |

reviews, news & interviews
Blu-ray: Pearls of the Deep
Blu-ray: Pearls of the Deep
Poetic, witty anthology film, a 'manifesto for the Czech New Wave'
Tuesday, 21 November 2023
Věra Mrázková calms her nerves in 'At The World Cafeteria'
Released in 1965, Pearls of the Deep (Perličky na dně) is that rare beast, a successful portmanteau movie. Five young Czech film makers each directed a segment, with two more contributions excised for reasons of length and later released separately.
The individual chapters are based on short stories by Bohumil Hrabal (whose Closely Observed Trains was adapted by Jiří Menzel a year later), mostly taken from his 1963 collection Pearls of the Deep. Peter Hames' booklet essay points out that Hrabal's pithy tales "are about situations rather than narrative", tending to focus on the oddballs and outcasts eking out an existence on the fringes of a well-run communist society. Hrabal's pearls are actually the nuggets of truth behind the coarse veneer of his characters' speech patterns, the author collaborating on each screenplay and making a brief appearance, Hitchcock-style, in each one.
Jiří Menzel's The Death of Mr Balthazar takes place at a motorcycle racetrack, a middle-aged couple and an elderly uncle eventually reaching it in a battered 1930s car allegedly damaged after being overloaded ("six people and a bedstead") by the wife. Documentary-style footage of the race meet is intercut with increasingly sombre conversations about death, the shots of the vehicles gliding in slow motion at odds with Menzel's sedentary onlookers. Jan Němec's The Imposters features a pair of terminally ill old men in a hospital ward fabricating tales about their respective past lives, one claiming to have been a singer, the other a famous writer. Claustrophobic and stagey, there's a bleak but powerful epilogue. The House of Joy is the centrepiece, Evald Schorm's contribution the only one shot in colour – presumably to show off the striking paintings of naïve artist Václav Žák, playing himself. Žák is seen hard at work on his shambolic goat farm, visited by a pair of salesmen vainly attempting to sell him and his elderly mother life insurance. Němec's close-ups of the artwork are beguiling, the visitors dull and grey in comparison. Jan Klusak's doleful organ music adds an element of unease.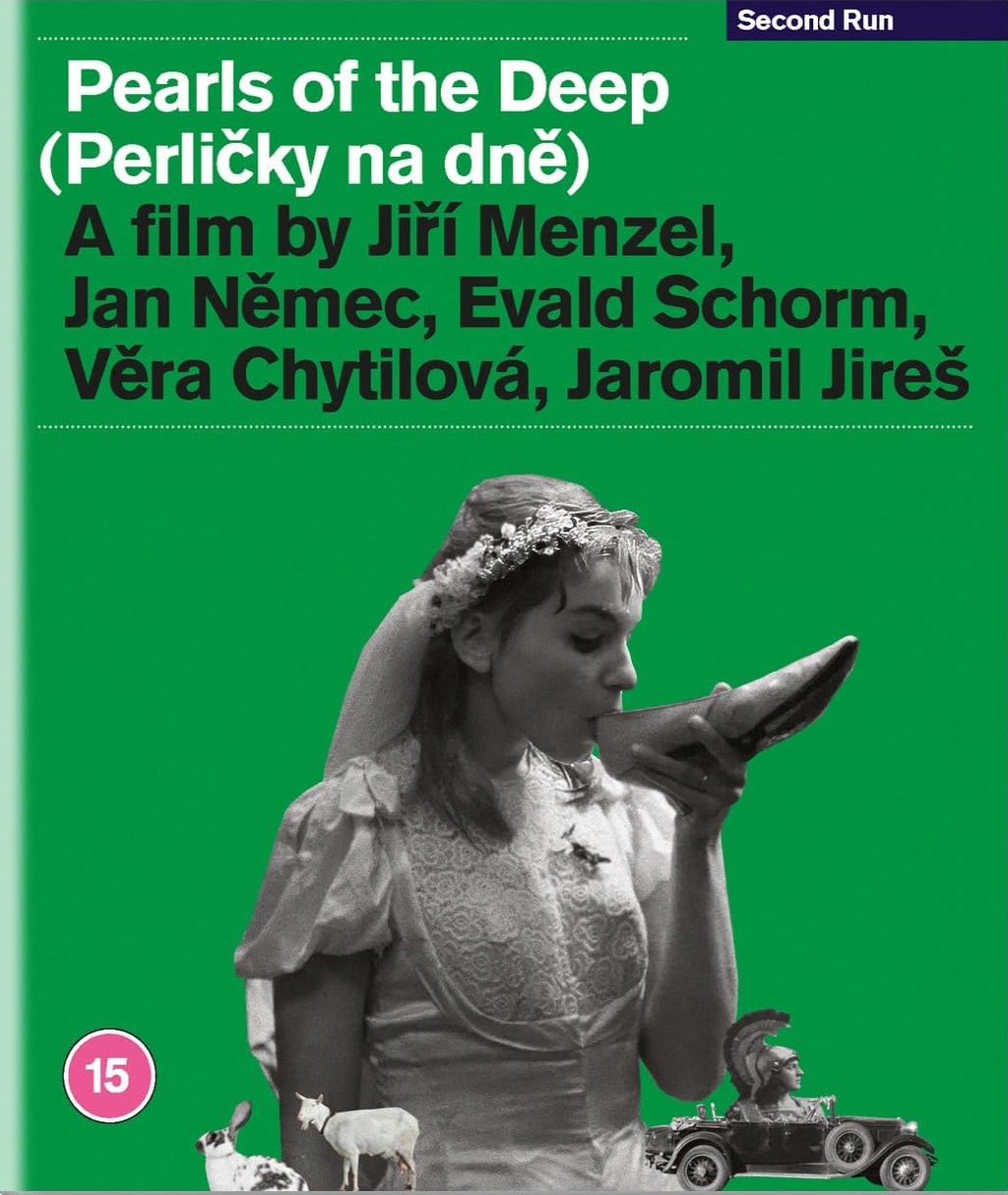 Věra Chytilová (best known for her surrealist romp Daisies) adds At the World Cafeteria, the darkest and most visually striking of the five shorts. Bleak and poetic by turn, a corpse found hanging in the toilets of the eponymous bar triggers an unlikely series of events, a luminous bride (Věra Mrázková) skipping off in the driving rain with a factory worker turned graphic artist while her husband is under arrest for punching a policeman. Romance, directed by Jaromil Jireš, follows a love affair between a young plumber's assistant and a charismatic Roma girl. This is the brightest and lightest of the five chapters, the dull conformity of commuters packed into a tram at odds with the carefree innocence of Roma life. The cheeky final shot, a young boy pissing in front of a scenic Prague backdrop, is irresistible; one can see why Pearls has been described as the Czech New Wave's manifesto.
Extras include the two films excised from the final cut. Ivan Passer's A Boring Afternoon is terrific, set in a bar where most of the regulars have departed to watch a football match. We eavesdrop on different conversations, the proprietor increasingly enraged by a young man who's reading a book instead of watching football ("Anyone with a righteous heart should watch the game!"), the ageing regulars moaning about how life used to be better. The Junk Shop was Jurak Herz's directorial debut, set in a scrapyard full of discarded paper. Wooden religious statues get sawn into pieces while a goose in a handbag looks on, and a small boy nearly gets crushed to death. Herz's snaggle-toothed cast give their all, and there's even some stop-motion animation. And do watch About Cats, Beatniks and All Sorts of Other Things, a delightful 1967 interview between Hrabal and filmmaker Rudolf Růžička. Image quality, sound and documentation are up to Second Run's usual high standards.