Blu-ray/DVD: It Couldn't Happen Here |

reviews, news & interviews
Blu-ray/DVD: It Couldn't Happen Here
Blu-ray/DVD: It Couldn't Happen Here
One long, indulgent music video
What's it all about?: Chris Lowe and Neil Tennant of the Pet Shop Boys in 'It Couldn't Happen Here'.
The Pet Shop Boys' film It Couldn't Happen Here, originally released in 1988, has been given a new outing on a BFI Blu-ray/DVD that contextualises it with special features. While it's an entertaining snapshot of a particular time in British and pop history, and while I don't wish to be churlish, that's about as far as it goes. 

It's one of those films that one watches and spends a large amount of time wondering what it means, before realising that it doesn't mean all that much. It's essentially an overblown music video soundtracked entirely by songs from two albums (Actually and Please), with the exception of "Always on My Mind". It takes a stab at something deep and significant via extended quotations from poems and bits of philosophy, but this never resolves into anything concrete.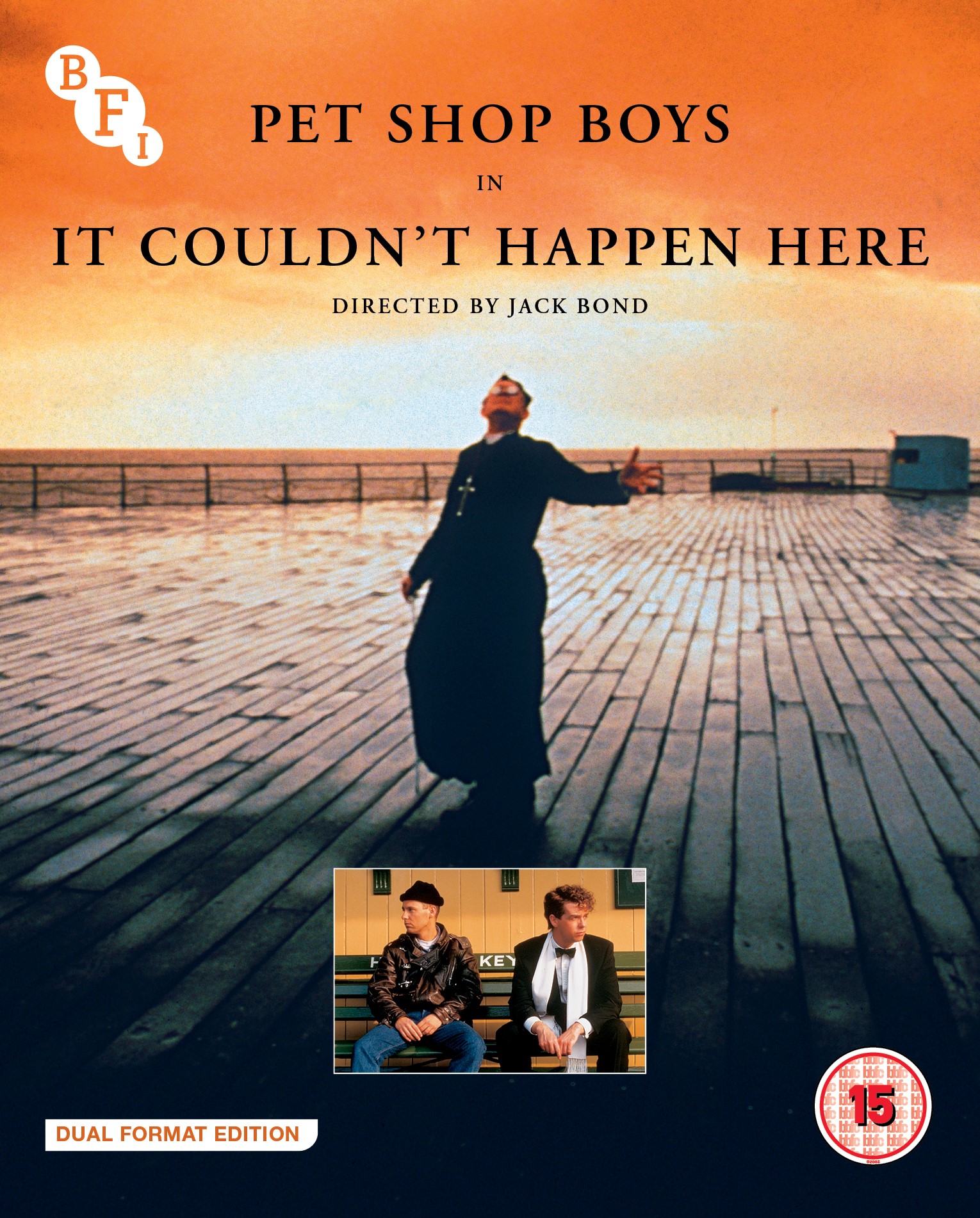 The themes are at once obvious and frustratingly opaque. The "plot" is a series of vignettes illustrating a journey of sorts. The landscape through which Pet Shop Boys Neil Tennant and Chris Lowe drive has an entropic beauty, a cracked Britishness reflecting contemporary late Thatcherism.
Supporting actors Barbara Windsor and Joss Ackland (the most notable faces) slip into new roles throughout – grotesque parodies of English "types" that recur as motifs.
The film feels as though it's autobiographical in some way, especially since Tennant sends postcards home to his mother, but this is fairly obscure. It could be a pastiche of Britishness, but this is also fairly obscure.

The director, Jack Bond, was the only filmmaker to work with Dalí, and his Surrealist touch can be seen throughout. There is something of Peter Greenaway here, too, with, for example, a zebra led by zookeepers with zebra-painted faces. The redemption of the film could be here, if one watches it through the eyes of a Surrealist.
The story may be flimsy, but the aesthetic is lush, and it's quite a lovely film to watch. Particularly good are the set pieces with dances choreographed by Arlene Phillips. In an interview included in the supplements, she describes how one of these was filmed during the Great Storm of 1987.
The supplements, in fact, tease out a few threads of meaning. At the beginning of a long interview, Bond recalls his childhood. The airman that flies through the film takes on fresh resonance when we learn that his uncle was shot down over the sea during the war, and that his mother dragged him up and down a beach in Swansea in the vain hope the uncle would be washed ashore. Also included in the package is an audio commentary, ephemera, a trailer, and a 48-page booklet of essays.
@IndiaLHL