Bronco Bullfrog, East End Film Festival |

reviews, news & interviews
Bronco Bullfrog, East End Film Festival
Bronco Bullfrog, East End Film Festival
Timely revival of Barney Platts-Mills' cult East London teen movie
Far from Carnaby Street: Del Walker and Anne Gooding in Bronco Bullfrog
One evening in 1970, Princess Anne ventured forth from her manor to attend a screening of Bronco Bullfrog at the Mile End ABC. Three decades later, the same cinema, now called the Genesis, hosted a screening of Barney Platts-Mills' debut feature last night in equally ceremonious circumstances: the launch of the East End Film Festival.
Rarely seen, indeed almost lost (the original 35-mm negative was salvaged from a rubbish bin at the film lab),
Bronco Bullfrog
, which will be released nationally on 11 June, emerges as a minor revelation.
Bronco Bullfrog might have been made in 1969, but Stratford, London E15, was a long way (culturally as much as geographically) from Carnaby Street, the King's Road, Chelsea, and the other foci of Swinging London. On these mean streets, a group of youths hang out doing nothing very much most of the time. In the opening scene they rob a caff and make off with a meagre bounty of cakes and five bob apiece.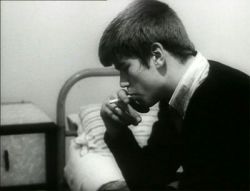 They scuffle with a rival gang and sneak into a cinema via the fire exit (in one of the film's many tiny comic touches, an old lady scuttles in with them for her own freebie). Shot on a shoestring (£18,000), Bronco cheerfully flaunts its threadbare budget with a minimal cast: though the kids have repeated run-ins with the law, there appears to be only one copper in the whole of East London, for instance.

Bronco Bullfrog is the nickname - for reasons the film doesn't waste time explaining - of the supercool local bad boy. Fresh out of Borstal, Bronco (played by Sam Shepherd, pictured above, whose father seems to have been the "local advisor" on the movie) promptly involves some of the others in the heist of a goods train. He's not the main character, though. That's Del (Del Walker), who seems to have got his act relatively together, with a job as a welder's apprentice, a motorbike courtesy of a sub from his dad and a budding romance with Irene, an underage neighbour (Anne Gooding).

With their relationship opposed by parents on both sides, Del and Irene are constantly casting around for places to be together. They go up West once on a special date, but can't afford the exorbitant ticket price to see a movie, Oliver!, at a Leicester Square cinema (plus ça change) and end up, with glorious inevitability, in a Wimpy Bar instead.

It's intriguing to speculate whether the young Mike Leigh saw Bronco Bullfrog, because its bare-bones dialogue and deadpan, dead-end humour bear a striking resemblance to Leigh's own feature debut, Bleak Moments, made in 1971 (much later, Shane Meadows' freewheeling comedies would join the same film family). But, though both are based on extended improvisations, the two directors' methods are very different. Leigh develops his stories with professional actors. Platts-Mills worked here with an almost entirely amateur cast.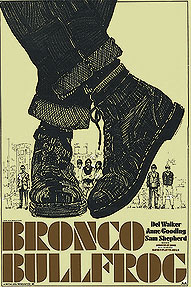 Bronco Bullfrog began life at Joan Littlewood's Theatre Workshop. Platts-Mills had made a short documentary, Everyone's An Actor Shakespeare Said (1968), about Littlewood's "Play Barn" project, a drama workshop intended to keep local youths off the streets by encouraging them to improvise scenes from their own lives (Walker was one of the participants and features prominently in the documentary).

The following year the kids came to Platts-Mills with the idea of working these improvisations up into a feature. Their low-key, affectless acting and complete confidence in front of the camera are largely responsible for the film's sense of authenticity. Students of late 1960s subcultures will also note the fashion stylings, from mod to Bronco's suedehead look. You can see them celebrated here and here respectively in a couple of YouTube mash-ups.

Platts-Mills portrays his characters with a tremendous warmth and total lack of sentimentality, and his sharp, fast editing (he began his career as a trainee editor at Shepperton studios) keeps the energy level high. There's an excellent soundtrack, too, by the rock/soul/funk band Audience.
Bronco Bullfrog is released in the UK on 11 June
Share this article