Buried |

reviews, news & interviews
Buried
Buried
Ryan Reynolds finds himself trapped in a coffin with a Zippo and a mobile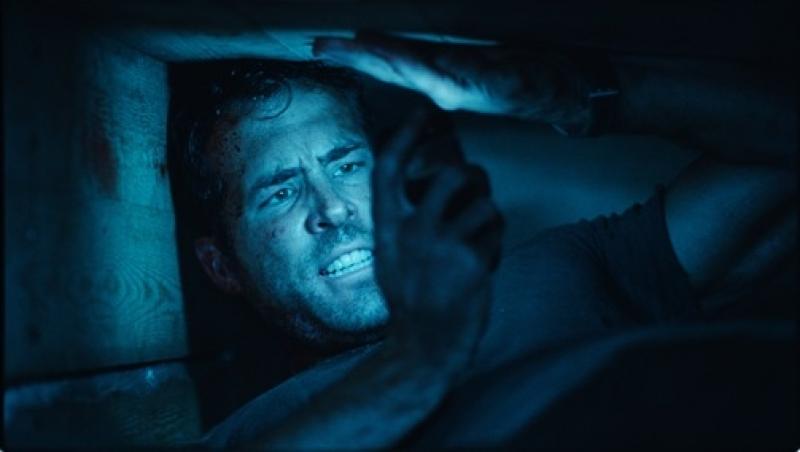 Ryan Reynolds in 'Buried': 'A curiously unclaustrophobic experience'
He's six feet under from the start. Paul Conroy is in a wooden coffin a dead-man's distance beneath Iraqi soil when the flick of his Zippo illuminates him in the darkness where we've heard thudding and screaming. His oxygen, like the film, will last 90 minutes. A mobile phone connects him to his kidnapper, family and would-be rescuers. It's the ultimate locked-room mystery, told from inside the room.
But
Buried
is a curiously unclaustrophobic experience, instead opting to skip down sprightly, satirical tracks.
Spanish director Rodrigo Cortés wisely honours Chris Sparling's script by never leaving the coffin. They pack such incident into this confined space - from US bombs cracking the wood keeping Iraq's sand out of Paul's lungs to a snake slipping inside his trousers - that the outside world isn't missed. It comes in anyway, through a mobile phone which is Buried's subject almost as much as its box.
The horror of corporate indifference to individuals, and the brutality of its language, finds Paul in his coffin. The British military hostage expert's first concern is that Paul "contain the situation" from the media. While Paul's contemplating how much more contained he can get, his employer rings to waive responsibility in surreal legalese, intoning, "You were alive up until the point of your termination." Paul's ranting helplessness at the choiceless newspeak of the banking call centre and Terms and Conditions is barely worsened by being buried in a war zone.
That phone never stops ringing. Losing battery bars worries Paul more than losing air, and the nervous itch to call anyone when you're alone consumes him. "Are you going to say you love me?" he asks with pathetic need to his senile mother in her care home. He's put on hold, reaches chatty answerphones, yells at a wife's friend he can't stand, and is made to use his video facility to cut his finger off for his kidnapper. Intrusive, addictive, omnipresent, Paul's phone becomes what's left of his life.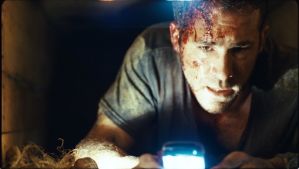 Ryan Reynolds as Paul - kicking, hollering and thinking against a situation which might well be worse, if he was treading water while watching the Titanic sink - is a blandly handsome, gritty everyman. His sweaty commitment to a film which exists through his reactions shows why he's being groomed as a romcom and superhero film star (he'll be the Green Lantern next). But Paul's heroic resourcefulness, and that of the script, undermines the gruelling premature-burial horrors we might have expected. He never seems wholly trapped, and as cinematographer Eduard Grau's camera swoops and tracks through his roomy-seeming coffin (pictured right), even zooming up as if in a lift shaft, the viewer never feels cramped or breathless. For a film lit by a Zippo as oxygen expires, Buried is a breezily bright thriller.
It's also a satire on Iraq. It's gradually revealed that Paul is a truck driver for a security contractor whose convoy was ambushed by the insurgents who've buried him. His guttural Arabic captor considers this necessary patriotism against an invader, indifferent to pleas of personal innocence. "We should never have come here," Paul says simply. Realising this while buried in a coffin, as the full might of the US bombs and blusters overhead, is a grimly funny, EC horror comics twist ending to the whole enterprise.
Watch the Buried trailer: