Can You Keep A Secret? review - a bumpy ride |

reviews, news & interviews
Can You Keep A Secret? review - a bumpy ride
Can You Keep A Secret? review - a bumpy ride
Charmless Sophie Kinsella adaptation stretches credibility well past breaking point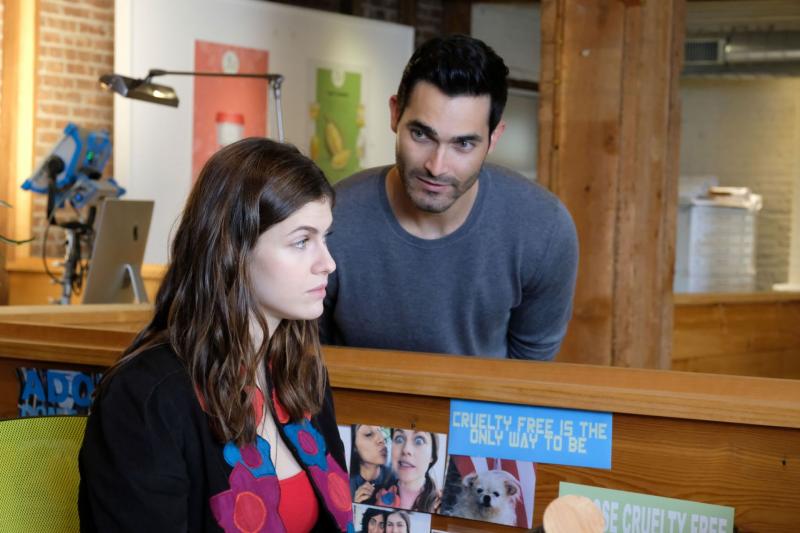 Small world dept: Alexandra Daddario and Tyler Hoechlin in 'Can You Keep A Secret?'
Featherweight is one thing, brainless is another. Can You Keep A Secret?, the romcom adapted by screenwriter Peter Hutchings from the 2003 novel by Sophie Kinsella, uneasily straddles the two until a conclusion that goes off the rails altogether and tumbles into the ludicrous. Alexandra Daddario plays Emma, one of these insecure chatterboxes you'd run a mile from in real life but whom we're here apparently meant to find irresistible.
That's certainly the effect Emma has on Jack (Tyler Hoechlin, stuck in the role of a walking pin-up), the smiling, hirsute stranger whom Emma ends up next to on a first class upgrade from Chicago to New York. Inflight comfort notwithstanding, severe turbulence sends the highly emotional Emma into tearful overdrive, and before long she is spilling her guts (not literally, thank heavens) to the hunky Jack. So busy is she fretting about her job and her boyfriend and enough else that I was put in mind of that immortal scene from Airplane where the hapless seatmate of a comparable tell-all opts for suicide so as not to have to hear another word.
Flash forward to the self-pitying Emma back at work in what she perceives to be a dead-end marketing job in Manhattan on the day when the company CEO of this organic food company is due to visit. At which point, lo and behold, in walks Jack, who rather surprisingly resists the chance to run a mile and, instead, embarks upon courting someone whose charms are certainly, um, elusive, no matter how glistening Daddario's eyes may be. (Between her orbs and Hoechlin's jawline, you do wonder what sort of children this couple might produce.)
The rub, since there has to be one, comes from a spill-all moment of sorts from Jack that does Emma no favours with her colleagues, alongside Emma's gathering realisation, as shared with her two flatmates, that Jack seems to be harbouring some kind of secret. For one thing, what was he actually doing in Chicago? Given the way he bangs on about his late business partner, I was waiting for him to turn out to be gay. Then again, I had doubts about the boyfriend we find Emma with at the beginning, an excitable fellow who likes to wander around naked from the waist down.
Marking her first fictional feature, the director Elise Durán has to push mighty hard to keep enough plates spinning to see us through an attenuated 90 minutes. There's a ridiculous subplot involving the possible horndog tendencies of Emma's live-in chum Lissy (Sunita Mani), a lawyer with a sideline in dance, and you have to wonder what in heaven's name is so interesting about any of these people that a tabloid reporter would choose to get ensnared in the crossfire, as does indeed happen at such time as Emma decides to put Jack in his place.
The preposterous conclusion finds our go-ahead duo (pictured above) back on a plane, this time seated in economy and having a whale of a time. I'll confess by this point that I was most interested from our current perspective in the sight of an airplane crammed with people seated in such close quarters. Who would have thought a film released in America just last autumn would already be a period piece?
Can You Keep A Secret? is available on digital download from Monday here