Cedar Rapids |

reviews, news & interviews
Cedar Rapids
Cedar Rapids
Insurance salesmen go mad in Iowa in Miguel Arteta's broad-brush comedy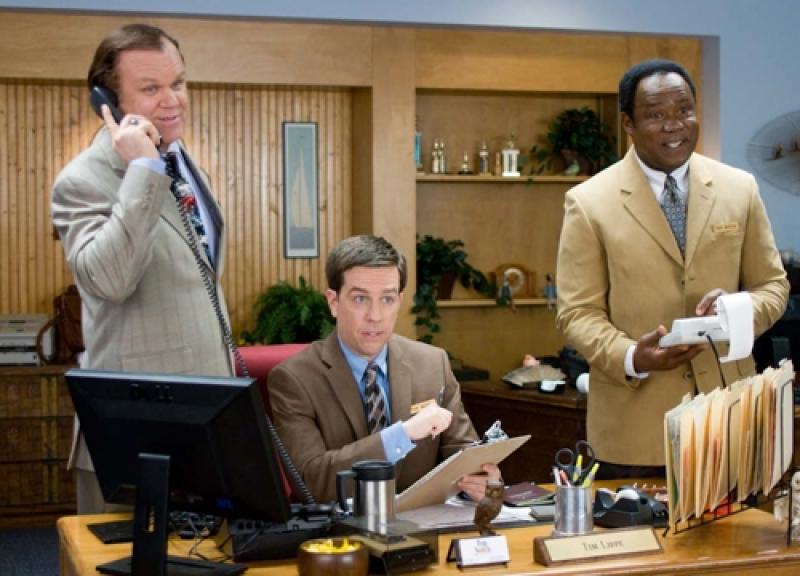 John C Reilly (left), Ed Helms and Isiah Whitlock Jr on a wild weekend in Iowa
The protagonist in a coming-of-age movie is usually an adolescent, but in Cedar Rapids it's a fully-grown adult. The hapless ingénu in question is goofy and naive Tim Lippe (Ed Helms), dedicated 34-year-old salesman for the Brown Star Insurance company of Brown Valley, Wisconsin. In Lippe (pronounced Lippy) world, insurance isn't another name for dirty sales tricks and finding ingenious ways to weasel out of paying claims, but more like a kind of social service.
Indeed, Brown Star's boss, Bill Krogstad (Stephen Root), prides himself on the firm's Christian values.
When the action moves to the eponymous Cedar Rapids, Iowa, Lippe even gets a soliloquy about how heroic insurance salesmen galloped to the rescue when the local river burst its banks, ensuring that bedraggled citizens were compensated for their losses with minimal delay. It's a tribute to Helms's not inconsiderable skills (as previously displayed in The Hangover and the US version of The Office) that he makes it sound borderline-believable, almost as if he were delivering a birthday eulogy to Nelson Mandela.
Cedar Rapids, it transpires, hosts the annual ASMI insurance convention, when it's transformed into the Babylon of the low-rent Midwestern insurance industry. The movie's treasurable production notes describe the quest to find a suitable hotel to serve as the Royal Cedar Suites, where the fictional convention takes place. The producers wanted "the quintessential Midwestern 'holidome' hotel, that very specific style of heartland retreat featuring a swimming-pool smack in the middle of the central atrium, perfuming the entire place with the tangy scent of chlorine". In the event, they had to venture as far afield as Ann Arbor, Michigan to find that dream holidome, though some scenes were shot in Cedar Rapids "to capture the flavour of Iowa's second-largest city, rarely seen on film".
But for the unworldly Tim Lippe (pictured right), Cedar Rapids is like Paris, London and New York rolled into one, only more so. This is a man who has never left his home town, never been on an aeroplane or even stayed in a hotel. Now, he is entrusted with representing his company and bringing back the coveted Two Diamonds Award, which has been bagged for the past three years by Brown Star's star salesman Roger Lemke (Thomas Lennon). Traumatically, however, Lemke can't attend this year's convention, because he's been found dead of asphyxiation after an auto-erotic calamity (naturally Lippe can't believe that any such cause of death exists).
Focused with laughable earnestness on his mission to bring home the prize, Lippe is knocked off his axis by the louche party-going crowd who sweep him along in their wake, and for whom Cedar Rapids is an annual bonanza of partying and drunken sex. Leader of the pack is the raucous and sozzled Dean Ziegler (the excellent John C Reilly), master of the "inappropriate" comment and intimately acquainted with where the insurance biz bodies are buried. Isiah Whitlock Jr plays Ronald "The Ronimal" Wilkes, a dull but decent guy given to declaiming cringetastic salesman's shorthand like "L and C" (loud and clear) and "NTS" (none too shabby). Playing party girl Joan Ostrowski-Fox is Anne Heche (pictured below with Helms), who - after feigning politically correct outrage that Lippe has been ogling her ass in the gym - makes no bones about wanting to get her rocks off, on the understanding that whatever happens in Cedar Rapids stays there.
On one level it's Animal House for salesmen in cheap suits, but naff as the ASMI convention is, something about the characters and their behaviour rings hideously true. Director Miguel Arteta and screenwriter Phil Johnston have managed to smuggle in a little bit of pathos behind the crude jokes and boorish behaviour, and find some redeeming qualities beneath the characters' external crassness. As for Lippe, he emerges slightly older and significantly wiser from a maelstrom of sex, booze, drugs and hookers, yet his innocent inner nerd survives intact. The real villains turn out to be the blowhards who wear their moral compasses on their sleeve (no names, no spoilers). Cedar Rapids isn't exactly The Brothers Karamazov, but it's a little bit smarter than it looks.
Watch the trailer for Cedar Rapids