Celeste & Jesse Forever |

reviews, news & interviews
Celeste & Jesse Forever
Celeste & Jesse Forever
Rashida Jones finds breaking up is hard to do with her own post-romcom script
Say cheese: Rashida Jones and Andy Samberg in 'Celeste & Jesse Forever'
The romcom is an oddball. Though an ever-present at the multiplex, of all the genres it remains notoriously reluctant to take wing. The path of true love ne'er did run without all the usual box-ticking plot swerves. Full credit then to Celeste and Jesse Forever, for coming at the problem from a sideways angle. In this reimagining, boy and girl have lost each other before the start of the movie – they're divorcing – but are still best of friends. In fact, creepily so.
Celeste (Rashida Jones) is a thriving PR executive and finger-on-the-pulse author of the self-explanatory Shitegeist. She can take the culture's temperature, but is less adept at reading her own life for signs of malfunction. It takes a pair of friends, themselves heading for the altar, to point out how weird it is that Celeste and Jesse are acting as if the split never happened. Jesse (Andy Samberg), a struggling artist, still lives out back and, while they may not be having sex, they cleave to an icky private joke in which small inanimate penis-shaped objects – lip-salve, minor vegetables - can be coaxed into ejaculation. (Do not ask.) Then they do accidentally have sex, which triggers a deeper sundering. Jesse takes up with a one-night stand called Veronica (Rebecca Dayan) who, it turns out, is carrying his child. He decides to give it a go.
The place is absolutely littered with confidantes and sidekicks like toy soldiers on a battlefield
From this point on, Jesse ducks in and out of the movie as the script sets itself a test: to make a touching comedy out of watching a separated young woman move on. Jones co-wrote the script with Will McCormack (who also plays the film's stock stoner), and dutifully puts herself through an assault course of comedic situations, shamelessly plugging her book in the local bookstore, rummaging through bins, jogging up a muck sweat, facing down the prettier pop bratlet (Emma Roberts) her company is promoting. Meanwhile, although she's by no means ready, Celeste embarks on a series of dates with men who are all variously unsuitable: too young, too smooth, too into wanking themselves off.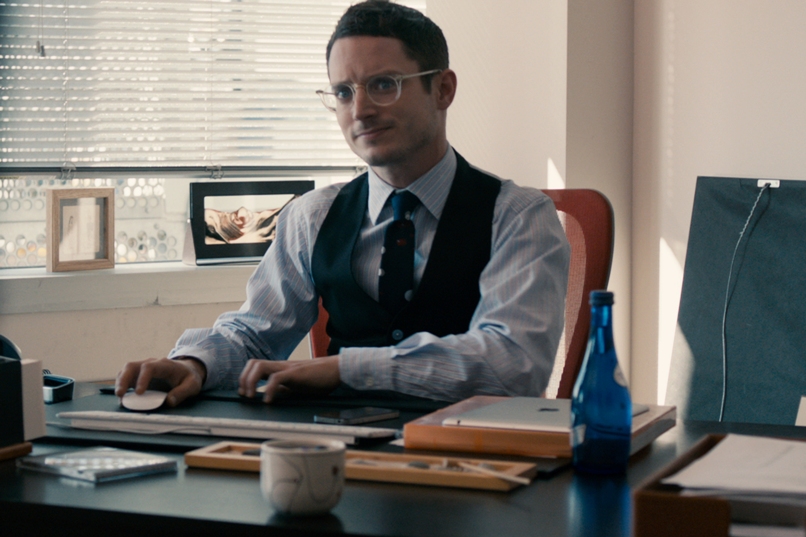 That's not something anyone could pin on Celeste & Jesse Forever, which enthusiastically works through every position in pursuit of narrative nirvana. The place is absolutely littered with confidantes and sidekicks from central casting, all deployed like toy soldiers on a battlefield. "Get your fuck on," counsels her colleague (Elijah Wood, pictured above), before backtracking. "I was trying to be your saucy gay friend. Didn't feel comfortable."
That kind of goes for the whole project, whose frenzied commutes between big laughs and deep pathos leaves a void where they really should have put the humanity. Veronica is an absolute nullity, Jesse simply wastes away while, for all Jones's commendable skill as a comedian, Celeste's vacillation between self-knowledge and denial as she works through her need always to be right just doesn't compute. Director Lee Toland Krieger uses this big-screen gig to try out a few jumpcutty moves, and there are plenty of chortles. In short, there's just enough partying and self-pitying here to fire up the chick-flick demographic, but in daring to veer outside romcom's codifications, Celeste & Jesse Forever doesn't know what to do with the freedom. And that title is truer than it knows: it nearly does go on forever.
Watch the trailer to Celeste & Jesse Forever
The frenzied pursuit of big laughs and deep pathos leaves a void where they should have put the humanity
rating
Explore topics
Share this article