Cold Weather |

reviews, news & interviews
Cold Weather
Cold Weather
Nothing much happens in a Sherlock Holmes wannabe mystery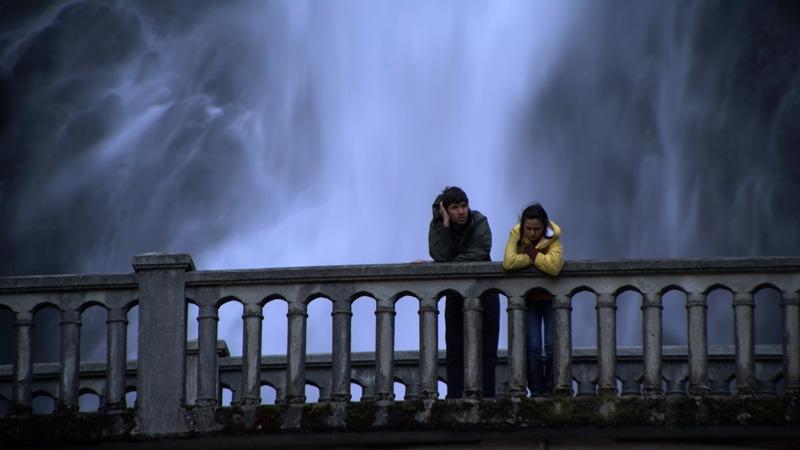 Not the Reichenbach Falls: Doug, a Sherlock Holmes buff, and Rachel in 'Cold Weather'
To describe this movie as slow-burn would be like saying snails live in the fast lane. The latest work from indie auteur Aaron Katz (Dance Party USA and Quiet City) who wrote, directed and edited, is 97 minutes long, but nothing happens for its first third and then when things do start happening - as the lead characters investigate the disappearance of a friend - the film abruptly ends. It may be layered with all manner of subtexts but they pretty much passed me by.
Doug (Cris Lankenau) has dropped out of college in Chicago and moved back to his home town of Portland in Oregon to share a flat with his more responsible sister Gail (Trieste Kelly Dunn). He was studying forensic science and is obsessed with detective novels, including Sherlock Holmes and Raymond Chandler, and eventually finds a menial factory job to get by. He befriends a colleague, Carlos (Raúl Castillo), to whom he lends his Arthur Conan Doyle books, and then an ex-girlfriend, Rachel (Robyn Rikoon), comes back into his life, only to disappear soon after from her motel room.
All this has taken nearly 40 minutes to establish and as Gail, Doug and Carlos go sleuthing (why don't they just call the police?) the mystery of Rachel's disappearance turns out to be not really a mystery after all, although it does concern some skulduggery, a porn website and a briefcase full of money. What follows is a disjointed narrative in which characters are introduced who then play no further part - even the major characters are off screen for prolonged periods - and an ending that is frustratingly sudden. It's all played in an emotional monotone to match Portland's famously grey skies, and I couldn't decide if it was the writing or acting that was at fault in creating such a dull film.
If it weren't for a few nicely worked references to Holmes - Rachel and Doug have a conversation in front of a waterfall, for example, and he buys a pipe to bring out his inner detective - I would consider Cold Weather too dull for words. Although it has to be said that Katz misses a sitter - when one character is astonished to be told that Doug wants to be a detective, he disappointingly says, "No shit," rather than the delightful American phrase, "No shit, Sherlock!" It did make me yearn anew for Steven Moffat and Mark Gatiss's excellent and witty Sherlock, starring Benedict Cumberbatch, recently shown on BBC One.
Even in a film where nothing happens, something has to happen, and Cold Weather may have been acclaimed at various film festivals, including South by Southwest, London and Los Angeles - being variously described as a slacker mystery, a touching story about a brother and sister reconnecting, or a film about growing up - but it's a mystery how it has been given a theatrical release in the UK. The shots of Portland and its surrounding area (by cinematographer Andrew Reed) are, however, gorgeous and Keegan DeWitt's score is a delight.
Watch the trailer for Cold Weather