DVD: Anchor & Hope |

reviews, news & interviews
DVD: Anchor & Hope
DVD: Anchor & Hope
Dilemmas of love, responsibility make for bearable lightness of being on London's canals
Tuesday, 06 November 2018
Three in a boat: David Verdaguer, Natalia Tena, Oona Chaplin
There's a lovely feel of folk freedom to Carlos Marques-Marcet's second film, which sees the Spanish writer-director setting up creative shop resoundingly in London – or rather, on the waters of the city's canals that provide the backdrop for Anchor & Hope. It's there right from the film's opening song "Dirty Old Town", in the Ewan MacColl original, rather than the better-known, and far grittier Pogues version: these London waterscapes are lived-in and naturalistic but they're also photogenic (and beautifully shot by Dagmar Weaver-Madsen).
The gist of the action is nicely caught in MacColl's line "Dreamed a dream by the old canal", except that the film's lead couple, Eva (Oona Chaplin) and Kat (Natalia Tena), are actually living on that waterway. Home is a canal boat, which they steer up and down the banks of North and East London with unhurried freedom: it's the perfect backdrop for the world they have created for themselves, one defined by their independence – both have on-off jobs, but employment seems hardly a priority – and passion (an early scene makes clear that their sexual spark is very much alight). We never learn how or when they got together, except that Kat is Spanish, although that's a detail you would hardly notice (except in pondering whether it represents the sort of pre-Brexit idyll that we may shortly come to miss rather desperately?).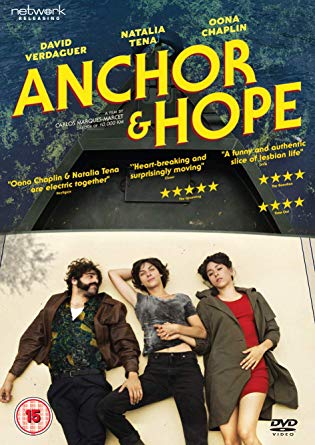 But the almost unspoken security of their relationship will be tested, a process indirectly set off by the death of their cat, the kind of seemingly unlikely association that actually rings very true to life here. The feline funeral, complete with Buddhist rites administered by Eva's mother Germaine (played by Geraldine Chaplin, her mother in real life, who has a whale of a time with a role that is both memorably batty and attractively rich-hearted). The film's opening chapter title may read "We can get another cat", but Eva's realisation that she wants her children (a subject so far apparently unmentioned between the two) to know her mother before it's too late pushes a more immediate issue to the fore.
Kat is underwhelmed by the prospect of parenthood, even when the perfect candidate for surrogate father turns up in the shape of her visiting Barcelona friend Roger (David Verdaguer), a happy-go-lucky bohemian who takes to the idea, initially raised at a tequila-fuelled get-together, with enthusiasm, and then a more unexpected degree of emotional commitment. Marques-Marcet and Jules Nurrish's script enjoys its comedy – often of quite a loopy kind, into which Verdaguer fits especially well – but hits home when charting the fluctuations of feeling that engross the uneasily expectant trio.
The canal world offers a quietly revelatory pleasure in itself
The immediate reference of Anchor & Hope's title may be the waterside pub where Kat works part-time, but its associations run deeper, surely alluding to the kinds of secure foundations that allow planning for the future (or not...). Does parenthood bring responsibilities that preclude the kind of impromptu lifestyle that the two women have so obviously enjoyed to date, based on the (relative) impermanence of their canal lifestyle? The film's closing scenes, as well as its Spanish title Tierra firme, suggest that such ideas are somewhere in Marques-Marcet's mind.
But his film wears any such seriousness lightly, delighting instead in the emotional dynamics of day-to-day life. (Didn't Michael Winterbottom, many moons ago, use to explore somewhat similar territory?). Even when the temperature of the film's bondings chillis, its seasonal setting seems to remain summer. The film's ending is left as fluid as the waters that flow through it – there's a degree of meandering, too, on the length front – while the canal world offers a quietly revelatory pleasure in itself (the Film Offices of the NE and E boroughs must be happy). Marques-Marcet keeps his soundtrack largely diagetic, its sparsity broken only by some lovely Molly Drake folk tunes that add a delicate melancholy. Anchor & Hope has much that charms, and it's good to find a film that treats viewers as grown-ups.
Overleaf: watch the trailer for Anchor & Hope
The script enjoys its comedy - often of quite a loopy kind - but hits home when charting the fluctuations of feeling that engross the uneasily expectant trio
rating
Share this article