DVD: The Ice King |

reviews, news & interviews
DVD: The Ice King
DVD: The Ice King
The pioneering talent and complicated life of skater John Curry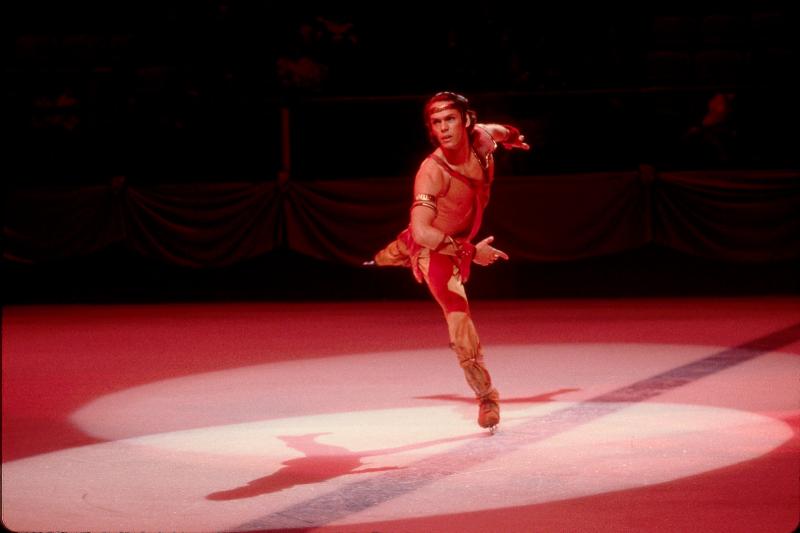 Demons within: John Curry
Director James Erskine found a fascinating subject in the life of ice-skating legend John Curry and has fashioned it into an absolutely compelling 90-minute documentary. Curry was only 45 when he died of AIDS in 1994, but his professional career, in which he moved from ice-skating as competitive sport to performing and choreographing it as dance, was intense: Erskine describes him, in the short Q&A that appears as an extra on this DVD release, as "an artist more than an athlete," and you end up agreeing resoundingly.
The Ice King makes clear the struggles that Curry went through to reach his success. The film starts with his early triumphs in the competition world, from the Prague 1966 championships, through Davos 1970, to reach an early career culmination with his gold medal victory at the 1976 Innsbruck Winter Olympics. That triumph allowed him to launch his John Curry Theatre of Skating, as he put competition speed and flourish behind to mesmerise with a solo performance of "L'après-midi d'un faune" on the London stage, that still captivates today with all the expressive power of the greatest dancers, Nijinsky coming inevitably to mind.
There were demons, of course. Curry's private life was complex, his childhood dominated by a father who had strict ideas about his son's future: skating was acceptable because it was sport, the idea that John might become a dancer unthinkable. It was a distinction that continued even into his professional career, with one trainer instructing him "not to be so graceful". Though he didn't exacty come out, his homosexuality became public at the time of his Olympic victory, setting precedent for competitive sport at the time.
Erskine makes good visual use of the letters that Curry wrote throughout his life, with the actor Freddie Fox providing voice-over: Fox brings just the right fey delight to the character. It's accompanied by the testament of friends, from the Swiss skater Heinz Wirz, who met Curry at Prague 1966 and became one of his first lovers, through those with whom he became close as his sporting career developed (as New York became increasingly the place where he felt most at home), and on to the collaborators with whom he worked on his ever-more demanding shows.
Highlights, of course, include the 1984 Symphony on Ice at London's Royal Albert Hall, followed by the John Curry Skating Company's triumph at New York's Metropolitan Opera with its collaborations with prominent contemporary choreographers. The shows may have won the highest critical plaudits, but we learnt how the technical demands of staging them in such venues made for a lot of anxiety. "Can I stop now?" Curry apparently asked after the Met premiere, but the international tours that followed demanded his presence, and proved punishing, not least when Curry raised artistic objections at their commercial trappings (intrusive signage was a particular hate). There were contradictions aplenty, no doubt caprice too, but the reverence accorded him by collaborators spoke for itself, even while the personal demons never left him, a sense of melancholy somehow deepening towards the end.
Some of the landmark performances survive only in amateur video recordings, which makes watching them a particularly moving experience. Live orchestra accompaniment was crucial for the shows' impact, but the musical recordings were in even worse state, which sent Erksine and his musical director Stuart Hancock off to record a whole new soundtrack with the Bratislava Symphony Orchestra (an eight-minute extra covers the experience). That location was fitting, given that Curry's 1993 "On the Beautiful Blue Danube" was one of his final pieces, its male quartet a glorious reminder of how he broke new artistic ground, a creative pioneer in a medium virtually of his own creation.
Overleaf: watch the trailer for The Ice King
Skating was acceptable because it was sport, the idea that John might become a dancer unthinkable
rating
Share this article