DVD/Blu-ray: Freak Show |

reviews, news & interviews
DVD/Blu-ray: Freak Show
DVD/Blu-ray: Freak Show
Overplaying gay, Alex Lawther surprises in Trudie Styler's high school teen com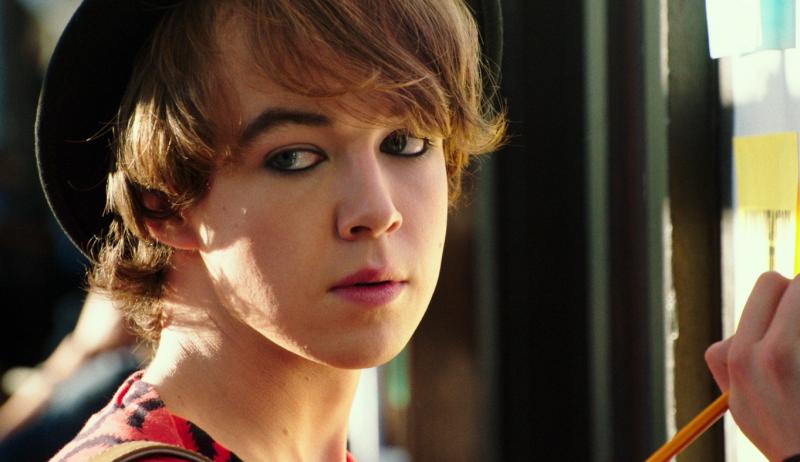 Alex Lawther: 'transgressive glee'
You might think an American high school comedy an unlikely place to locate a love letter to Oscar Wilde – even if there's a flamboyantly gay story behind it. But Freak Show screenwriters Beth Rigazio and Patrick J Clifton, adapting James St James' source story, have a way with wit that is clearly aiming to match the writer whom they keep quoting.
The fact that they sometimes try rather too hard doesn't detract from the full-on experience that is
producer
Trudie Styler'
s 2017 directorial debut, a film that sustains itself on the sheer over-the-top camp energy of its
teenage
hero, Billy Bloom, who refuses to be beaten down – despite at one point being badly beaten up – by what life throws at him.
It's perhaps a surprising environment for Alex Lawther to find himself in – especially if the last time you saw him was as the young Alan Turing in The Imitation Game – but as Billy the young British actor acquits himself with a transgressive glee that seems to have seeped into his locution and deportment alike. It's there right from his wicked opening voiceover, "Buckle up, darlings, I'm gonna take you on a little ride I call my life". His conviction that he's the centre of the world has clearly been nurtured by a privileged upbringing in the orbit of "Muv", the dysfunctional, dipsomaniac Mauvine (Bette Midler, oddly under-used); Billy describes her as "a living testament to grace, glamour and Gucci", and it's obvious from whom he's acquired his passion for effect (costume design by Sarah Laux, not to mention make-up, is triumphant throughout).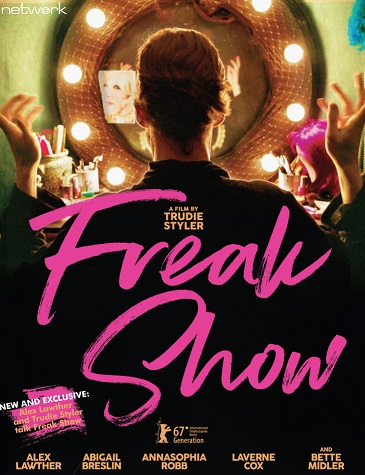 When Mauvine is called away by the urgent diversion of rehab, it's a shock for Billy to be transferred to the care of his distant father, despite the luxury of the family estate surroundings and the concern of a well-meaning housekeeper, in a location tactfully defined only as "red state". The effect of his appearance at high school, decked-up in a range of outfits each more elaborate than the last, becomes increasingly surreal (especially as relished in Styler's generous use of slow motion). The rising hostility that he evokes in this world of "chicks, cars and zombie flicks" leads to brutality, no less shocking for its being, to a point, predictable.
But even five days in a coma, during which he somehow acquires the devoted sympathy – no more, alas – of handsome quarterback Flip, can't keep Billy down. The school atmosphere to which he returns may seem suitably repentant, but that won't stop him from resolving to stand as homecoming queen; his opponent Lynette, played by Abigail Breslin – with a turn of phrase that would have made Capote (surely another point of reference here) proud, Billy describes the coterie to which she belongs as the "ladies who lynch" – is a particularly unappealing Republican specimen, with a distinctly Trumpian turn of phrase, to boot (Freak Show was filmed in Autumn 2015, as POTUS-to-be, not that anyone could have predicted that then, was just trying out his rhetoric). Laverne Cox has a winning cameo as the local TV reporter who covers the competition, and the fact that it ends in more of a whimper than a bang is to the credit of the film.
The determined archness of Billy's character has hardly been sympathetic, even in a genre that savours exaggeration
Can it be that Billy has reached a realisation that, occasionally, less can be more, and that a degree of awareness for others promises well? For much of the action, at least, the determined archness of his character has hardly been sympathetic, even in a genre that savours exaggeration. Freak Show doesn't aim for, and certainly doesn't achieve the warm resolution of a (somewhat) comparable high-school gay drama like With Love, Simon, but its underlying message of supporting independence of spirit over adversity is finally sympathetic and, one hopes, resounded with youthful audiences. (By such standards, does the opposite end of the gay high school movie resolution lurk in the gruesome territory of My Friend Dahmer?)
The extra feature here is a half-hour informal conversation, recorded in November 2018 for this home entertainment release, between Styler and Lawther, both of whom are very winning and refreshingly down to earth (if he ever needs to vary his career, Lawther would be a great interviewer). It reveals, among other things, that Styler stepped in as director only after the expected candidate had to withdraw, so it wasn't a planned debut, and she's interesting about how she approached the whole experience; the involvement of the likes of cinematographer Dante Spinotti must have been of great assistance on a packed 22-day shoot, not to mention a production budgeted at only round the $3 million mark. The American independent film scene has many faces, though few can be as determinedly glammed-up as Freak Show.
Watch the trailer for Freak Show

Lawther acquits himself with a transgressive glee that seems to have seeped into his locution and deportment alike
rating
Share this article