Eden |

reviews, news & interviews
Eden
Eden
Drab lead dominates overlong chronicle of a DJ in the Nineties French dance music scene
As DJ Paul Vallée, Félix de Givry wakes up the crowd in 'Eden'
A film about 20 years in the life of a character acknowledged as peripheral to a movement in popular culture which spawned global stars is a difficult sell. Audiences are going to wonder whether the chronicling of a minor player not central to the bigger picture is the wrong focus.
With Mia Hansen-Løve's
Eden
the light is on Paul Vallée, a club DJ trying to make his way in the fertile early Nineties French electro-dance music scene from which Daft Punk became the global breakout phenomenon. And it's the helmet-wearing duo which loom large over
Eden
.
Eden takes the factual and merges it with dramatised versions of actual events and characters. Paul (Félix de Givry in his first lead role) is an analogue of director Hansen-Løve's former-DJ brother Sven, who co-wrote the film with her. She used to accompany him to his bookings. The title is taken from a fanzine integral to the era. Raves and club events which happened are recreated, and real-life DJs are seen in cameos. The music fundamental to the scene is heard, including tracks by Daft Punk, played by a helmetless pair of actors.
The film charts the rise and fall of Paul in two sections, the first titled Paradise Garage, the second Lost In Music. It begins in November 1992 and ends in December 2013 with a penniless Paul, working as a vacuum cleaner salesman, returning to the writing studies he abandoned while beginning his lengthy try at making the grade as a DJ. He is last seen reflecting on Robert Creeley's aptly titled poem The Rhythm which, in a metaphor for the film, muses on "light at the opening, dark at the closing".
Recreations of the club experience are spot on. The energy, euphoria and mass communion are captured with an effortlessness lacked by, say, 24 Hour Party People. But after a sequence of similar such scenes, the settings become repetitious. Comedic reappearances of the Daft Punk duo (pictured above right, Arnaud Azoulay, left, as Daft Punk's Guy-Man and Vincent Lacoste as Daft Punk's Thomas) – repeatedly refused entry to clubs because their faces and real names aren't recognised – are also overused.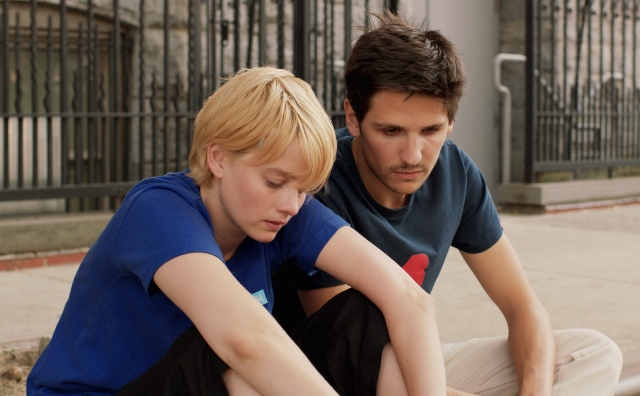 A greater problem is Eden's lead character: as Paul, de Givry lacks charisma. Unfortunately, he is dull, the classic club DJ: a music fanatic defined by the records he plays rather than his personality (a problem Daft Punk sidestepped by donning costumes). Although his fondness for house music shines, Paul's is not a character with whom it is easy to spend an overlong two hours 11 minutes. He bumbles through relationships and, due to his apathy, splits with the woman who may be his one true love and supporter, Louise (Pauline Etienne in the film's best performance, pictured left with de Givry as Paul). Another of his flames is a stilted Greta Gerwig. Often poor – either because he is not making money or because he spends what he has on drugs – Paul sponges off his mother.
Paul peaks by playing New York at an event organised by the Museum of Modern Art, but his approach to music and how it is played out does not develop. Evolving trends in both music and technology leave him behind. A French club owner tells him and his DJ partner Stan (Hugo Conzelmann) to change as the populist David Guetta has become the in-thing.
Although Eden's music is infectious and accurate for the era and scene, the film itself is less enjoyable. If Paul were not so drab and unengaging, it could have been the French club scene's Inside Llewyn Davis. Hansen-Love's third film feels like something she had to get out of her system. Her last, the nuanced and more thoughtful Goodbye, First Love, was much more satisfying. Perhaps she can regain her focus and sensitivity for representing the human with her next one.
Overleaf: watch the trailer for Eden
Watch the trailer for Eden
'Eden's' music is infectious and accurate for the era and scene, but the film itself is less enjoyable
rating
Explore topics
Share this article