The Forgiven review - the shelterless sky |

reviews, news & interviews
The Forgiven review - the shelterless sky
The Forgiven review - the shelterless sky
Ralph Fiennes and Jessica Chastain seek salvation after a desert hit and run
Saturday, 03 September 2022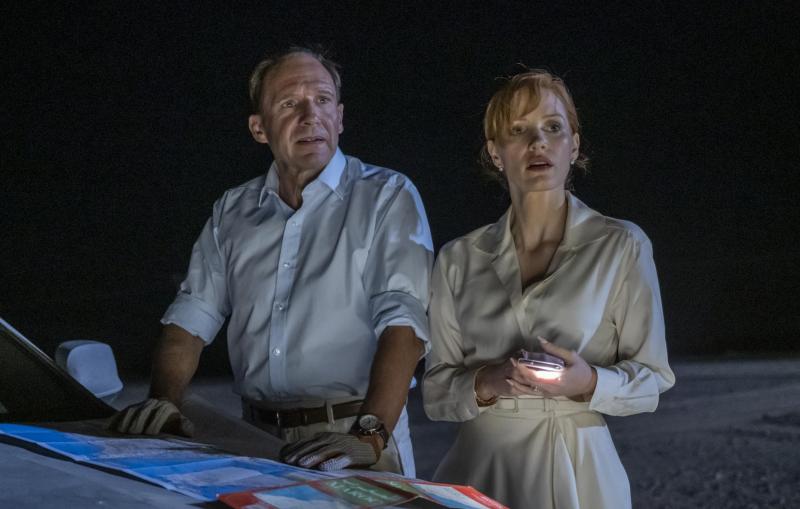 Losing their moral compass: David (Ralph Fiennes) and Jo (Jessica Chastain)
John Michael McDonagh's acerbic tragedy of manners and morals sees West meets East, in a literal car crash of sloppy behaviour and messy intentions.
Alcoholic doctor David and blocked children's author Jo (Ralph Fiennes and Jessica Chastain) are the burnt-out upper-class couple speeding through the Moroccan night, David drunkenly at the wheel, when Berber boy Driss (Omar Ghazaoui) steps into their path. They fatally hit, and run on to the decadent party at the desert home of Richard (Matt Smith). It seems a clean getaway, till Driss's father Abdellah (Ismael Kanater) arrives at the gates, demanding retribution.
David is a bored, boorish provocateur, an articulate piss artist with a snapping sneer. Jo is emptied by the effort of attending him. They're in good company at the party, where a liberal French photographer, leering English aristo and crass Aussie party girl are all pretty vacant, and mutably charming American Tom (Christopher Abbott) catches Jo's eye. When Richard's oafish partner Dally (Caleb Landry Jones, pictured below with Smith) starts joking about vaginas in a grating slur, it seems just too much, like Brett Easton Ellis scripting a Buñuel soiree.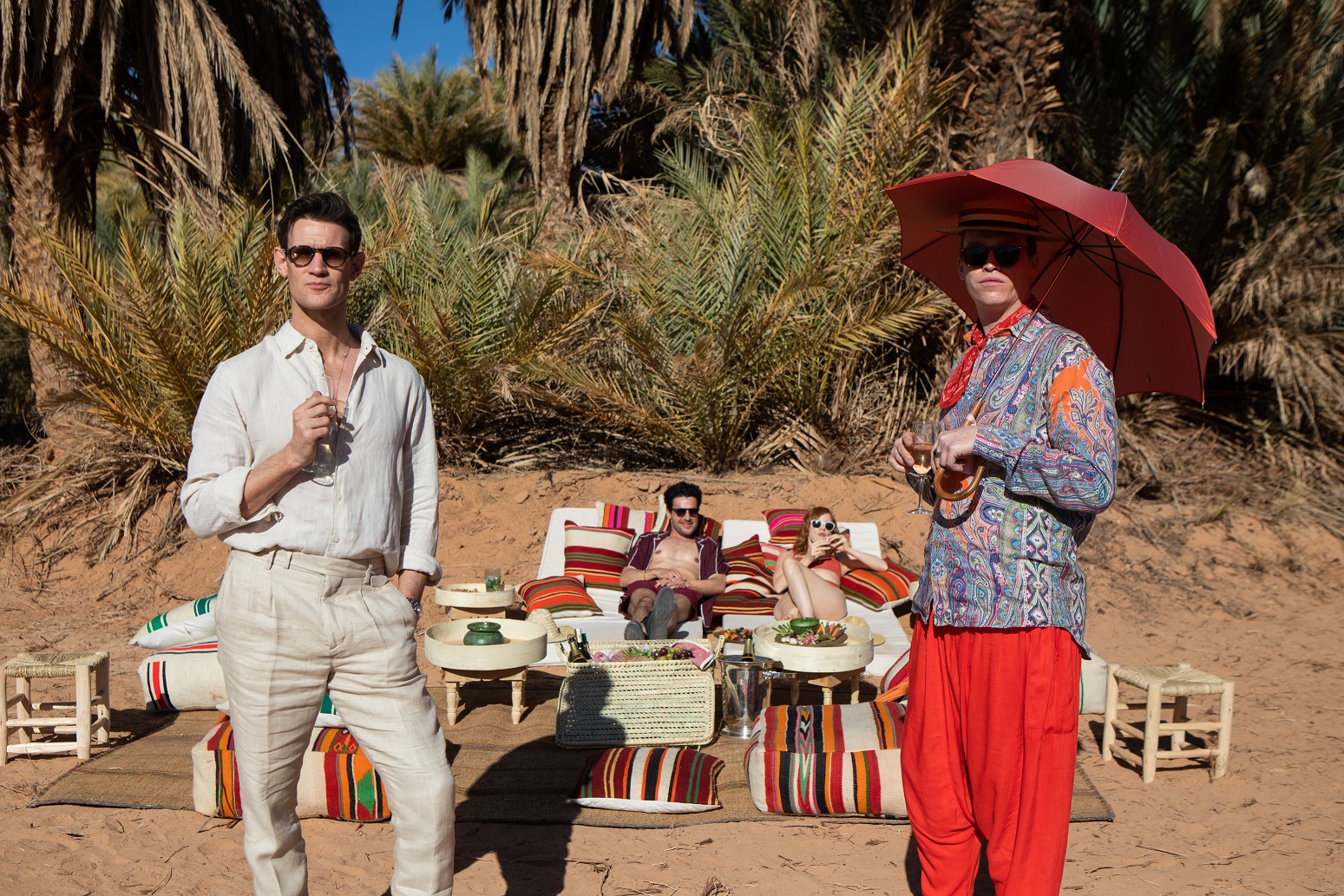 Yet when Abdellah insists that David travel to his village to atone for his son's death, something in his words, and the sight of Driss's corpse, sends David back into the desert. A slumbering moral nerve has been touched, finding atavistic residues of duty and guilt. The further David goes, the more his cynically crusted pores are purged, as he blurrily seeks redemption.
Meanwhile, back at the party, Jo seems contrastingly selfish, concern for her endangered husband fading. Chastain doesn't pretty this up, instead honestly tracing Jo's indulgence in blissful sex and creative awakening, now she's out from David's contemptuous thumb.
McDonagh's adaptation of Lawrence Osborne's novel has unmistakable echoes of Paul Bowles' The Sheltering Sky, about the fatal unravelling of a privileged American couple crossing the post-war Sahara. Port and Kit (John Malkovich and Debra Winger in Bertolucci's film) are repugnantly racist and poisoned by drink as they slip into a vortex of self-destruction. A current writer would shiver at such protagonists, but they're truthfully colonial, and their descents grip with tragic force. Those realities haven't changed, only our comfort in seeing them. McDonagh is unfashionably fond of such bracing characters, though far more satirical (as in his Brendan Gleeson hit The Guard), much like brother Martin (Three Billboards Outside Ebbing, Missouri).
McDonagh's Moroccan characters are sometimes effortfully saved from cliché. Richard's major domo Hamid (Mourad Zaoui, pictured above second right with Kanater, right) laughs gently when his stream of proverbs is broken by a friend suggesting he should be on Twitter. Martyred Driss, an oddly nocturnal fossil-seller according to the narrative everyone acts on, in fact planned a gunpoint robbery. Abdellah sheds his Berber warrior façade to reveal an urbane English conversationalist as he parlays with David for his life and soul: the price that must be paid.
Abdellah's driver Anouar (La Haine's Saïd Taghmaoui), dreaming in his desert cauldron of the chilly Sweden seen in magazines, befriends David, but is finally confounded by him. His nomad culture is dying as surely as Driss, symbolically reliant on finding fossils for Westerners. Cinematographer Larry Smith films this country – blinding azure buildings, the hard scrabble of desert rock, pink flamingos in a verdant oasis – with crisp digital realism.
The Orientalist charge that sticks isn't for the obnoxious pricks in Richard's enclave – a post-colonial redoubt thinly protected by money and his slippery charm – but the fact that this is finally David's story, with the Berbers the proving stone for his possible salvation.
Fiennes has been this way before. There are echoes of his record producer's dying fall in A Bigger Splash, and he was once TE Lawrence. Even as Bond's M, he mines his own class's mostly buried belief in honour. Where Anthony Hopkins specialises in repression as aching silence, Fiennes secretes pain beneath bombast and rage. His David is what you take out of the desert.