Ghost in the Shell review - 'a mind-bending futuristic dystopia' |

reviews, news & interviews
Ghost in the Shell review - 'a mind-bending futuristic dystopia'
Ghost in the Shell review - 'a mind-bending futuristic dystopia'
Japanese manga phenomenon gets the Hollywood treatment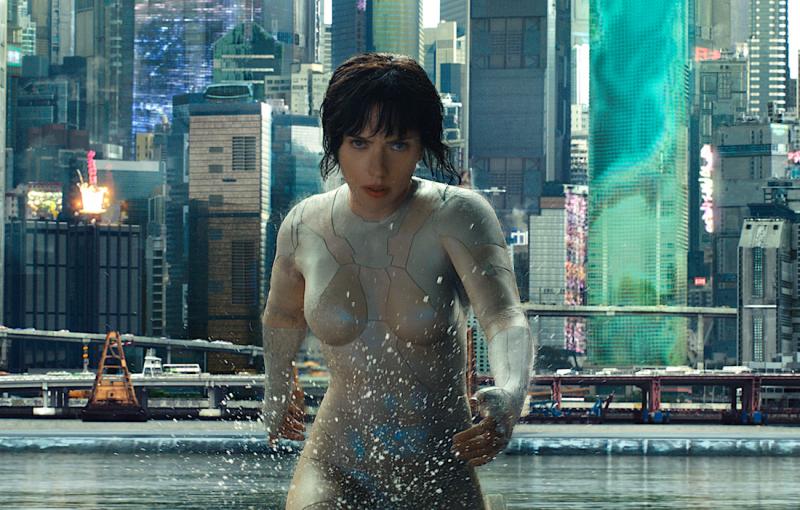 Human or humanoid? Scarlett Johansson as The Major
The Japanese Ghost in the Shell phenomenon is celebrating its 25th birthday, and already has a long history in manga cartoons and animated movies.
Now
Hollywood
has clambered aboard, though this live-action version, finally helmed by British director Rupert Sanders, has taken 10 years to reach the screen.
There's been some controversy about the casting of Scarlett Johansson as the central character, The Major, with some onlookers contending that it's an outrage to hire a Caucasian superstar instead of a Japanese actress. Others (including Mamoru Oshii, who directed the 1995 Japanese anime version) say the argument is ridiculous, since the story is all about a woman whose consciousness has been transplanted into a wholly synthetic cyborg body, not conforming to any particular nationality (Geisha-bot, below).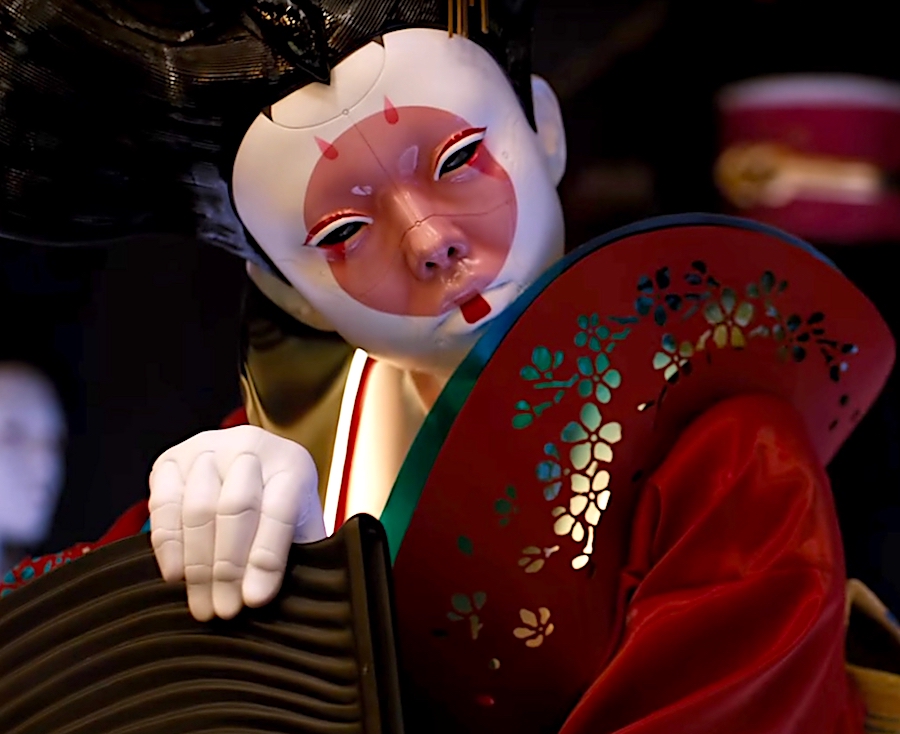 Whatever, Johansson got the gig, and as the special-ops super-agent of the elite government department Section 9 she does a perfectly respectable job of battling with all manner of sinister and mysterious adversaries. She does this by leaping off massive skyscrapers, diving in slow motion through plate-glass windows, becoming invisible, riding monster-sized motorcycles and so on. Luckily she's had training in this sort of thing as Black Widow in Marvel's Avengers series.
But Ghost in the Shell carries a philosophical message alongside its slam-bang action and infinite arsenal of computerised effects. In Blade Runner style, it poses the large philosophical question of where technology ends and human consciousness begins. The Major, as far as she's aware, suffered catastrophic injuries when the boat carrying her and her refugee family was attacked by terrorists. She woke up to find herself in the tender care of Dr Ouelet (Juliette Binoche), who had supervised the process of installing her human mind in a newly-created body. However, whether she liked it or not, her destiny was to be weaponised by Mr Cutter (Peter Ferdinando), the ruthless boss of Hanka Robotics, the huge corporation which equipped her with a new body.
All of this takes place within a dazzling but soulless city, a futuristic dystopia shrouded in an atmosphere of foreboding and run, as far as one can tell, like a military dictatorship (echoes of The Matrix or Robocop or the Terminator movies rumble through the film like distant thunder). Basically it looks like Hong Kong – with recognisable landmarks like the China Bank building – with loads of computer-added extras, including forests of futuristic skyscrapers with huge holographic figures (the shape of advertising to come) walking between them (pictured below). In classic comic-book style there's also a dark and lawless side of town, where, it turns out, The Major (or Motoko Kusanagi, as she then was) used to hang with a crowd of rebellious, anarchic low-lifes.
Her human-brain-in-a-synthetic-body configuration apparently makes her unique, though a problem with the movie is that it becomes impossible to tell who, if anyone, is totally homo sapiens. Dr Ouelet and Aramaki (Beat Takeshi), the battle-scarred boss of Section 9, appear to be, but other characters who seem to be flesh and blood will suddenly surprise you by, for instance, casually detaching a section of their head. Batou, The Major's gruff combat buddy (played by Pilou Asbaek, the spin-doctor from Borgen), decides to enhance his effectiveness by having a new pair of high-definition eyes installed.
Perhaps it was unavoidable, therefore, that the film should be conspicuously lacking in human warmth. As the plot develops, and The Major and her comrades track down the enigmatic Kuze (Michael Pitt), who's waging cyber-war against the Hanka Corporation, a bit of backstory trickles in, and we start to get an idea of how the world came to be like this. The Major learns that memories may only be synthetic implants designed to deceive, but "what we do defines us". The quest for the elusive truth will doubtless inform what threatens to become a new blockbuster sci-fi franchise.