Goon |

reviews, news & interviews
Goon
Goon
Saga of knuckleheaded hockey player surprises with hidden depths
Goon apocalypse: Doug Glatt (Seann William Scott, right) battles Ross Rhea (Liev Schreiber)
A capsule summary of Goon doesn't sound very appetising - slow-witted hockey player with awesome fighting skills helps lift the Halifax Highlanders out of their low-achieving doldrums. Yet within the film's oafish wrapping lies a touching little tale of oddball relationships and characters struggling to find their place in the world, set against a melancholy backdrop of small-town Canada in iron-hard winter weather.
I know nothing about ice hockey, though I managed to grasp the basic premise that the side with the higher score wins. As presented here, the game consists of a few skilled players who whizz around with the puck trying to score goals, while being protected by a gang of thugs, or "goons", who do battle with the opposing team's equivalent bunch of enforcers. It's like Rollerball without rollers. It's bare-knuckle brawling on ice, spattered with blood and broken teeth.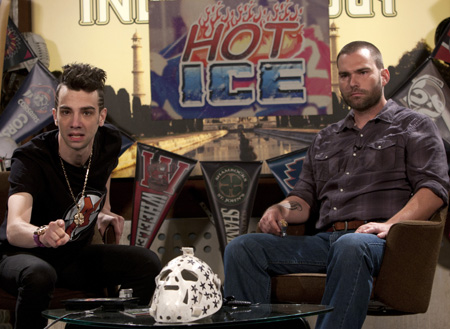 Our protagonist, Doug Glatt (Seann William Scott, from the American Pie flicks), is a nightclub bouncer in Orangetown, Massachusetts when we first meet him, but he carries out his work with politeness, apologising to his victims when he has to crack an eye socket or fell them with a headbutt. Attending a local hockey game with his buddy Pat (Jay Baruchel, who's also one of the screenwriters), Doug gets into a fight with one of the visiting team's players (Pat and Glatt, pictured above). The crowd roars as he calmly beats his opponent unconscious, and the home team's coach is soon on the blower to recruit Doug. At first he can't even skate, let alone hit a puck, but the coach isn't looking for Torvill & Dean, and recognises a natural goon when he sees one. Doug even lays out half of his own side when they mock his lack of happy-feet skills. No hard feelings, though.
He soon becomes so crushingly effective in the rink that he gets an offer to transfer north of the border to the Halifax Highlanders, not least so he can protect the team's brilliant but erratic star, Xavier LaFlamme (Marc-Andre Grondin). LaFlamme's mercurial skills have been blunted by an onslaught of enemy goons, and Doug is his on-ice bodyguard.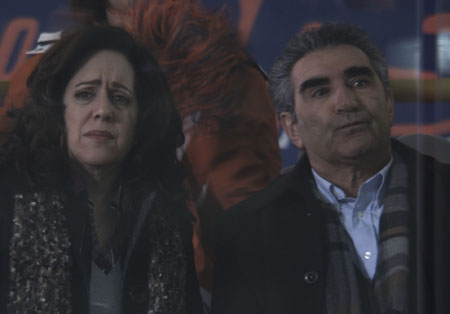 While the story (based on a book about real-life lower-league hockey) follows a familiar dramatic arc in which the Highlanders' prospects improve until they have a tantalising chance of winning the cup - not sure which cup exactly, but it doesn't seem to matter - the oblique charm of the piece lies in its incidental detail. Director Michael Dowse extracts much wry humour from Glatt's relationship with his affluent Jewish family, headed by the stern Dr Glatt (a perfectly cast Eugene Levy, pictured above with Mrs Glatt), who are all high-achieving medical professionals. Dad wants Doug to be a physician or a teacher, and he's transfixed with horror when he watches his son cracking skulls and crunching bones out on the ice ("have you never thought about the possible neurological damage?" he demands). "I'm stupid," shrugs Doug, who understands that he has found his métier, be it ever so limited. He also knows that he has to take the blows as well as dish them out, and accepts it with Zen-like equanimity.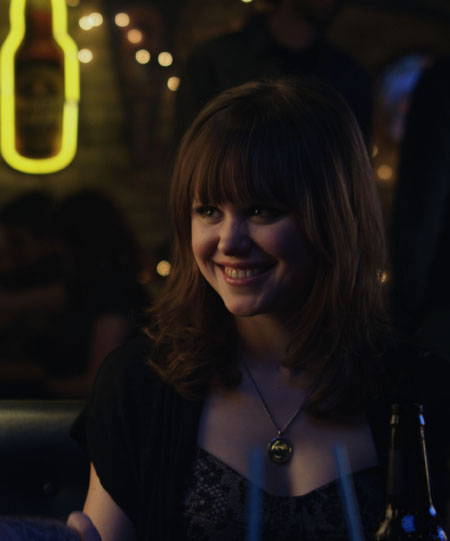 A running sub-plot is the gathering rivalry between Doug and Ross Rhea, notorious hard man of the St John's Shamrocks. Rhea, played with real soul by Liev Schreiber, is every goon's guru, beating the crap out of anybody foolish enough to get within reach, but he's on the verge of retirement and has heard the stories that Glatt is "the new me". There's a terrific scene where the pair meet in a cafe, the old gunslinger and the new kid in town, and Rhea dispenses a few nuggets of old-timer wisdom. "Just remember, everybody loves the soldiers until they come home and stop fighting," he says, as if they were a couple of grunts telling war stories in Saigon or Kandahar.
Baruchel has created a wild card part for himself as Pat, a gay hockey fanatic who presents his own TV show, Hot Ice, and whose conversation is a Tourette's-style stream of shrieking obscenities. Baruchel is a Montréal native who grew up in a hockey-crazed household, which has surely helped to bring a ring of truth to even the unlikeliest byways of the story. Also memorable is Alison Pill as Eva (pictured above), a baby-faced hockey groupie who finds herself drawn to the gentle bruiser Doug, even as she tries hopelessly to stay faithful to her current boyfriend. The moral of Goon is, don't let the title or the poster put you off.
Watch trailer for Goon
Doug Glatt is a nightclub bouncer when we first meet him, but he apologises to his victims when he has to crack an eye socket or fell them with a headbutt
rating
Share this article