Great Expectations |

reviews, news & interviews
Great Expectations
Great Expectations
Romcom and adventure brought out at the expense of Dickens's obsession with class and sex
Wednesday, 28 November 2012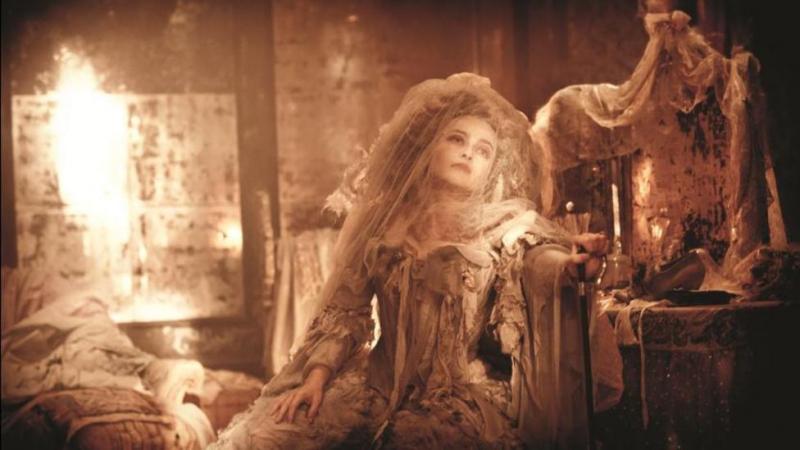 Helena Bonham Carter's Miss Havisham: funny, weird, but not tragic
One has low expectations of Great Expectations. As the Dickens bicentenary draws to a close with yet another version, young Pip must once again come to the aid of the convict Magwitch, once again be raised up from apprentice blacksmith to gentleman, once again fall for the cold, unrequiting Estella Havisham. And once again make do without the first-person narrative that gives him his character.
For this latest account Mike Newell, director of Four Weddings and the fourth Harry Potter, has teamed up with scriptwriter David One Day Nicholls, so you can intuit roughly what flavours they, between them, will be looking to bring out. And so it proves. This is Dickens as romantic comedy featuring a splash of harum-scarum adventure, with all the story's sharper edges filed off as if by an implement from Joe Gargery's forge. There is comedy aplenty, quite a bit of does-boy-get-girl? in the mix, and the marshy Kentish seaboard looks a picture through John Mathieson's lens. But this is not a Great Expectations with any profound interest in the novel's great themes of social unease and amorous despair.
The tone is set with Magwitch's sudden appearance in the misty churchyard at the beginning. You should jump clean out of your skin along with young Pip (Toby Irvine), but that's not an option with Ralph Fiennes's mildly creepy convict, who come his reappearance in the last third of the film seems to have more of Ron Moody's Fagin about him than, say, Oliver Reed's Sikes. This Magwitch is one script change away from breaking into "You've Got to Pick a Pocket or Two".
Even mild creepiness would have been a tonic in Helena Bonham Carter's Miss Havisham. Instead she plays the jilted widow as a barking wind-up doll; it's as if she'd never left the set of Alice in Wonderland. This Havisham is weird all right, and funny (even when burning to a crisp), but she is unimbued with tragedy and fired by little of the character's manipulative hatred of men. The other reliable barometer of any adaptation's worth comes when Joe Gargery visits the newly elevated Pip's quarters in London. The hot flush of Pip's shame at this oafish intrusion from his past should put a sharp curl in your toes. Jason Flemyng is a hearty Joe, but the script is just too toothless to give him much to work with.
It's not all misfire. Newell's boldest stroke is to cast Robbie Coltrane (pictured below) as Pip's guardian Mr Jaggers, and he captures the lawyer's peremptory, desiccated aloofness with some power. Surprisingly, in the role of the porcelain beauty Estella, Holliday Grainger somehow accomplishes the thankless task of embodying the product of a vengeful laboratory experiment: "I have no heart," she tells Jeremy Irvine's problematically drippy Pip. "I've been made that way." And she seems to mean it. (Pictured above, Irvine and Grainger)
As is usual when cutting Dickens down to size, Nicholls has been busy drowning kittens. Thus Pip's harridan of a sister Mrs Joe (Sally Hawkins) dies off screen, there's no sign of the beastly Orlick, and Pumblechook (David Walliams), whose petit bourgeois ghastliness is soft-pedalled, has oddly become Pip's tailor. ("This is very you," he tells Pip, a phrase which like several here is not very Dickens.) Meanwhile, the Pocket family have mostly been killed off bar Pip's hapless friend Herbert - whose younger (Charlie Callaghan) and older (Olly Alexander) incarnations produce the film's two most charming performances. If only the Irvine brothers as the two Pips had half their charisma.
As a story about an orphan's memories of a convulsive childhood make way for a plain old ripping melodrama complete with explanatory flashbacks, the film starts accelerating through the plot in a way that, counterintuitively, feels sluggish. Of course that can happen in any compression of Dickens, but its makers have chosen not to grasp the sheer strangeness of a narrative which taps into Dickens's deep anxieties about class and sex. Instead we get a few laughs and a fine romance. But you can get them anywhere.
Helena Bonham Carter plays the jilted widow as a barking wind-up doll; it's as if she'd never left the set of 'Alice in Wonderland'
rating
Explore topics
Share this article