Hairspray, London Coliseum review - brighter and more welcome than ever |

reviews, news & interviews
Hairspray, London Coliseum review - brighter and more welcome than ever
Hairspray, London Coliseum review - brighter and more welcome than ever
Popular London and Broadway musical soars anew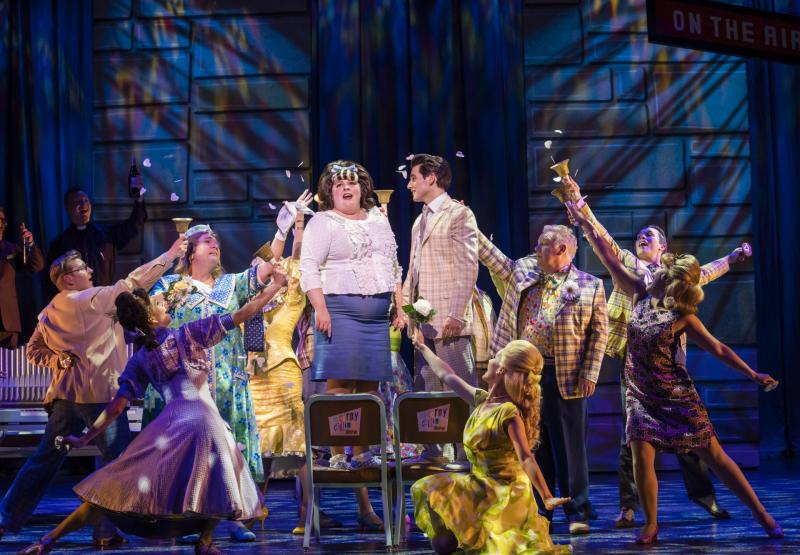 A star is born: Lizzie Bea in 'Hairspray'
A revival of a multi-award winning musical, with a big star or two, may look like a safe choice to re-open London's largest theatre, the Coliseum, but there was a tingle of jeopardy in the air, exemplified when the show catches you by surprise, the curtain rising when (surely) people remain in the bar?
And then you notice (for the last time - hurrah!) that all those seats all around you are deliberately left unoccupied and the game's afoot. And besides, we'd already been given a glossy, garish programme: the West End is back, baby!
At first with this new reiteration of the Broadway and London hit Hairspray, the costumes and (inevitably, in this show) the wigs appear to do the heavy-lifting; the colours and the spectacle dilate pupils too long focused on small screens, on small people who are far away, not life-sized humans right here, right now. Then the energy careers from stage to stalls, the absurdity of musical theatre's central conceit - that adults have chosen to tell their story through the medium of song and dance - annulled in an instant by the opening number. We're at home in a world at once comfortingly familiar and wildly bonkers and it's seducing us with its sledgehammer proposition, "Are you not entertained?" Yes… we sure are.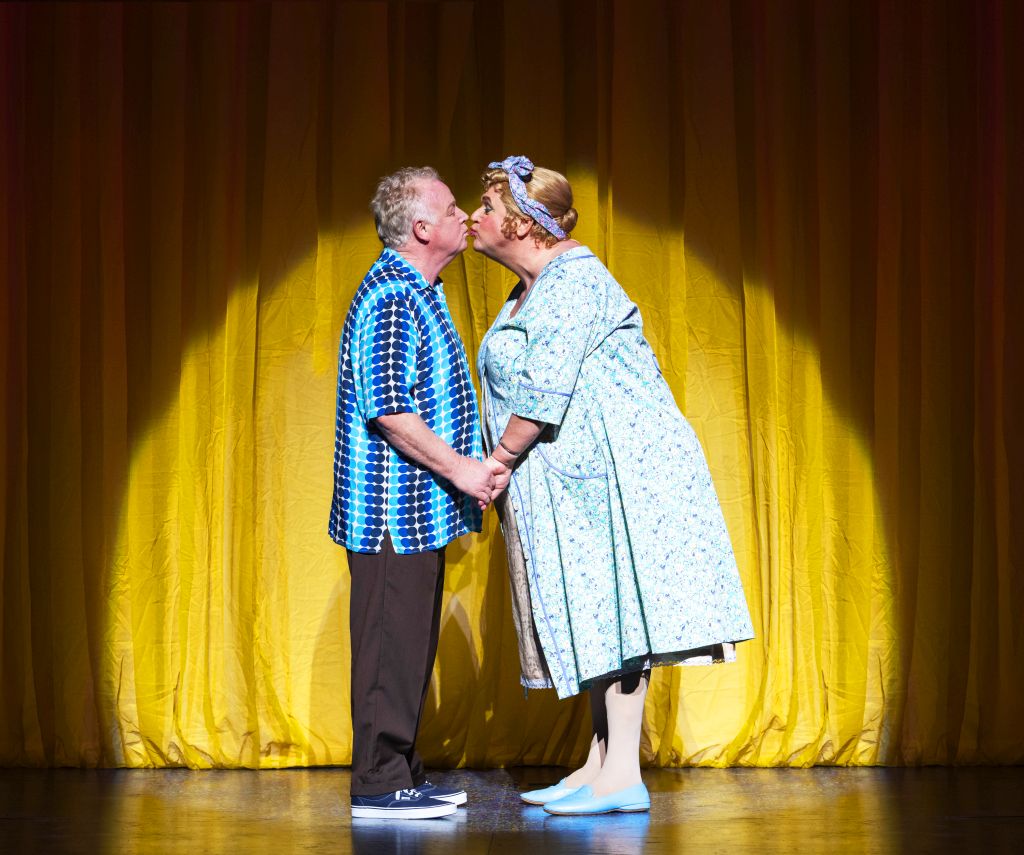 It's Baltimore 1962 and Corny Collins has the biggest show on TV, his troupe of teenagers grooving to the latest hits in that wholesome gap between Buddy and The Beatles. Tracy, the biggest girl in school, practises the moves and dreams of joining the show, but she's not the producer's idea of a TV star at all. What of it? She has chutzpah to burn and can see a new world emerging on the horizon, one in which the show is integrated and that has no need for the monthly "Negro Day", a world in which her heartthrob, Link Larkin, is more than just her poster boy.
There's an edge all right. Velma von Tussle and her mean girl daughter, Amber, may be comic book villains, but there's venom in their espousing of Jim Crow segregation and an immediacy in 2021 that may not have been as potent in the show's 2008 West End production. Theirs are faces and sentiments that belonged in the past just 13 years ago; now they are very much of our present and the old poison needs excising yet again. That said, this Jack O'Brien-directed show is no polemic - it's feelgood stuff underpinned but not drowned out by a social conscience and contemporary relevance.
Michael Ball and Les Dennis (pictured above), veteran entertainers these days, lead the charge, Ball reprising his Olivier Award winning turn as Tracy's mum Edna and having a lot of fun with Dennis on their vaudeville duet, "(You're) Timeless To Me", the old pros corpsing and kissing and enjoying it at least as much as we are.
There's super work throughout the cast, Jonny Amies lovable as Link, Rita Simons vicious as Velma and Mari McGinlay and Ashley Samuels delightful as the colour-bar crossing sweethearts, Penny and Seaweed. A frisson of excitement crackles from those in the know when Dreamgirls alumna Marisha Wallace embarks on "I Know Where I've Been". The American powerhouse gives full belting value to Marc Shaiman and Scott Wittman's epic, emotional explanation of the roots and persistence of racial injustice - a guaranteed foot-stamping showstopper.
For all these splendid performances, the night needs a star in whom we can believe and we get one in Lizzie Bea. She gives us a Tracy Turnblad brimming with charm and wit, artless but bright, vulnerable but determined. She sings well, and can dance (moving much better than Les Dennis - then again, so do I) but it's that indefinable charisma, reaching out to all corners of the four-tiered house, that lifts us over and over again. The show, very importantly, has its centre.
It was an emotional evening on both sides of the fourth wall, an opening night in more senses than one, with Ball taking the mic at the curtain call to yet more rapturous applause that made up in volume for what it lacked in numbers. The evening also reconnected a cast with an audience - like two bare wires touching, the sparks flew - and made clear, were we in need of a reminder, what we had missed. More importantly for everyone involved in a bloodied but unbowed industry, and as Ball underlined at the curtain call, it showed us what we can have again. Together.