Hillbilly Elegy review - misery in the heartland |

reviews, news & interviews
Hillbilly Elegy review - misery in the heartland
Hillbilly Elegy review - misery in the heartland
Ron Howard's melodrama softens the message of a Trump-era memoir
Wednesday, 25 November 2020
Bad mothers: Glenn Close and Amy Adams in 'Hillbilly Elegy'
Published in June 2016, J.D.
Vance's memoir
Hillbilly Elegy
became a best-seller around the time of that November's presidential
election
as people sought to understand why
working class
whites in the
American
heartland supported Donald Trump en masse. Vance's account of his arduous upbringing at the hands of his drug-addicted single mother Bev incorporated his criticisms of the defeatist culture he grew up in. The film version directed by Ron Howard predictably focuses on the domestic upheavals endured by J.D. and his sister Lindsay. The socio-political context is submerged so deeply it's all but invisible.
Adapted from Vance's book by Vanessa Taylor for Howard and his producer partner Brian Glazer's Imagine Entertainment, Hillbilly Elegy jumps awkwardly back and forth between 1997, when J.D. is 13 (and played by Owen Asztalos), and 2011 when he's an Iraq War vet and cash-strapped postgraduate Yale Law School student (played by Gabriel Basso).
The narrative is driven by 27-year-old J.D.'s efforts to place Bev (Amy Adams) somewhere safe in their midwestern hometown, preferably in rehab, following her latest heroin overdose. He must do this immediately before racing back to New Haven, 10 hours away, for an early morning interview for a summer job with a top law firm that'll enable him to pay the following semester's tuition. Usha (Freida Pinto), J.D.'s Indian girlfriend and fellow Yalie, devises a plan to keep him from falling asleep at the wheel.
Hillbilly Elegy mostly unfolds in Middletown, Ohio, the rustbelt city that Bev's future parents – J.D's future Mamaw and Papaw – emigrated to from Jackson, Kentucky, when she was a pregnant 13-year-old and he was an aspiring steelworker, as a single sepia flashback to the 1940s shows. (Pictured below: Haley Bennett, Glenn Close, and Owen Asztalos).
The opening Appalachian vacation sequence depicting verdant hollows cluttered with ancient pick-up trucks, rendered through beautiful travelling and aerial shots, unfortunately romanticises the hardscrabble hill life of J.D.'s forebears, and to some degree the values for which Vance condemned the region in print: laziness, irresponsibility, suspiciousness, insularity, and belief in the efficacy of violence. As an author, he has been criticised for over-generalising and for speaking out against folk he wasn't raised among.
Though J.D. is the protagonist – one easier to empathise with as an emotionally abused, wide-eyed kid than he is as a dutiful, put-upon adult – he is essentially a conduit for two studies in failed ("shitty" is the adolescent J.D.'s word) motherhood, the failure implicitly attributable in each case to the hopelessness of their husbands; J.D. and Lindsay's dad is long gone. Hyper-intelligent but never encouraged to go to college, Bev worked hard to become a hospital nurse and was a naturally incorrigible fun mom to J,D, and Lindsay (Haley Bennett, excellent in a quiet role).
But a childhood trauma stemming from an outrage her mom inflicted on Bev's drunken dad (Bo Hopkins), which she and her sister witnessed, has made Bev unstable and resounds in her ruinous self-medicating and terrible choices of mates. Unfortunately, Bev is a poorly written role – a simulacrum of manic-depressiveness – that elicited too many conspiratorial smiles, crazy outbursts, and weak barbs from Adams. Bev's energetically expressed misery, punctuated by stabs of guilt, is unconvincing. It's disconcerting to see this terrific actress at sea.
A failed mother Mamaw may be, but she does an about face halfway though the film (just after her marital terrorist act) to become a devout grandmother whose tough love and self-sacrifice turn J.D. from an impressionable layabout with loser friends to a dedicated high-school student, home help, and money-earner. A raddled, chain-smoking, cussing termagant in a fright wig and big specs, the old bat could bring Close an Oscar at last. (Pictured below: Amy Adams and Gabriel Basso.)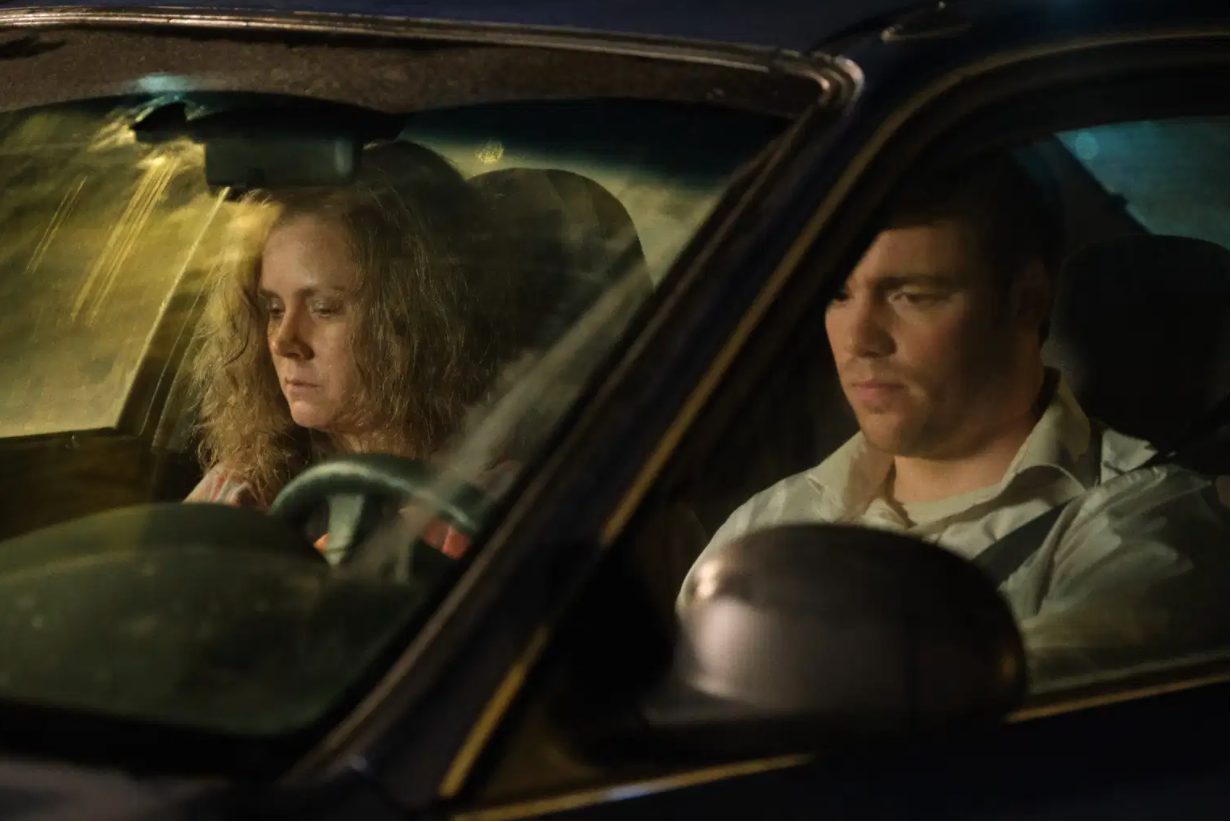 Sociologically defused though Hillbilly Elegy is, it's clear none of the Vances or their neighbours would have voted for Al Gore (seen campaigning in a TV commercial), Barack Obama, or any Democrat – the film suggests that their consciences, even J.D's., extend only to their own needs.
The one African American with a serious role is the rehab centre manager (Déjà Dee) whom J.D. implores to admit Bev. The absence of blacks in the film is not a reflection on Howard but, since racism is side-stepped by the script, an indication of their irrelevance to the day-to-day survival quest of J.D.'s family and the Kentucky clan from which it hails.
In one important respect, though, the film succeeds as social realism. Bev's drug addiction – which in its early days caused her to filch her hospital patients' prescription drugs and send her roller-skating through its corridors – parallels the opioid epidemic. A Caucasian woman denied a four-year college education, she belongs to the demographic that most experiences higher rates of overdose. As of July 2020, there had been a 13 per cent increase on 2019's nearly 72,000 overdose deaths in the US. Hillbilly Elegy should help draw attention to that grim toll as a new administration gears up to tackle the crisis.