I Get Knocked Down, Brighton Festival review - Chumbawamba singer's film is lively, funny and thought-provoking |

reviews, news & interviews
I Get Knocked Down, Brighton Festival review - Chumbawamba singer's film is lively, funny and thought-provoking
I Get Knocked Down, Brighton Festival review - Chumbawamba singer's film is lively, funny and thought-provoking
Nineties anarcho-pop star ruminates entertainingly on what it all meant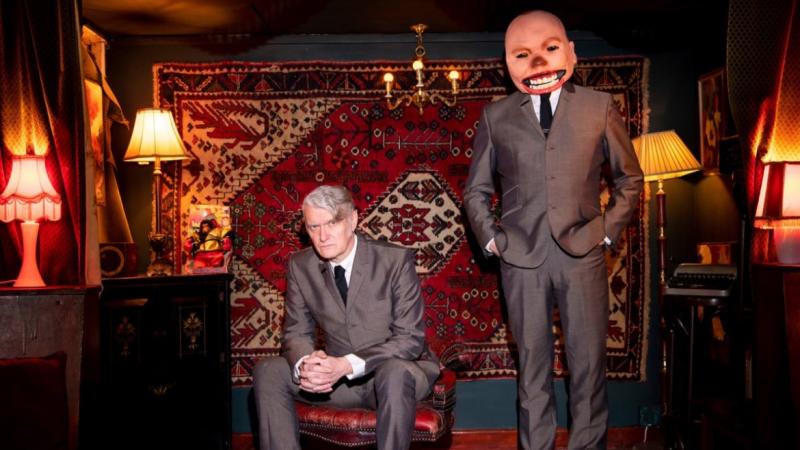 Dunstan Bruce and his cynical nemesis
One effect of the film I Get Knocked Down, a playfully constructed journey around the life of Chumbawamba vocalist Dunstan Bruce, is to remind that socio-political rage was once woven into the fabric of popular music.
Old footage from the band's
Leeds
squat, Southview House, in the early
Eighties
, shows one of them jovially composing a song called "Norman Fowler is a Shit-stain in Margaret Thatcher's Underpants" on an acoustic guitar (Norman Fowler was Thatcher's Secretary of State at the time). It's funny and silly, but also made me long for the era when art-fury was a common cultural response, rather than solipsistic anxiety.
And this is, at heart, what the film, co-directed by Sophie Robinson, is about. Put together over a period of five years, it's not a straight biog of the anarcho-popsters, but rather a reflection by Bruce, "knee deep in middle age malaise", on what it's all meant and what he's supposed to do now. His attitude is partly summed up by the title of his one-man show, covering similar terrain, which recently played the Brighton Fringe, Am I Invisible Yet?.
I Get Knocked Down is snappy and funny. It looks great too, for a low budget outing: in the Q&A at the end Bruce and Robinson explain that they lucked out with COVID lockdown, since all their dream editors and post-production people, otherwise busy and expensive, were suddenly free to be involved. It also reminds what bizarre, edgy pop stars Chumbawamba were, when they briefly sold millions on both sides of the Atlantic with their monster 1997 single "Tubthumping" and its parent album. Their anarchic straight-talking induced shock and/or incomprehension on US talk shows.
First, though, Bruce revisits the band members, offering entertaining windows into their lives (drummer Harry Hamer, for instance, is discovered garishly dressed and glittered-up onstage with a jolly-looking family theatre show called Don't Mess With The Nannas). The narrative device which elevates the film is that Bruce is constantly shadowed by a figure wearing an evil-looking baby mask, akin to the face on the cover of Chumbawamba's Tumbthumper album. In a gruff northern voice, this grotesque constantly and swearily belittles Bruce's activities as meaningless and embarrassing.
A great example of this is when Bruce meets a key figure from his old American record company and, after the documentary-required reminiscences, asks if he can play him music by his new project. In the background the baby-head brutally revels in this deliberately cringe-making moment. It's far from naturalist, then, although the funniest scene is: this is when Bruce visits the parents of fellow band member Danbert Nobacon. Their dryly Lancastrian commentary is priceless as they look through scrapbooks detailing the outraged media response when Nobacon poured an ice bucket of water over Deputy Prime Minister John Prescott's head at the 1998 Brit Awards.
As things progress, Bruce seeks advice and answers from key figures of cultural resistance, including Penny Rimbaud of Crass and Ken Loach, and the last part of the film sees him touring his new band, Interrobang!?, whose work deals with being middle-aged but not giving up on creativity, involvement and action. While brutally honest, consisting of multiple scenes of Bruce "shouting at people in half-empty rooms", which we see in all their drab Wednesday evening mundanity, this section does not work quite as well as the rest and the film's final resolve, while perfectly adequate, is not as satisfying as it might have been.
The latter point is a minor quibble, though; I'd watch I Get Knocked Down again at an early opportunity. It has heart and wit. My own time as a Chumbawamba fan was before their huge success. My friends and I used to hammer their 1986 anti-Live Aid album Pictures of Starving Children Sell Records, a bitterly funny and tuneful satire, and I followed them until about 1993, bought the records, saw them live. I drifted away before the outrageously catchy "Tubthumping", though, and am now middle-aged too. The odds in 2022 seem stacked even higher against socio-political decency. If nothing else, as the great, gobby Chumbawamba singer Alice Nutter states, this film reminds that "we can't stop trying."
Below: Watch a four minute trailer for the film I Get Knocked Down
It made me long for the era when art-fury was a common cultural response, rather than solipsistic anxiety
rating
Explore topics
Share this article