Yungblud, Barrowland, Glasgow review - pop chameleon gives the kids something to shout about |

reviews, news & interviews
Yungblud, Barrowland, Glasgow review - pop chameleon gives the kids something to shout about
Yungblud, Barrowland, Glasgow review - pop chameleon gives the kids something to shout about
A youthful crowd were in thrall to Dominic Harrison all night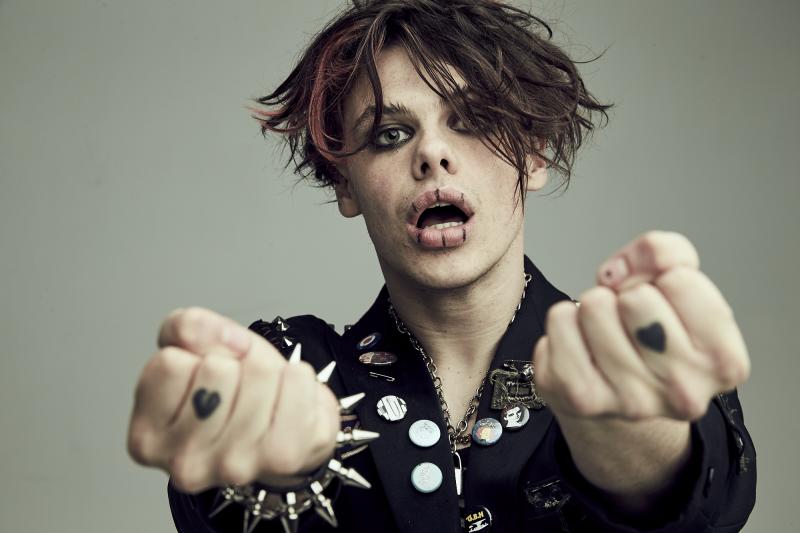 Yungblud is not a performer that hides his emotions
According to local press, Yungblud's fans had been queuing up outside the Barrowland throughout the day before each gig in his two-night Glasgow stint. If that was one indication of the reverence his following hold him in, another came early in this performance, when he briefly delayed "I Love You, Will You Marry Me" to allow an actual proposal to go ahead down at the front. If your songs are considered suitable for popping the question to, then you know you are connecting with people.
That attachment is something that ran through this noisy, entertaining show, that veered between polished and ragged at speed. The crowd was heavily teenage, although, oddly, the venue was nowhere near capacity on this night despite the show having sold out long in advance. However the noise generated was considerable, and it carried on relentlessly all evening, from sing-a-longs to wild, delirious cheering anytime Yungblud, aka Dominic Harrison said, well, just about anything at all.
A lot of that adoration is well earned, as Harrison is a charismatic sparkplug of a performer. Joined by a guitarist and drummer onstage he sprinted, sashayed and strutted for just over 90 minutes, indulging in pantomime punk antics, such as constantly spraying the crowd with beer or getting everyone to raise their middle finger, to emotional paeans filled with admirable sentiments about being who you want to be. At one stage he also instructed all there to pledge allegiance to being an individual, to which they, many clad in authentic identikit merchandise, responded enthusiastically.
Such cynicism did creep in at other points, including when Harrison bellowed that "rock 'n roll is not dead" and decried music for being too safe, before launching into another piece of poppy rock primed for chart success. Yet despite that the sheer energy and vitality that Harrison carries himself with make it easy to understand why he strikes a chord with so many, and his delighted, beaming face at every call-and-response with the crowd told more of a story than anything said.
Musically he is aided by being a pop selection box, an array of styles being opened up. Therefore if the ska bop of the aforementioned "Marry Me" doesn't hit the spot then perhaps the sleaze-drenched glam stomp of "Strawberry Lipstick", a terrific set opener, would. There were skittish pop rhythms underneath "Weird!", the title track of his chart-topping second album, and an energetic punk bounce to "Ice Cream Man" in which Harrison shook a tambourine and channelled a little Liam Gallagher in a hands behind the back pose to begin with.
There were some rough spots, too. Harrison enjoys a chat, which had the impact of creating a stop-start feel at times, when the show's momentum would have been better served by barrelling ahead rather than asking, again, whether everyone was fucking ready. Similarly, the musical grab bag does have limits, with the generic mosh of "superdeadfriends" and the piano-led "teresa" less than stellar offerings. Much more fun was the show-closing "Machine Gun (Fuck the NRA)", here altered to direct ire towards Boris Johnson instead, with one prepared fan having even brought a large placard regarding the Prime Minister to wave in the air while moshing.
For those who wished for something a little more sedate, he had earlier delivered a touching, acoustic "Waiting on the Weekend", dedicated to the late father of Scottish support act Saint PHNX, and a popular character in Scottish music circles. His tribute came across with raw sincerity and, stripped of the noise and stagecraft, got through to the heart of Harrison's appeal.