I'm Thinking of Ending Things review - only disconnect |

reviews, news & interviews
I'm Thinking of Ending Things review - only disconnect
I'm Thinking of Ending Things review - only disconnect
Charlie Kaufman's eerie road trip through love and loss
Thursday, 03 September 2020
Snowblind: Lucy (Jessie Buckley) and Jake (Jesse Plemons) fail to spark
I'm Thinking of Ending Things ends in a giddying gusher of weirdness, the steady drip of earlier oddness finally bursting its narrative banks, till a horror scene becomes a Gene Kelly ballet, and an Oklahoma! tune is sung in bitter valediction by a male lead now resembling elderly Charles Foster Kane.
It's a
Charlie Kaufman
overdose, trashing convention to alienating effect. And yet this also stays his simplest chamber piece, about a young
couple
driving to meet the boyfriend's parents in the country one snowy night.
Later, you forget the first sight of Lucy (Jessie Buckley) as she lets a faint drift of snow tingle on her tongue, sharply defined against the street and glowing with youth. Then the car door slams on her and Jake (Jesse Plemons). In the astonishingly long road trip dialogue that follows, the slash of windscreen wipes and edits violently quickens, as their relationship's inevitable end, and by implication that of everything else, becomes brutally clear.
As Jake's parents out in the sticks, Toni Collette and David Thewlis (pictured below right) are gamely grotesque embarrassments. Thewlis especially finds nagging, leering Pinter rhythms as he sidles up unsettlingly close. Then as Lucy wanders a childhood home where time is "blowing through" them, they pitifully die. The scratches on a forbidden basement door are "the dog – mostly," Jake mutters. Rather than a monster, Lucy finds his past down there, the mulch of books and abandoned talents that made the ashamed man she's barely going out with.
Kaufman's Synecdoche, New York was part of a brief period of challenging, baggy American epics also including Paul Thomas Anderson's The Master. The totemic star of those films, Philip Seymour Hoffman, seems almost present here too. Plemons shares his mix of menace and sad intellect in a similarly stocky, ungainly frame.
Jake is a tragic male figure, a threadbare academic who Lucy makes stumble for words. He's heavy with loneliness, seeming physically crushed under some great gravitational force, as if the car is a grinding black hole. Both grope for meaning in cultural detritus, Lucy regurgitating a Pauline Kael review of Cassavetes, he falling back on Wordsworth and David Foster Wallace, romantic ideals and suicide, feeling defeated and inferior, belittled and violent.
I'm Thinking of Ending Things sometimes seems to slip its wheels into serial killer terrain, while only really exploring the implicit threat in a half-known man driving a woman down a lonely road. Jake is a perfect picture of a lifetime's male disappointment. And yet Lucy may be his victim, dragged along by her willingness to please till she feels "fuzzy". Her name and clothes shift from scene to scene, as if her identity is being unpicked by a relationship she doesn't even want. Buckley, building on star turns in Beast and Wild Rose, is wonderfully protean, her wry sidelong grin and careful attentiveness to the man next to her attempting assertive survival, even as she dissolves in male toxins.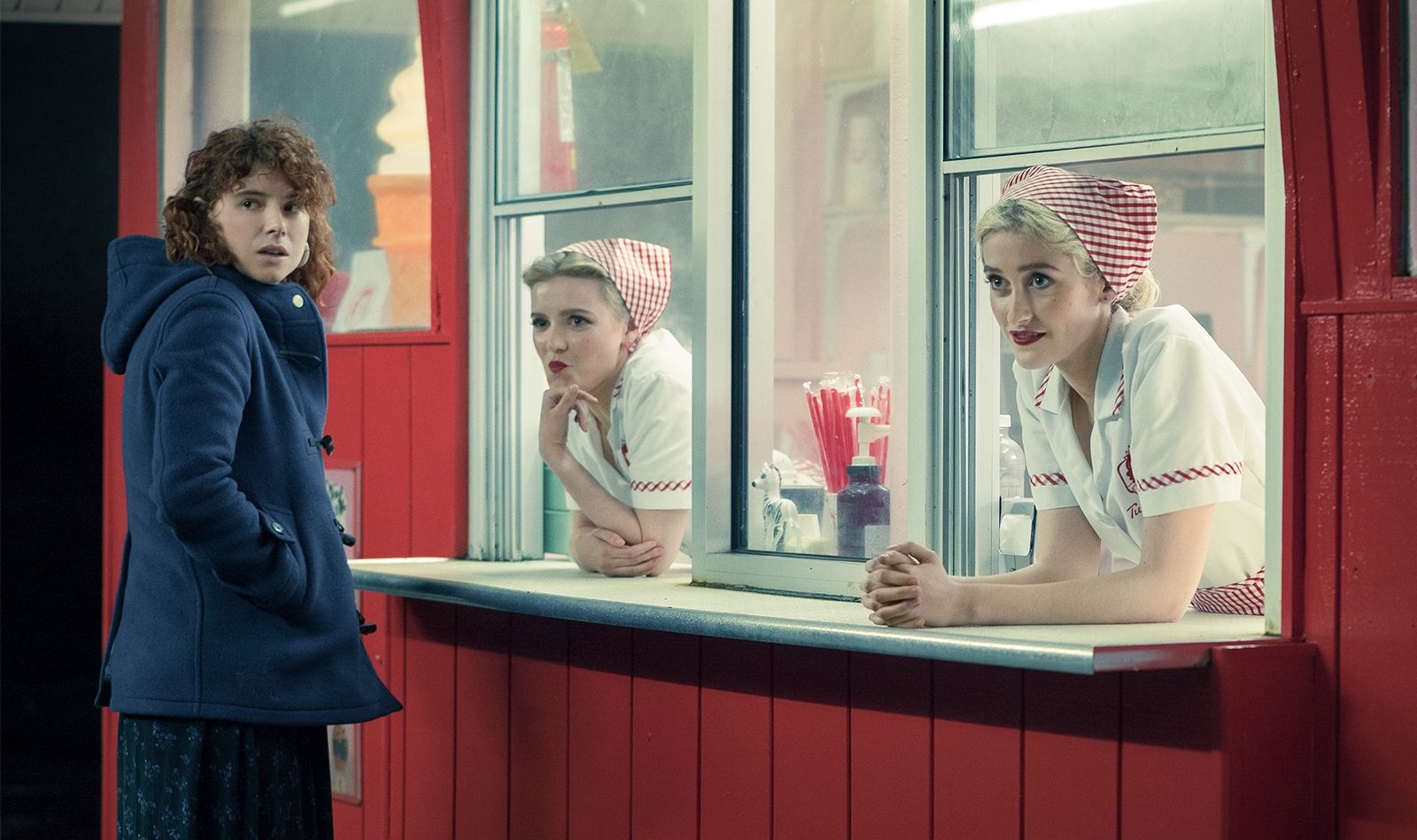 This all locks together in retrospect, a submerged Atlantis of emotional and intellectual tissue in Kaufman's script subconsciously cohering in almost ordinary style. A Lynchian eeriness of mood, and the actors' conviction that this wild ride is really happening, means this isn't how the film is experienced. Whether at a snowbound diner where schoolgirls who bullied Jake eternally await, or a desolate high school where the old janitor could be Jake's dad, or Jake, time blows through. Kaufman wrestled with representing memories in Eternal Sunshine of the Spotless Mind, and still wants to unlock screen dreams. Yet I'm Thinking of Ending Things is also an outpouring of words, stuffing his actors with screeds and footnotes till they're ready to choke, only the tenderness of the many descriptions of despair really helping at all.
Where previous Kaufman films were cinematic attempts at the great postmodern American novel, this is an allusive, discursive essay he trusts his collaborators to make profound. If it undercuts itself with Jake-like self-destruction, its fragile melancholy, and Buckley's defiant life, linger on.
This is an allusive, discursive essay Kaufman trusts his collaborators to make profound
rating
Explore topics
Share this article