The Innocents review - they're just playing |

reviews, news & interviews
The Innocents review - they're just playing
The Innocents review - they're just playing
A Norwegian tale of kids doing what kids do, sinisterly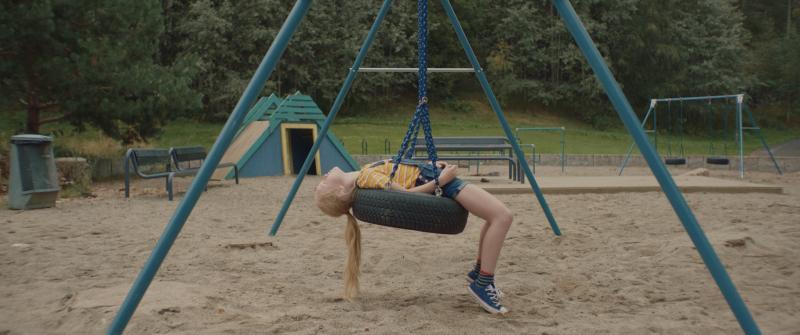 Mood swing: Rakel Lenora Fløttum in 'The Innocents'
The Innocents made a splash at Cannes in 2021 and it's easy to see why. The Norwegian supernatural thriller, deftly written and directed by Eskil Vogt (who co-wrote The Worst Person In the World), explores the murky time in childhood when moral boundaries are still being drawn.
This deeply creeply but heartfelt film keeps you in its grip, only loosening its hold slightly in the underwhelming final act.
It opens with Ida (Rakel Lenora Fløttum) and her family on their way to their new home, a large council estate surrounded by forest. Ida's sister Anna (Alva Ramstad) is autistic and mute. It's summer and the estate is empty, apart from a few children in the courtyard. Ida meets Ben (Sam Ashraf), who is bullied by the older kids. Ben shows Ida that he can move objects with his mind. Ida is impressed and responds by showing him that her elbows are double jointed. For them, these are two equally cool things. We also meet Aisha (Mina Yasmin Asheim), a younger girl who, psychically connected to Anna, can read her thoughts and feel her pain.
Ida's family is stuck here over summer because her father has just started a new job and can't take time off work. Ben, ignored by his mum, pours himself a large glass of Coca-Cola for dinner. Aisha's mom cries in the kitchen with the tap running so her daughter doesn't hear. As the bright summer days unfold, the children forget about their home lives as they explore their newfound powers together. However, Ben realises they can be used for more than fun and games, which changes everything.
It's not the supernatural element that makes The Innocents stand out but the way Vogt treats his young subjects with utmost respect. The film is committed to the emotional complexity of these children, careful never to frame them as evil – even as they commit sinister acts, of which there are plenty. The performances from the young cast are stellar. (Pictured above: Rakel Lenora Fløttum, Sam Ashraf)
Sturla Brandth Grøvlen's cinematography creates an intimate rapport with the children, remaining low and close on their toothy grins throughout. We see the estate upside down when Ida lies on her back and the world through a hole in a chapati Ben is eating. The camerawork makes the mundane setting feel boundless.
In its attention to children, The Innocents closely resembles Céline Sciamma's Tomboy, set on a nearly identical estate in France during a long summer. It is perhaps most comparable to the Swedish vampire film Let the Right One In, directed by Tomas Alfredson. All three films share focus on those pre-pubescent years when you begin learning about the world beyond your parents' control.
The Innocents shows how learning about the world can be painful and difficult. It captures childhood at an integral stage of development, when you learn that destroying the sandcastle is as satisfying as building it. It's unsettling watching children explore this impulse, but as Ida crushes a worm under her Converse, pops bubble wrap, and gleefully destroys an ants nest, Vogt seems to reassure us that this impulse is normal.
He raises the tension in a slow and steady manner, and there are hardly any missteps in the first hour and a half. It's a shame that the last act fumbles around for 20 minutes instead of committing to a climax. Nonetheless, it's a bold film that portrays "the death drive" (as Freudian psychoanalysis puts it) and takes it to an extreme. In a skin-crawling scene involving a little black cat, we see how Ben and Ida's moral boundaries begin to differ. No spoilers, but we all know what curiosity does to the cat.