Krabi, 2562 review - a trance-like visitation |

reviews, news & interviews
Krabi, 2562 review - a trance-like visitation
Krabi, 2562 review - a trance-like visitation
Documentary and fiction combine in an unusual guided tour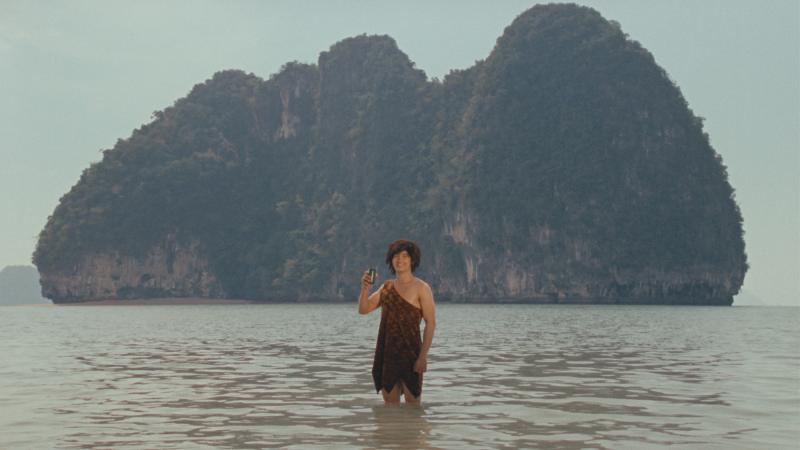 Arak Amornsupasiri plays himself filming an unnamed product commercial
Have you ever visited a destination you saw on film, only to realise it's not quite how you imagined? Filled with tourists, the scars of mass visitation, and caught between its own culture and staying commercially attractive. The Thai city of Krabi is one such location, made famous by such films as The Beach and The Man with a Golden Gun.
New release
Krabi, 2562,
from festival favourite
directors
Anocha Suwichakornpong and Ben Rivers, tackles these issues. But just like a visitation, it may cause you to think "this is not what I expected".
Presented as a docufiction, the film features a succession of interviews, panoramas and scenes across the city and surrounding area. We follow a location scout checking out the sights for an unnamed film (pictured below); drop in on a commercial shoot featuring Thai musician Arak Amornsupasiri and director Oliver Laxe (who recently released the brilliant Fire Will Come); and spy on a prehistoric couple hunting for their fish dinner.
It's a surreal experience, reality and fiction melded together. These fake visitors interact with (apparently) real-life locals, who highlight the film's clashing themes in separate interviews. There's the retired boxer, blind in one eye, who watches life pass by from his farm; there's the tour guide who relies on the constant stream of visitors; and a hotel worker who regularly sees ghosts. The natural, the commercial, and the spiritual, all at odds.
Krabi, 2562 pushes non-linear narrative beyond its physical limits. The history of Krabi exists all at once, where the first evolutionary fish leaving the ocean crawl onto a tourist-filled beach. There are constant inconsistencies, from when buildings opened to when people arrived. The stories we follow have no neat conclusion, but imagery and short scenes throughout the film suggest a mysterious ending for some, if they even existed at all.
The cinematography by Rivers and Ming-Kai Leung is exquisite. Krabi is truly stunning, from its sheer-cliffed islands to pastel-coloured buildings. Filmed on warm Super 16, everything is framed with the precision of Wes Anderson. Shots are left to breath for sometimes minutes, until you as a viewer become part of the passage of time there.
Not your average film, Krabi, 2562 is probably destined to frustrate some casual viewers, though its release via arthouse streaming platform MUBI will help it find the right audience. At times hypnotic, at times mystifying, always beautiful, never simple, something about this film lingers after viewing.
The cinematography by Rivers and Ming-Kai Leung is exquisite
rating
Share this article