Legacy - Black Ops |

reviews, news & interviews
Legacy - Black Ops
Legacy - Black Ops
Idris Elba is truly scary in this low-budget psycho-shocker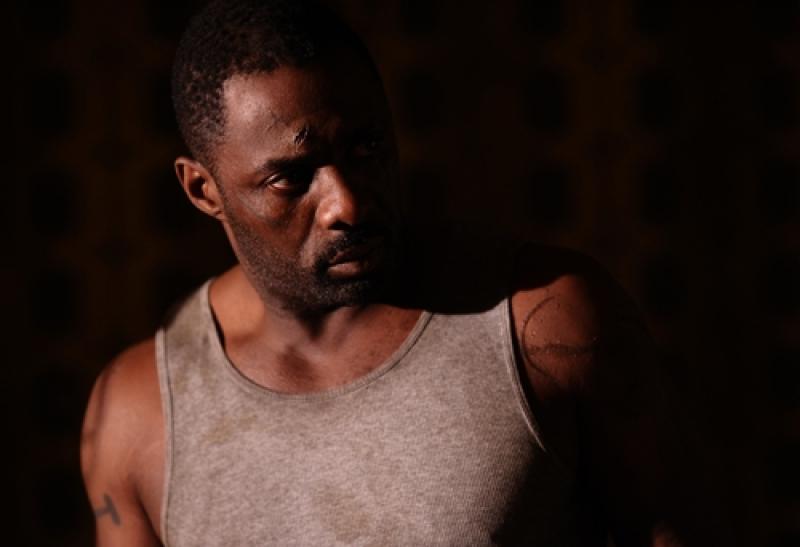 Idris Elba as battered Black Ops veteran Malcolm Gray
This debut feature by writer/director Thomas Ikimi was shot in 22 days on an infinitesimal budget, and while it's easy to point out some obvious flaws, it's far more constructive to look at what Ikimi has achieved. Chiefly, he wrote a script intriguing enough to lure Idris Elba on board, and he not only agreed to play the central role of Malcolm Gray, but additionally gave the project a hefty professional shove.
Consequently Ikimi also found himself directing another Wire alumnus, Clarke Peters, as well as Julian Wadham as the enigmatic arms dealer Gregor Salenko and Monique Gabriela Curnen, from The Dark Knight, as Valentina. The threadbare funding is glaringly apparent from the film's locations, or absence of them - there's what looks like a derelict tenement building, while Elba spends most of the running time in a fleabag hotel room in Brooklyn - and the piece feels more fringe theatre than multiplex blockbuster.
But the claustrophobic setting has the effect of amplifying the power of Elba's performance to a pitch which at times becomes genuinely frightening. Ikimi admits to a serious Hitchcock addiction, and also gives a nod to Adrian Lyne's terrifying Jacob's Ladder, so you can see where Black Ops's fractured time-scheme, ratcheting sense of menace and panicky aura of psychological disintegration come from.
Ikimi (pictured right on set with Elba) has kept the plot refreshingly simple. Decorated soldier Warrant Officer Malcolm Gray has spent the past few years in a murky below-the-radar squad codenamed Dark Hammer, which specialised in unspeakable acts of assassination and revenge, naturally all in the interests of freedom and democracy. Much of their time was taken up chasing Gregor Salenko (Julian Wadham, pictured below) and his arsenal of Sarin nerve gas around the world, but on their final mission they became Salenko's prisoners. Gray, as we glimpse in excruciating flashbacks, was grotesquely tortured. Though he's back in the States and technically still alive, his experiences have left him mentally scrambled, while his body looks like Mel Gibson used it to practise the flaying and crucifixion scenes from The Passion of the Christ.
Lately we've become only too familiar with the effects of post-traumatic stress, and we know enough about what special forces get up to to grasp that Gray's experiences needn't have been fictitious. This lends harrowing weight to his disorientation and twitchy hallucinations. As we learn more about his missions, we understand that he was long ago caught in the Devil's bargain, but that doesn't make it comfortable to watch. Gray still clings to some semblance of military discipline, and is planning to use his knowledge of where the bodies are literally and metaphorically buried to gain some payback. He gives incriminating material to an investigative journalist, and primes her to wait for his signal before going public with it.
But Gray's shaky veneer of control starts to disintegrate. A ferocious struggle with a would-be assassin virtually reduces his room to rubble, but afterwards appears never to have happened. Old friends come to visit - or do they? There's even uncertainty surrounding Gray's brother Darnell (Eamonn Walker, pictured below), an ambitious politician preparing to run for the White House who is seemingly up to his neck in the Dark Hammer operations. But by the end of the final reel, the ambiguity about their relationship has only deepened.
Or at least, I think this was Ikimi's plan. In fact the film flags disappointingly in the final third, because as Gray's grip dwindles, you soon twig which way it's going. Scott Fitzgerald told us there are no second acts in American lives. There isn't one in this movie either, though it badly needs one to carry it to the finishing tape after the cat makes its premature escape from the bag. But next time Thomas Ikimi makes a movie, I'll buy a ticket.
Watch the trailer for Legacy: Black Ops