Little Joe - trouble in the greenhouse |

reviews, news & interviews
Little Joe - trouble in the greenhouse
Little Joe - trouble in the greenhouse
Jessica Hausner's exquisite sci-fi allegory about conflicted motherhood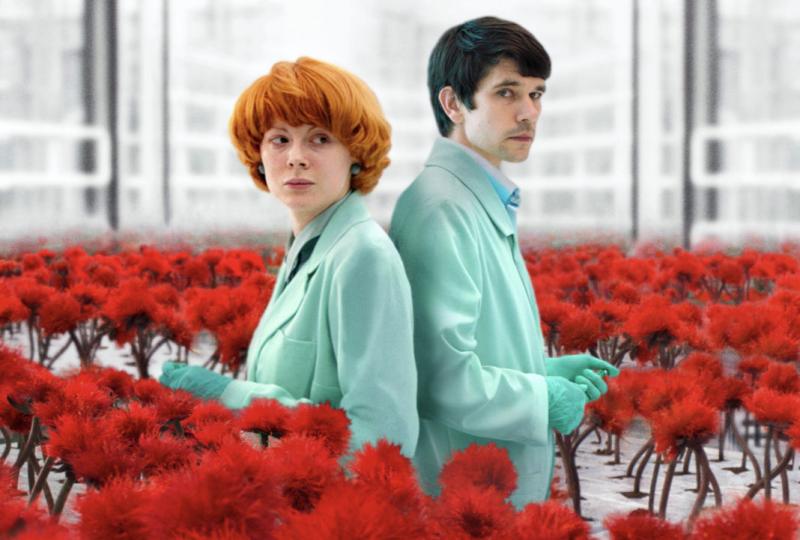 Red alert: Emma Beecham and Ben Whishaw in 'Little Joe'.
Austrian filmmaker Jessica Hausner's disquieting fifth feature, and her first English language one, Little Joe is a sci-fi drama that ponders the tangled choices faced by many modern women – Kubrickian though it is in its immaculate production design and cold, affectless tone.
Alice Woodard (Emily Beecham), a driven thirtysomething bio-engineer, presides over table upon table forested with the leafless, infertile plants she has bred in a spacious greenhouse laboratory. She has developed the project with her colleague Chris (Ben Whishaw), the vaguely patriarchal atmosphere of their workplace owing to their hearty boss Karl (David Wilmot). Another colleague, Bella (Kerry Fox, superb as always), is positioned as the film's unstable Cassandra.
Crowned with a bushy red flower, as Alice is with an overgrown orange mop, each plant emits – when well-tended – a scent that induces zombie-like happiness. Like Frankenstein's Monster, these blooms can't be trusted to do the right thing. A corollary of the scent's blissing-out effect is what seems to be uncharacteristic behavior – Bella angrily denounces it for driving her dog mad – but might be more accurately described as "character-enhancing".
Is it acceptable for mothers to love their vocations and children equally?Alice is the single mother of 13-year-old Joe, for whom she has named the plant "Little Joe". Soon after she clandestinely brings a Little Joe home for Joe to tend in his room, he asks Alice if he can leave her to live permanently with his father, her ex-husband. Joe's decision could be attributed to a normal need to bond with Dad and escape the maternal influence, not that Alice's is especially strong.
She's a hands-off parent who's too wrapped up in her work to prepare meals (so brings home sushi for dinner) and doesn't tax herself in engaging with him. If she's less nurturing of Joe than all the Little Joes, there's no suggestion she doesn't love him or isn't anxious about him leaving. But why precisely does she bring him one of her plants? Is it acceptable for mothers to love their vocations and children equally? Does anyone have the right to judge them if their work is more important to them than their children? Little Joe charges its icy air with such thorny questions, but Hausner (who is raising her own young son) leaves the viewer to answer them.
Beecham won the Best Actress award at last year's Cannes festival for her performance as Alice, a masterclass in restraint – much like her portrayal of the apathetic eponymous hedonist in Daphne (2017). Her Alice is mostly opaque, never ingratiating. When pushy Chris takes Alice on a date and kisses her without invitation, she responds as if she's thinking about the dangers of using Glyphosate or nitrogen fertilizer. She's not immune to moral considerations, however, and at one point decides to destroy her crop. Chris's reaction reveals that he's worse than an ordinarily toxic male. Alice's passive counter-reaction is even more surprising. She begins and ends a conundrum.
Hausner, whose father was the late Viennese painter and sculptor Rudolf Hausner, has moved on from the comparative roughness of her 2001 debut Lovely Rita to use different painterly styles on each of her films, the color red being a frequent ingredient. The prime influence on Little Joe was not the ascetic enigmas directed by her countrymen Michael Haneke and Ulrich Seidl she told me in an interview, but Maya Deren's trancelike 1943 experimental short Meshes of the Afternoon (the various versions of Invasion of the Bodysnatchers factored into Hausner and co-writer Geraldine Bajard's allegorical thinking.)
No matter that Alice has protected herself from Little Joe's fragrance with a surgical mask, she herself seems in a trance. It's a condition accentuated by the eerie music of Ito Teiji (a composer for Deren and her third husband) and cinematographer Martin Gschlact's hypnotic tracking shots of Alice's sinister red army, which always look like its about to revolt and impose martial law on the greenhouse. You have to ask, who's in control here: Alice, Karl, or the flowers?