Living review - Bill Nighy's masterpiece |

reviews, news & interviews
Living review - Bill Nighy's masterpiece
Living review - Bill Nighy's masterpiece
Quiet desperation and second chances in an exquisitely sentimentalised Fifties England
Stopped clock: Bill Nighy as Williams
Living begins with a ravishing immersion in vintage footage of a lost world, primary colours popping on a Fifties summer's day in Piccadilly. Emilie Levienaise-Farrouch's opulent score adds to the poignancy of an orderly, comfortable England: the country which has slowed the heartbeat and buried the soul of Williams (Bill Nighy), a civil servant called Mr. Zombie behind his back.
South African director Oliver Hermanus's last film, Moffie, dealt with two gay soldiers suffering under the apartheid army's brutish order; screenwriter Kazuo Ishiguro's novel Remains of the Day inspired perhaps the greatest screen tragedy of English repression. This close remake of Ikiru (1952), Kurosawa's beloved classic about a Tokyo civil servant given months to live, doesn't tear at the heart like Anthony Hopkins did. But it has Bill Nighy, the angular discomfort behind his louche persona enveloping him extraordinarily.
We first see him on the steam-train Surrey commuter belt, travelling separately from his staff to London's County Hall, where he passes a memorial to employees who died "for the freedom of the Empire". The strain of such contradictions simmers everywhere, entering the creaking bones of this lonely, widowed man. Glumly paper-pushing with a mortician's demeanour, he's treated with a mix of awed respect and secret derision. At home, his son and daughter-in-law barely think of him, even the camera looking down on him as he's ignored. Nighy looks desiccated, his lower lip sunken, his voice a husk. He has been this way before, as Hope Gap's escapee from a long, dutiful marriage. Now the weight of the unspoken makes every breath an effort.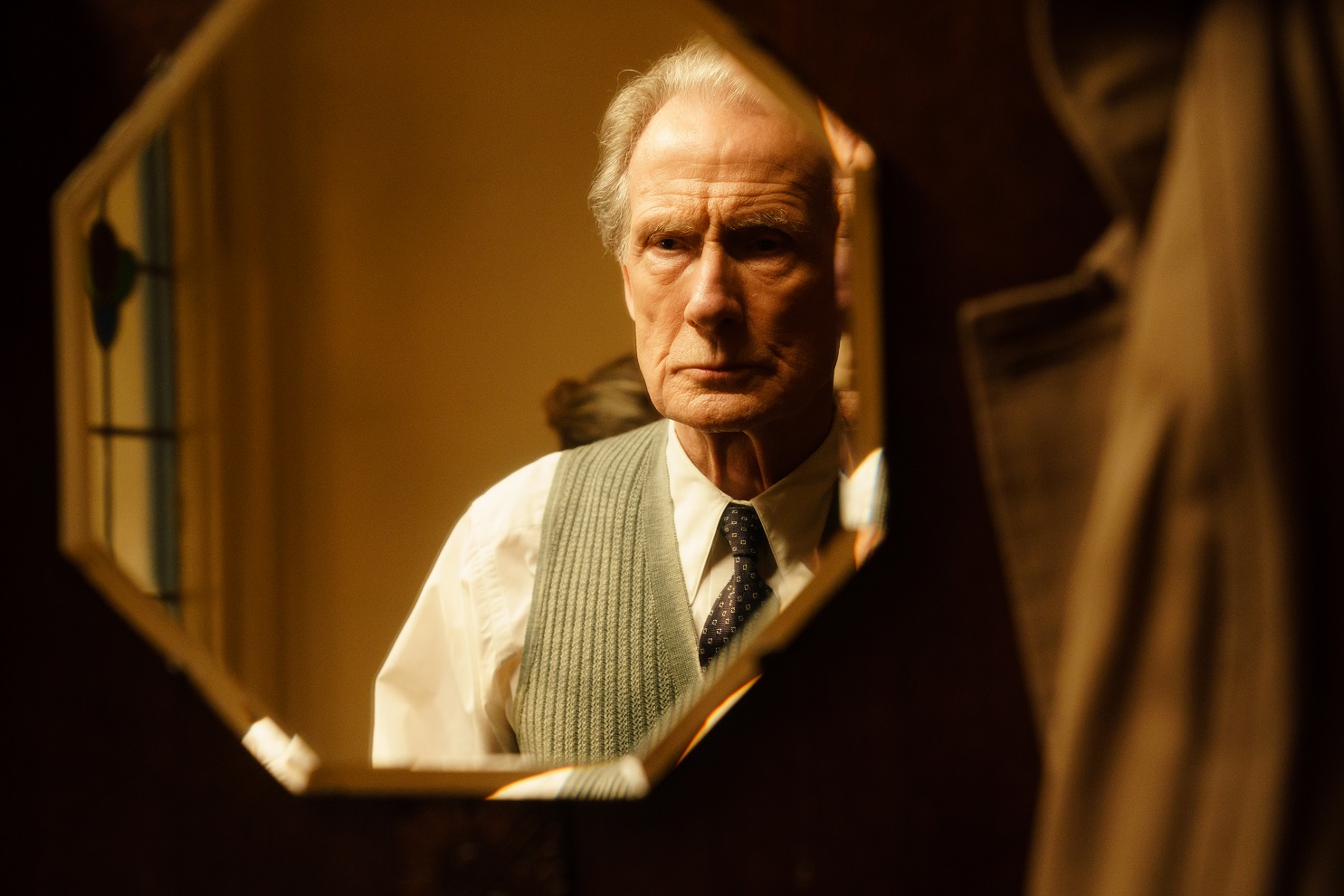 A grim cancer diagnosis changes everything. Making a slow-motion exit into afternoon sunlight to a romantic swoon of strings, he leaves the office behind, sensing another life is possible. There are misty flashbacks of him once living it, playing cricket and being a husband and dad, when his blood was still warm. Now he goes searching, before it's too late.
Tom Burke is a rakish local writer in a seaside town which might as well be Brighton. Sympathetic when the near-suicidal Williams washes up there, he shows him booze and fleshy women, strippers and raucous cheers, sweat and heat. Williams is drunkenly disarmed enough to sing an old Scottish song his wife loved in a pub. Nighy's voice is high, sweet and tear-laden, squeezed by feeling, his eyes closed in nostalgic transport. He unravelled me too.
But it's too late to be a hedonist, Williams finding solace instead in meetings with youthful, optimistic Margaret (Aimee Lou Wood, pictured below with Nighy), an employee in his office now working at a Lyons Corner House. The camera spies on them talking in a park, Living acknowledging its story's awkward edges. Margaret finally voices her discomfort at this older gentleman's clinging attention, till his fatal secret redeems him.
Williams' modest ambition was to be "just a rank and file sort of gentleman". As with Remains of the Day's gentleman's gentleman, Ishiguro has great respect for what that might mean, even if this England is ultimately one of small oppressions, chilly silences and places kept. Perhaps it's no coincidence that his dialogue frequently suggest he hasn't met any working-class people. Their forelock-tugging deference to Williams when he becomes the saviour of a blitzed street-corner does, though, accord with contemporary screen depictions.
This is a kindly film which in its clear aim to be a tearjerker sometimes verges on mawkishness. But Bill Nighy is exquisite, and Hermanus captures the murmur of the Fifties, the quiet and restraint.