Lizzie review - murder most meticulous |

reviews, news & interviews
Lizzie review - murder most meticulous
Lizzie review - murder most meticulous
Historic axe-killer mystery reworked as feminist fable
Thursday, 13 December 2018
Death and the maidens: Bridget (Kristen Stewart) and Lizzie (Chloe Sevigny)
The story of Lizzie Borden, controversially acquitted of murdering her father and stepmother with an axe in Fall River, Massachusetts in 1892, has been explored many times on screen and in print (there's even an opera and a musical version, not to mention the Los Angeles metal band Lizzy Borden).
However, this new take on the story starring Chlöe Sevigny and
Kristen Stewart
from director Craig William Macneill and screenwriter Bryce Kass focuses forensically on the why rather than the who, and transforms the story into a fraught and penetrating psychological thriller.
Fittingly for our new age of female empowerment, Lizzie (Sevigny, who delivers a formidable lead performance as well as producing) is depicted here as a 32-year-old woman yearning for some kind of escape and self-determination, but is kept crushed and caged by her brutish father Andrew (Jamey Sheridan) and his subservient, dessicated wife – and Lizzie's stepmother – Abby (the suddenly omnipresent Fiona Shaw). Almost all the action takes place within the family home, a handsome but austere dwelling, its sparse Victoriana accoutrements lit with pallid, cloudy daylight or dim candles (kudos to cinematographer Noah Greenberg and designer Elizabeth J Jones).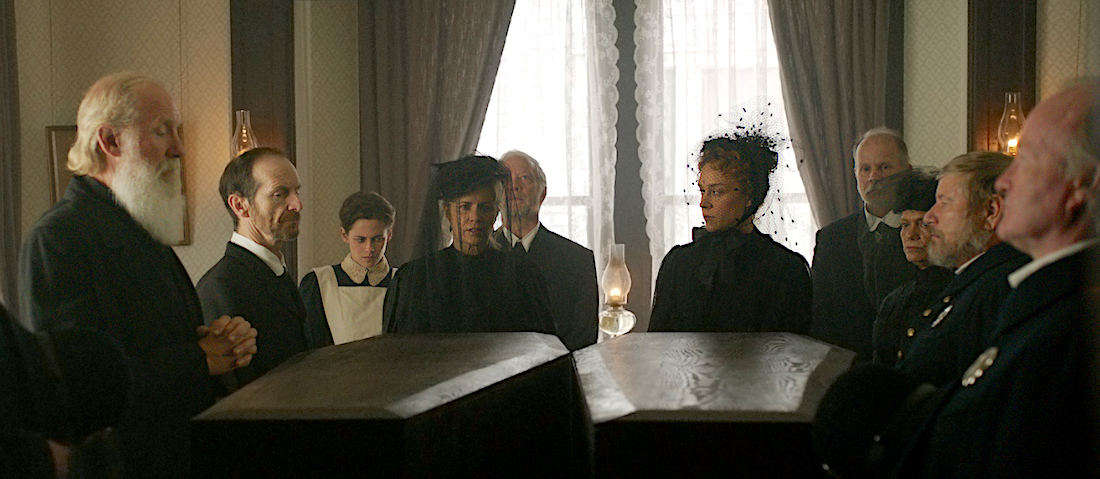 This could work well as a stage play, since the formal confines of the house become the psychological battlefield upon which father and daughter are locked in a perpetual clash of wills. For instance, when Lizzy wants to go out to the theatre, it prompts an explosive stand-off at the dinner table. When she suffers an epilectic fit during the performance, it's more useful ammunition for her father, who's planning to have her incarcerated in a nursing home. The scene where he takes an axe to the pigeons Lizzie has been tending in the barn and has them served for dinner is almost more shocking than his own blood-drenched fate, of which it serves as a premonition.
A sour-faced skinflint who runs his home as if it's a prison ship, Andrew's primary concern is accumulating wealth by building up his property empire. We learn, for instance, that he has acquired substantial chunks of land by foreclosing on farmers who couldn't keep up their payments. The question of who will inherit Andrew's fortune goes to the heart of the story, and is personified by his brother Tom (played as seedy, unshaven and unscrupulous by Denis O'Hare). He's engaged in a cynical campaign of threats and deceit to get his hands on the loot, but the shrewd Lizzie sees through him (she describes him as "a failed horse trader"). She's determined that she and her older sister Emma (Kim Dickens) will not be denied their due.
The arrival in the household of Irish maid Bridget Sullivan (Kristen Stewart) becomes the catalyst for the explosive final act, which has hovered over the action since being prefigured in the film's opening sequences. Bridget (promptly renamed Maggie by Abby, since that's what all the female help are called to reduce them to powerless ciphers) forms an unspoken bond with Lizzie, who teaches her to read, and their connection morphs into a love affair. "You're an abomination," Andrew tells his daughter, though since he's been systematically abusing Bridget in her bedroom he isn't altogether in command of the moral high ground. "Then at last we're on equal terms, father," she retorts.
The murders themselves are memorable not for their brutality so much as for the meticulous attention to detail with which they're carried out, as if Lizzie had been studying long-range previews of CSI. She doesn't just take care of the physical evidence, she seems to have got all the legal stuff sewn up too. Tried for murder, she was acquitted by an all-male jury after 90 minutes. It's a dark and bitter tale, yet still manages to convey a kind of exhilaration.
The question of who will inherit Andrew's fortune goes to the heart of the story
rating
Explore topics
Share this article