M |

reviews, news & interviews
M
M
Peter Lorre's frenzied child killer invokes Weimar Germany on the brink
Sunday, 07 September 2014
M for Murderer: Hans Beckert (Peter Lorre) learns he has been identified
The newly restored, 111-minute cut of M is being screened 35 times during BFI Southbank's current Peter Lorre retrospective. One only has to see and hear Fritz Lang's first sound film once, however, to appreciate its undiminished power as a vision of a Germany teetering on the abyss less than three years before the Nazis took power.
One of Lang's most meticulously calibrated films, it is ostensibly a docudramatic procedural thriller, albeit one with Expressionistic camera angles, shadowy compositions, and signifiers of madness (such as a bobbing arrow and a rotating spiral in a shop window) about the search for a serial sex killer. The knife-wielding Hans Beckert (Lorre) lures little girls off the streets with candy and balloons in a metropolis terrified by his depredations. Beckert was an amalgam of Peter Kürten, the so-called "Vampire of Düsseldorf," guillotined two months after the film's May 1931 release, and fellow serial killers Karl Denke, Fritz Haarmann, and Karl Grossmann of the decaying post-Armistice Germany.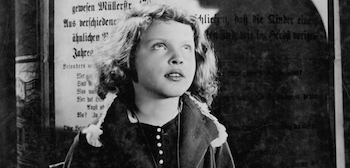 Beckert is seen stalking his prey (Inge Landgut as doomed Elsie, pictured right) in the film's first two thirds, but speaks little and slips out of the story for long stretches. Lang doesn't unleash Lorre fully until the final act, when Beckert, who has been seized by vigilantes, is tried before a kangaroo court of villains, prostitutes, and a few ordinary citizens. He then demands and earns sympathy as the sick victim of compulsions he can't suppress, who lashes out at his accusers for having consciously chosen to be career criminals. His turmoil, weakness, and sense of entrapment, which Lang evokes in such images as the rhomboid reflection of knives that frame Beckert as he stands before a cutlery shop window, can't help but suggest the emergent national psychosis.
Although Lang and his screenwriter wife Thea von Harbou were apparently motivated to make the film through a humanistic concern for vulnerable children and their mothers, the atmosphere of the waning Weimar Republic is palpable. The city in the film, clearly Berlin, is run by two opposed groups – pompous officials on one side, the underworld on the other. Neither is committed to catch Beckert because of the nature and extent of his atrocities: the officials want to keep their jobs so pressure the police to intensify its manhunt; the criminals mobilize because the police, delving into every corner, is disrupting their activities. Poor working people – such as the washerwoman whose daughter Elsie's offscreen killing at the start is conveyed via a brief montage of shots emphasising her absence – are impotent in this selfish culture. If Beckert, characterized by his shabby gentility, is anything to go by, the petit bourgeoisie are more dangerous.
Beckert's killings propel the action in M, but Lang's analysis of his mental illness is negligible compared with his delineation of the police and criminals organizing themselves to catch him. The police investigation is thorough, ponderous, and unimaginative; a shot from below of the smug, obtuse Inspector Lohmann slumped in his chair grotesquely illustrates the force's complacency and ineffectiveness. (Otto Wernicke, who played him, reprised the role in Lang's next film, his 1933 sequel to his 1922 Dr. Mabuse the Gambler.) The criminals, in contrast, are better disciplined and more ruthless, as they prove when they conduct a commando raid on the locked office building where Beckert takes refuge; they have no qualms about torturing an obstructive nightwatchman.
During the trial, their leather-coated mastermind, Der Schränker (Gustaf Gründgens, pictured below) calmly rationalises the need for Beckert's extermination. It is as if Mabuse or Mack the Knife is making the transition into an S.S. officer. The regiment of criminals meanwhile morphs into a mob baying for revenge, Beckert being a scapgoat for their collective ills. (That Lorre was Jewish complicates any reading of M, especially given the future Nazi allegiances of Von Harbou and Gründgens, the actor who inspired Klaus Mann's novel Mephisto.)
The most instinctive and compassionate – and least corrupt – social sector in M is the underclass. Enlisted by the criminals as their eyes and ears on the street, an army of beggars rallies to thwart the cops, as do those in Brecht's The Threepenny Opera (G.W. Pabst's film of which was also released in 1931). It is a blind balloon-seller who identifies Beckert when he hears him whistling "The Hall of the Mountain King" and a young indigent who has the wit to chalk "M" for Mörder ("murderer") on one of his hands and stamp it on the back of Beckert's coat.
Best known as the target of Humphrey Bogart's scorn in The Maltese Falcon and Casablanca, Lorre gave his signature performance in M. An Austro-Hungarian actor in the Berlin avant-garde theater, he was a month short of 27 when the movie opened. He had already learned to bulge his eyes to express shock and horror, to condense his body to project furtiveness and his unique hunted quality, and to modulate the register of his squeals and staccato howls of rage for maximum impact. Lang, whom he despised, seemingly bullied him into greatness.
The director was immediately inventive with sound, using it to anticipate who or what would appear next and sustaining it to link scenes. Since Lang didn't trade in the screams of dying children, no noise he created would be more harrowing than the whine in Beckert's voice as he describes to the "court" the schizophrenic agony he suffered each time he tried to stifle his terrible urges: "Don't want to!...Must!" The bedeviled little man stands hunched forever at the nexus of the dying Germany and the one that was about to be born.