The Men Who Stare at Goats, London Film Festival |

reviews, news & interviews
The Men Who Stare at Goats, London Film Festival
The Men Who Stare at Goats, London Film Festival
Limp anti-war satire is likely to get your goat
Ewan McGregor and tache...
A rubicund major-general leaps up from his desk, scrunches up his face in concentration, breaks into a run and belts towards the office wall, intending to race through it. Sadly, in this opening sequence of The Men Who Stare at Goats, he falls flat on his face, and so does the joke; so does the whole film, actually, come to that.
It has an unrivalled comic premise and a terrific all-star cast including George Clooney, Jeff Bridges,
Ewan McGregor
and Kevin Spacey. What's not to like? Well, the script, the script and the script - and those three things, as Alfred Hitchcock once famously said, are required to make a great movie.
Prefaced by the admonition "more of this is true than you would believe," the film is based on the well received book by the British journalist Jon Ronson which investigated the extraordinary activities of a "psychic unit" within the US army during the Iraq war. Styling themselves as Warrior Monks, these soldiers experimented with mind-reading, "race-specific stink bombs", subliminal propaganda, walking through walls, levitation. No nutty scheme was too far-fetched to try out, from killing goats with a gimlet glare to mesmerising the enemy with "sparkly eyes" (Clooney demonstrates the latter in the film to highly amusing effect). It ought to be rich raw material for a black satire in the manner of Dr Strangelove, Catch 22 or M*A*S*H.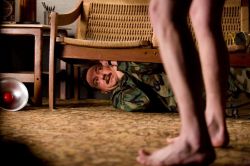 In the film, McGregor is Ronson's screen alter ego, a credulous reporter named Bob Wilton who's hanging around at a loose end in a Kuwaiti bar trying, unsuccessfully, to get into Iraq to cover the war. There, he meets the charismatic, self-styled former "Jedi Warrior" Lyn Cassady (Clooney) who claims once to have been involved in a top-secret government project. When Cassady sets off for Iraq on a new, equally hush-hush mission, Wilton tags along too. He gets taken for a ride in every sense.

This narrative is cross-cut with a series of flashbacks which tell of the origins of the paranormal unit, led by a ponytailed, chilled-out Bridges whose character - a close cousin of his Dude in The Big Lebowski - is disenchanted by the atrocities he experienced in the Vietnam War and trying to find a kinder, gentler way of killing people (from the viewpoint of the military-industrial complex, sparkly eyes had the extra benefit of being a whole lot cheaper than nuclear warheads, of course).

Yet the film never finds a way to translate Ronson's discursive essays into a dramatic framework (the script is by Peter Straughan, who adapted last year's equally unsatisfactory movie of Toby Young's How to Lose Friends and Alienate People). After a reasonably robust start, the story quickly crumbles into a series of fragmented skits, patched together by an enormous amount of explanatory voice-over narration, generally a sign of last-minute emergency surgery in a movie.
The top-flight cast all work hard at their strenuous - too strenuous - comic performances, but the film's tonal shifts are not well-handled (it's directed by Grant Heslov, a long-time collaborator of Clooney's with a background in acting and producing and relatively little behind-the-camera experience). The big climax, when our laughter is meant to turn to ashes as we see the line that leads from this amiable crackpottery to Abu Ghraib, is a bust.
Point of interest and information: The Men Who Stare at Goats has so far garnered significantly warmer reviews across the Atlantic. Perhaps audiences there are more susceptible to viewing the subject as a laughing matter.
After a reasonably robust start, the story quickly crumbles into a series of fragmented skits
Explore topics
Share this article